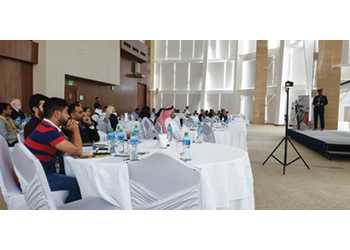 The Bahrain Health, Safety & Environment Forum in session
The highlight of the event was a first-of-its-kind live evacuation drill, bringing together the world-leading expertise and capabilities of Bapco and Bahrain Civil Defence / Bahrain Fire Brigade in a unique collaboration
More than 110 Health, Safety & Environment (HSE) practitioners, government representatives, regulators and solutions providers shared their expertise and ideas at a forum which was held in Bahrain.
The Bahrain Health, Safety & Environment Forum, was held at the Wyndham Grand Manama from June 17- 18.
Building on the success of previous events in Dubai and Kuwait, the forum took place under the patronage of the Bahrain Ministry of Labour and Social Development, with Bahrain Petroleum Company (Bapco) as conference partner.
The forum was a platform for the sharing of ideas and expertise on critical issues across the spectrum of health and prevention, safety, risk management and environment.
In an indication of the importance which the Ministry of Labour and Social Development attaches to achieving the highest safety standards for Bahrain's workforce, the welcome note at the forum was given by the undersecretary at the ministry.
Researched and developed by Health, Safety & Security Review Middle East magazine, the event provided valuable insights into effective health and safety programmes, highlighting best practices, process improvements, technology advances and innovative applications to enhance occupational health and safety performance. A wide range of topics were explored, through a combination of thought-provoking presentations, case studies and interactive panel discussions.
The highlight of the event was a first of its kind live evacuation drill, bringing together the world-leading expertise and capabilities of Bapco and Bahrain Civil Defence / Bahrain Fire Brigade in a unique collaboration.
It showcased several elements of excellence performed by the Civil Defence /Fire Brigade and Bapco's HSE team, with Civil Defence /Fire Brigade overseeing the whole operation.
"It's something unique, it's something different and it's something that never been done in Bahrain before," said Jack Waldron, Bapco's working at heights specialist.
Bapco and Bahrain Civil Defence/ Fire Brigade had a signifieant involvement throughout the forum.
Ahmed Khalil, director HSE, Bapco, gave the opening keynote address, while Martin Peter, TPL specialist, Bapco spoke on behaviour-based safety, and Samah AI-Hamadala, superintendent business resilience management, Bapco, spoke on the effect of greenhouse gases on health and the environment.
L Qasim Saleh Ahmed Saleh, head, hazardous materials branch, Bahrain Civil Defence, made a presentation on hazardous materials (hazmat).
Ali Mahdi, occupational engineer at the Ministry of Labour and Social Development, addressed the role of legislation in controlling occupational accidents.
Mahdi stressed the "vital" role of the Occupational Safety Department (OSD) at the Ministry of Labour and Social Development in the protection of the labour force, outining its activities which include preventative inspections to raise the awareness of the importance of ocupational safety.
"It is noteworthy that the number of visits carried out by the inspectors in the Occupational Safety section in 2018 amounted to 10,923, which constitutes a significant increase compared to previous years. Also, the department investigated 351 occupational accidents reported by the concerned authorities, including 21 fatalities," he said.
In a session on health and prevention, Dr Maha Al Shehab, general secretary, Bahrain Health and Safety Society, explored the relationship between work and health, the effect of mental health and stress management at work and the importance of establishing mental health programmes for the workforce. The relationship between worker well-being and business productivity is increasingly recognised worldwide, she says. Waleed Rehman Althawadi, fire chief- Hamad Town Fire Station, Bahrain Civil Defence, addressed fire scene management and challenges.
Other speakers included Hesham Abdulla, head of safety at Aluminium Bahrain (Alba); Dr
Hussain AI Durazi, medical practitioner, Healthzone Bahrain; Neelaja Shrotre, general seceretary, Migant Workers Protection Society; Bala Siva Srikanth Adivi, behavioural safety secialist, Kuwait Oil Company; Mohamed Ali Shukri, CEO Y Access Training Solutions, Bahrain; Jason Woods, regional representative, IPAF; Mazharuddin Shaikh, safety engineer, Kuwait Oil Company; Dr Fay Abdulla Al Khalifa, assistant professor, University of Bahrain; and Marwa Aleskafi, head of accelerator programme, Brinc Bahrain.