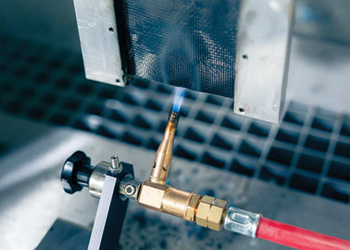 The Walki Wall Tight FR G A2
Walki Group had identified the need for a more flame-retardant material a few years ago and the development of the product came well in time for the UK market
Finland-based Walki Group's new flame-retardant membrane, Walki Wall Tight FR G A2, is a unique vapour barrier that ensures fire safety for construction assets and people in case of rescue or evacuation operations.
According to Pierrick Girard, business line manager, Construction Membranes at Walki, the Walki Wall Tight FR G A2 underwent extensive testing last December, and received Euroclass A2-s1-d0 standard. "In other words, the membrane has been proven non-combustible," he says.
The Walki Wall Tight FR G A2 can be used in walls and ceiling as a construction membrane, preventing heat radiation and moisture transfer. And since it is non-combustible, it is ideal as an internal vapour barrier in public buildings such as schools, hospitals, shopping centres and restaurants, he adds.
"In warmer places, such as Dubai, the vapour barrier can be used externally as protective sheathing in high-rise buildings," says Girard.
Walki Group had identified the need for a more flame-retardant material a few years ago and the development of the product came well in time for the UK market. "The terrible fire accident at the Grenfell Tower happened in the UK, and fire regulations were intensified. Building regulations amended by the UK government came into force in December 2018, banning the use of combustible materials in the external wall of buildings.
"Accordingly, the construction of the external wall, along with specified attachments, must be investigated by the local council building control and, where necessary, work must be carried out to ensure they only contain materials achieving European Class A2-s1, d0, that is, it must be non-combustible," he points out.
Walki has worked on developing the product for over two years. The membrane is based on lacquered aluminium layers laminated with strong glass fabric, attached together with a special flame-retardant glue.
"Both aluminium and glassfibre are non-combustible, ensuring that the vapour barrier has a good fire resistance. This solution is also cost-efficient compared to other options on the market", says Girard.
Walki Group is a leading producer of technical laminates and protective packaging materials, specialising in the production of fibre-based, intelligent, multilaminate products for markets ranging from energy-saving construction facings and construction membranes to barrier packaging applications. The group has plants in Finland, Germany, the Netherlands, Poland, the UK, Russia and China with a workforce of about 950 people. Its annual net sales are over €318 million ($361 million).