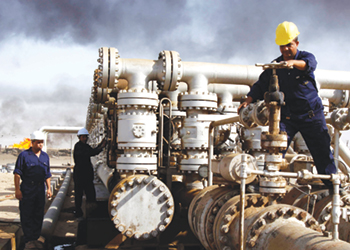 Iraq is seeking huge investments in its oil sector
Iraq would require the launch of new refinery projects, and subsequent investments into the downstream sector to build up the needed ecosystem and facilities to supply the nation with products including gasoline and gasoil
Even as oil companies have earmarked a significant amount of capital to invest in areas of Iraq that have recently been liberated from the control of Islamic State militants, the country needs a new investment model for refineries, Oil Minister Thamer Ghadhban said at the Iraq Petroleum conference in London.
"Building an attractive investment model for new refineries has been less than satisfactory and the Ministry of Oil has started working on alternative models," he said, noting that the nation's need to import gasoline and gasoil had put pressure on the treasury in the past few years as demand for refined products has grown.
"A new investment model with more inventive to investors shall be offered in coming weeks," he added.
Ghadhban hopes to expand Iraq's downstream activities, with the ultimate goal to "increase revenues and reduce reliance on imported refined products."
This would require the launch of new refinery projects, and subsequent investments into the downstream sector to build up the needed ecosystem and facilities to supply the nation with products including gasoline and gasoil.
"A number of opportunities for upgrading our existing refineries have been offered to our Iraqi private sector and several of them have been approved, in addition to the modern 150,000-bpd Karbala refinery, which is under construction now," he said.
Iraq aims to increase production
Iraq's oil industry has significantly benefitted from the relative stability in the south where the bulk of its oil is produced. Production reached almost 5 million barrels per day in 2018. Also, Baghdad received quota exemptions from Opec, while most of the member states had to curb their oil output to increase prices. As a result, Iraq's influence and position within the oil cartel have improved due to the significant increase in production.
Iraq's weakness lies in its dependence on foreign companies which produce almost two-thirds of the country's oil. After years of war, its energy infrastructure has been significantly damaged. Foreign capital was necessary to rebuild much of what was destroyed. Furthermore, without the drilling technology provided by oil majors such as Shell and Exxon and Russian firms such Lukoil and Rosneft, it wouldn't have been possible to increase production to its current level.
The country's ambition to ramp up production doesn't end here. Iraq aims to increase production even further. Most of the oil is already headed towards Asian countries such as India and China, which will be the most significant contributors to global crude demand growth in the coming years. Baghdad has the ambition to increase production from its current level to approximately 8.5 million barrels per day in 2025 after infrastructure has been upgraded. The expansion would include 6.5 mbpd from southern oilfields, and another 1 mbpd from Kirkuk after a new pipeline to Turkey's Ceyhan port on the Mediterranean has been constructed.
Next to the Kirkuk-Ceyhan pipeline, the rumor is spreading that policymakers are looking to revive the long-discused pipeline from northern Iraq into Syria and Lebanon, which was shelved after the First Gulf War. Russia, which has an active military and economic presence in Lebanon, Syria, and Iraq, has facilitated talks between the Middle Eastern countries. Although these plans are still at an early stage, it goes to show that Iraq is serious about building out its export infrastructure in order to meet the abovementioned production goals.
Oil production has been increasing rapidly since 2010 (8 per cent/year) and reached 195 Mt in 2017. It increased strongly in 2015 and 2016 (by 12 per cent and 11 per cent, respectively), was mainly due to an increased output at fields in southern Iraq and in the Iraqi Kurdistan Region, which more than offset disrupted volumes in the north. Oil production remained broadly stable in 2017, as Iraq had agreed to cut its output by 209 kbpd in 2017 under the Opec production agreement.
The share of Iraq in Opec's oil production has increased, reaching 11 per cent in 2017 (vs. 7 per cent in 2010).
In 2017, approximately 83 per cent of the production was exported, and about 85 per cent of the transit ran through the two terminals of Khor Al Amaya and Bassora (Basra). In December 2016, crude oil exports from Basra reached their highest daily average since 1980 with 3.5 mbpd. The country has intensified its exports to Turkey via Ceyhan, with nearly 128 mbl of crude oil, worth US$4.3 bn, delivered during 2016. The pipeline Kirkuk-Baiji-Baghdad was completed in June 2018. It runs for 180 km and sustains an oil flow of 40 kbpd.
The country has 17 refineries, for a total nominal capacity of 1.0 mbpd. The main refineries are Baiji (310 kbpd), Basra (140 kbpd), Daura (expanded to 210 kbpd in 2011) and Kalak (100 kbpd). However, the current available capacity is much lower due to the political situation: the Baiji refinery, which provided more than 40 per cent of the production of petroleum products mid-2014, suffered from intense fights in 2015 between the Iraqi army and the Islamic State, and most of its capacity has been destroyed. Reconstruction began in December 2017.
Iraq today produces nearly 5 per cent of the world's oil. Since 2010, Iraq's oil production has nearly doubled.
Iraq has surpassed Iran to become the fourth largest oil producer in the world, an amazing improvement from 12th place a decade ago.
Domestic oil consumption has soared nearly 50 per cent since 2010 to 830,000 bpd.
Thus, Iraq has a 0.87 gallons per person per day oil consumption rate (very high for a poorer country), compared to the 0.40 gallon rate for China and 2.65 gallons for the US.