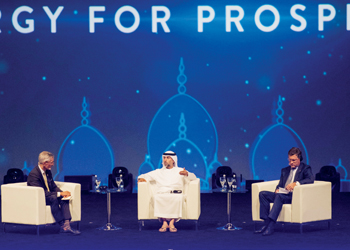 Al Mazrouei (centre)on stage with Novak (right)
Russia to host the next World Energy Congress in 2022
Leading energy experts assembled at the recently concluded 24th World Energy Congress (WEC) called for the need for courageous entrepreneurship to tackle tomorrow's key energy issues, using 5G to stimulate a drive towards sustainability and discussing ways that can lead to faster, better and cheaper energy.
WEC is the World Energy Council's global flagship event offering a platform for global energy leaders to explore new energy futures, critical innovation areas, and new strategies.
Hosted by the UAE in Abu Dhabi, last month, the four-day event saw some of the global energy thought leaders, UAE's highest profile business leaders as well as distinguished industry figures, exciting young thinkers and government ministers participating in extensive debates covering issues critical to the future of energy production, supply and distribution and how bold entrepreneurship can shape the culture of innovation needed in rapidly changing world, said the event organisers.
The last day's keynote speech saw Khalifa Hassan Alforah Alshamsi, Etisalat's Group Chief Corporate Strategy & Governance Officer, explain how the newest generation of mobile technology can be harnessed to promote sustainability in the energy sector.
Alshamsi said: "5G is a new piece of technology that can revolutionise new industry. It is not only about speed but yes it will be phenomenal for VR and AR experiences."
The closing plenary of the 24th WEC celebrated the event's achievements and successes as well as reflecting on the innovative ideas and bold solutions that were formulated over four impactful days.
Dr Christoph Frei, Secretary General & Chief Executive Officer, World Energy Council, moderated the final plenary of the week that celebrated the achievements of the first WEC to be held in the Middle East.
Speaking in front of an assembled audience, Suhail Mohamed Al Mazrouei, UAE Minister of Energy and Industry, said the previous days were an important step towards helping to reshape the future of the energy industry.
He said: "It has been an excellent event and the overall result of the discussions between ministers of the governments have led to an excellent outcome. We have agreed that all of us are committed to reduce the emissions that we produce and make sure that we can all work together to help serve the whole industry well.
"It is also important to understand that any type of energy is going to help us going forward. We have to make an impact so that in the future, we have cleaner air and water that will benefit the world."
Joining Al Mazrouei on stage was Alexander Novak, Minister of Energy, Russian Federation. As hosts of the next World Energy Congress in 2022, Novak said Russia will embrace the opportunity to build on Abu Dhabi's success in hosting the energy industry's flagship event in three years time.