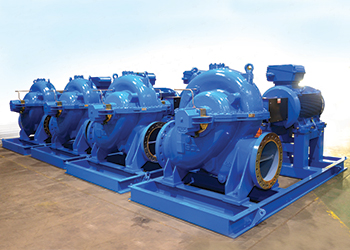 An SPP LLC Pump
The company's partners are pumping and compression industry pioneers, whose tailor-made solutions can handle any demanding application and thoroughly perform duty well over their total lifecycle
The leverage a smart new market entrant can have over older competitors is its keen understanding of the gaps in market demand and supply, and filling those gaps to make a mark.
Top Tag Trading (3T Saudi) might well fall in that category. When it started four years ago, it envisioned itself as a multi-disciplinary industrial products distributor with strong capabilities to deliver value-added technical solutions.
This easily holds true for 3T Saudi in the pumps segment for the oil and gas industry. 'Most of the company's vendor partners are industry leaders in their space. The collective experience that we bring to the table including that of our partners is over 1,000 years of pioneering and this offers a unique experience to our customers who are constantly looking to find solutions to optimise productivity, reduce downtime and increase profits,' Thiagu Bhojan, CEO, 3T-Saudi tells Abdulaziz Khattak of OGN.
'Our vision, the ability to understand market challenges and a strong aim to address customer needs have kept us agile, and has propelled us to establish new, yet strong partnerships with industry leading brands like Kirloskar, SPP Pumps, Vogelsang Gmbh, Sofis Global and Flow Control Technologies, all of which have expanded our offering, operations and technical acumen,' he says.
Bhojan ... quality service
The strong urge of customers to source quality products and equipment from reliable vendors has enabled 3T Saudi to access the potential across multiple industries and applications.
3T Saudi supports customers in their journey towards the next stage of industrial development by supplying them state-of-the-art, reliable, best-in-class and efficient equipment and products. And the level of support it offers customers is the secret behind its success story in the region.
Bhojan says 3T Saudi follows a similar customer support strategy for every industry including, oil and gas, chemicals, petrochemical, water waste water, food and beverage, and general industries.
He adds the company's customer journey — for both end users and consultant/contractors — begins with a systematic study for equipment selection, BOM finalisation and supply, supervision of erection and commissioning, maintenance support, customer training for monitoring equipment performance, reliability and maintenance. Warranty support and activities post warranty are covered at three levels: preventive inspection, spare parts and repair, and equipment overhaul.

RANGE OF SOLUTIONS
3T Saudi has an impressive range of sizes and designs, and pumping options for all fluid types and applications, in any industry with wide delivery rates and pressure range, MOC variants, flexibility of drive possibilities, installation options and efficiency. Its exhaustive list of reliable solutions for customers in
the industrial segment includes:
• Compressed air for utility and instrumentation air which includes a complete range from reciprocating, screw and centrifugal compressors.
• Process gas compressors confirming to API 618 and 619 for applications in main and auxiliary processes for handling gases like methane, ethylene, CO2, hdrogen, helium and ammonia.
• Centrifugal and screw chillers for process cooling, heating, ventilation and air-conditioning (HVAC).
• Centrifugal pumps including pumping solution for water, UL/FM listed firefighting and suppression pumps confirming to NFPA 20 standards, API pumps for the energy industry.
• Positive displacement and rotary lobe pumps for sludge with high dry matter content.
• Grinders and separators to shred and trap solid matter in harsh applications including wastewater and sewage treatment.
• Trunnion mounted ball valves for a wide range of applications including subsea and very special applications from 2 inches to 60 inches confirming to API 3000 to API 20000 and pressure class 150 to 2,500.
• Valve interlocks that ensures SOPs and procedures are followed to create a safe working environment.
It also offers a well-rounded basket for pumps (standard and customized)), including horizontal split case, end suction, vertical turbine, multistage, rotary lobe, and progressive cavity pumps.
'In this space, we represent Kirloskar Brothers, SPP Pumps and Vogelsang pumps. Our basket includes both centrifugal and rotary lobe pumps and covers applications in water, sludge, chemicals, liquified gases, condensates, viscous liquids, etc.
'The portfolio enables us to cover for any fluid options including high turbidity including solid/dry and abrasive matter, viscous fluids, etc, and yet offer with the advantages of self-priming, non-clog and backflushing function where required, resistant to dry running, large flows, pressure and high heads,' Bhojan says.
The API standard pumps are suitable for handling fluids from -50 deg C to +350 deg C. also offered are Atex-compliant versions.
3T Saudi's vendors are pioneers in the pumping industry. They design and develop standard and customised pumps and pumping solutions to match the unique needs of customers. The tailor-made technical solutions offered are reliable, of high-quality, and sustainable solutions for fluid handling in any demanding application, and are staged to meet desired pressure requirement and to perform its duty as expected over its total lifecycle.
According to Bhojan, the pumps segment is continuously evolving. 'Every pump manufacturer is in the race for efficiency improvements, anti-clog features, lower maintenance time and repair costs, and to bring about advancements in pump and motor control for realising low lifecycle costs,' he says.
'Some of the recent innovations that are gaining popularity are the lowest lifecycle cost (LLC) pumps, canned motor pumps, multi-stage multi-outlet pumps offered by our partners SPP Pumps,' he adds.
SPP's LLC series of horizontal split casing pumps have been specifically developed to meet the requirements of 21st century pump users. The best of SPP's existing, well-proven designs, have been fine-tuned with the aid of three-dimensional computational fluid dynamics, to attain the optimum performance minimising power consumption and internal re-circulation.
Mechanical designs and standard materials of construction have been substantially upgraded, in order to offer the end user unrivalled longevity, improved efficiency, maintenance costs resulting in lowest total cost of ownership. In essence, the LLC pumps set the standard for low life cycle cost pumping equipment.
Bhojan says 3T Saudi continues to identify brands it can associate with, collaborate for customer success and contribute to the Kingdom's next level of industrial development as envisaged in Vision 2030.
Additionally, the company has jointly with its partners launched initiatives to improve asset performance. It leverages technologies such as Industrial Internet of Things (IIOT), cloud-based remote monitoring and data analytics to constantly benchmark and deliver lowest total cost of ownership to its customers.
3T Saudi being a startup organisation with an existence of less than four years has endeavoured to service the existing installed base of its partners through quality support and training. It has spent time to thoroughly understand customer requirements and relay these inputs to the respective product development teams of its partner organisations.
'As a result of these developments, we launched the next generation diesel portable air compressor by Kirloskar modified to suit the harsh climatic conditions in gas oil separation plants (GOSPs) and offshore applications.
'Kirloskar's new energy efficient screw air end enable us to provide best-in-class performance of electric screw air compressors to our customers,' Bhojan concludes.