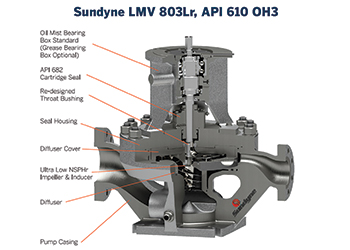 The enhanced LMV 803Lr Pump for Ultra-Low NPSHr performance
Sundyne has announced a series of enhancements to the LMV 803Lr high-flow pump designed to deliver ultra-low net positive suction head required (NPSHR) performance while reducing installation and maintenance costs.
The API-compliant LMV 803Lr is a direct-drive, heavy duty vertical inline centrifugal pump that shares technology with Sundyne's legendary 800-series pumps, which are widely used in the oil and gas, refining and hydrocarbon processing industries. The pump features Sundyne's innovative inducer technology and backswept impeller, which allows the pump to reach unparalleled NPSHr performance (over 10 ft/3m up-and-down the curve) without the risk of cavitation.
According to Helene Balligand, Sundyne's Product Line Manager: "The LMV 803Lr can be installed at grade level, which enables operators to meet their NPSHr requirements without a sump pit, or elevated tower skirt."
She says: "By eliminating the need to install pumps below grade, or lift vessels to attain NPSHr, plants can save tens-of-thousands of dollars on installation costs, while simplifying maintenance and streamlining operating costs over the life of the pump."
The enhancements to the LMV 803Lr pump include:
• An enhanced throat bushing improves seal performance for light hydrocarbon applications. This facilitates API 682 seal chamber compliance utilising existing castings with a consistent footprint.
• A new oil mist bearing box (which comes standard) complies with API 610 requirements and offers more robust loading capabilities, reducing the need for periodic greasing. A grease lubricated bearing box is also available.
• An updated cryogenic design for NGL recovery, ethane, and LNG production and storage applications.
• An expanded hydraulic package meets a wider range of process parameters and delivers ultra-low NPSHr up-and-down the curve. The total size of the LMV 803Lr is just 25-per cent as large as competitive horizontal pumps. This small footprint reduces service and maintenance costs, because in many instances a crane is not required to install and maintain the pump.