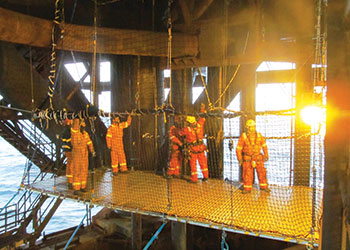 The V-Deck has application in many areas
The V-Deck underdeck access solution by Velo Tech Systems was specified for the Bruce Platform in the UK North Sea Sector, where the client required access for pipework replacement at a location 12 m underdeck.
According to Jo Bisset, Director, Velo Tech Systems, the four-man installation team erected the V-Deck to the first work area in seven shifts. "Impressed by the speed of installation and work execution for this work area, the client requested the team mobilise additional equipment to build the V-Deck to a second work area another 12 m further underdeck."
He adds: "If they had scaffolded this work area, then they would have had to remove the passive fire protection material prior to attaching the scaffold clamps to the structure. However, we have designed a revolutionary V-Clamp that attached over the top of the PFP without damaging it. The cost and time for removing and reinstating the PFP would have added hugely to the cost of this project if they had chosen scaffolding."
The V-Deck delivered an 85 per cent time savings on the Bruce Platform compared to scaffolding.
Compared to Tube and Fit scaffold, the V-Deck delivers up to 88 per cent time savings, is five times lighter, takes up 75 per cent less volume, has 100 per cent less contact points, offers 79 per cent reduction in components, and has provided up to 15 suspended levels (45 m vertical height).
The V-Deck is suitable for many application areas including underdecks, pipe bridges, helidecks, flares, cranes, and modules.