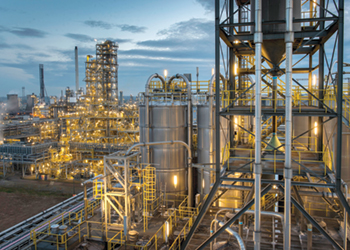 SABIC is working to drive circular economy in petrochemicals
The global chemicals giant is vigorously driving research and development in circular economy through various international partnerships, which aim to create value for companies, the industry and society in general
Sabic overcame a testing period in 2020, all thanks to a robust business model and its ability to enhance resilience, boost operational excellence, and strengthen its global supply chain and presence.
The global chemicals giant is vigorously driving research and development in circular econo-my through various international partnerships, which aim to create value for companies, the industry and society in general.
Late last year, SABIC established its specialties business as a standalone unit. The move gener-ates significant value for the company by unlocking its growth potential and becoming more effective in addressing its unique business and customer requirements.
These achievements led to SABIC being declared the world's second most valuable brand in the chemicals industry in 2021, and for the first time ever. It also cemented its place among the top 500 most valuable global brands.
Yousef Al-Benyan, SABIC Vice Chairman and CEO, said the ranking was "a clear confirmation of the strategy we have defined to position SABIC as a leading global chemical brand".
Al-Benyan added: "Building a strong global brand is integral to our core objectives and aligns with our growth ambitions. It enables our business strategy and enhances our resilience. Our brand is important to us and our customers and stakeholders, and we will remain dedicated to delivering our Chemistry that Matters."
SABIC's financial results for Q4 2020 also demonstrated strong earnings, with $592 million posted in profit even though annual revenues were abbreviated compared to 2019.
SUSTAINABILITY
SABIC recognises the core role sustainability and innovation play to help meet the challenges of maintaining a livable planet. This mindset has helped the company create new technologies and solutions, and adopt new processes that have transformed governance and operational efficiency.
A significant step in this regard is the development of a circular economy for plastics, and SABIC undertaking concrete measures in this direction.
SABIC is producing certified circular polymers as part of its Trucircle portfolio
According to Fahad Al Swailem, Vice President, PE & Sales: "SABIC is committed to helping to create a new circular economy where plastic never becomes waste. Advanced recycling allows us to increase the production of more sustainable materials and use our planet's re-sources wisely, whilst reducing the use of conventional approaches such as landfill and com-bustion. Advanced recycling has a crucial role to play in the current recycling mix as it can capture value from plastic waste streams that have traditionally been ignored or discarded."
Early this year, SABIC and Plastic Energy set out to construct the first commercial unit in Geleen, the Netherlands, to produce its flagship certified circular polymers, part of the Trucircle portfolio, which are made from the upcycling of mixed and used plastic.
The 50-50 joint venture called SPEAR (SABIC Plastic Energy Advanced Recycling) is expected to become operational in the second half of 2022.
Calling it a pilot project, Al-Benyan said the experiment will be extended to the large plants in the Kingdom if the plant's operational plan in the Netherlands is successful.
Similarly, in another project, oil giant BP and SABIC are working together to drive circular economy in petrochemicals. Accordingly, certified circular products will be made from ad-vanced plastics recycling.
Pyrolysis oil made in the process from mixed and used plastic will be processed at BP's Gel-senkirchen refining site and then used by SABIC in its Gelsenkirchen polymer plants to pro-duce certified circular products.
This will also lead to reduction in the amount of fossil resources needed in the petrochemical plants at the site.
Wolfgang Stückle, Vice President Refining and Specialities Solutions Europe & Africa at BP, called it an important milestone in the company's vision of achieving 30 per cent of its eth-ylene and propylene production from sustainable, recyclable raw materials by 2030.
SABIC has also upcycled more than 100 million single-use PET water bottles from landfills and incinerators into its LNP ELCRIN IQ products contributing to net zero.
According to life cycle assessment (LCA) comparing virgin PBT and LNP ELCRIN iQ resins, SABIC found out the latter lowered global warming impact by 29 per cent and cut cumulative energy demand by 43 per cent compared to virgin PBT.
In a separate collaborative effort, SABIC has allied with BASF and Linde to work on concepts to use renewable electricity instead of fossil fuel gas for the heating process of cracker fur-naces.
This technology leap will be a milestone on the path to a low-emission chemical industry, considering that steam crackers play a central role in the production of basic chemicals and require a significant amount of energy to break down hydrocarbons into olefins and aromat-ics.
By using electricity from renewable sources, the fundamentally new technology has the po-tential to reduce CO2 emissions by as much as 90 per cent.

LOCALISATION EFFORTS
Keen to see the Saudi industry grow and increase local content, SABIC has through its Nusaned Investment initiative provided financial support to SMEs and increase local content through direct equity and mezzanine financing.
Since its launch in 2018, it has secured approval and commitment for four deals with a total value of around SR42 million with local and foreign partners across diverse sectors including plastics, energy, construction products, industrial services and personal protective equip-ment.
Late last year, SABIC said its projected contribution to the country's GDP through Nusaned had increased to SR8.8 billion.
In January, Nusaned Investment rebranded itself and moved into a new office building.
Evers since Saudi Aramco's acquisition of a 70 per cent stake in SABIC in June 2020, both giants have made progress in areas of synergy and collaboration that will create value for both parties.
SABIC's share of the expected annual value creation with Saudi Aramco, is predicted to amount to between $1.5 billion to $1.8 billion by 2025.