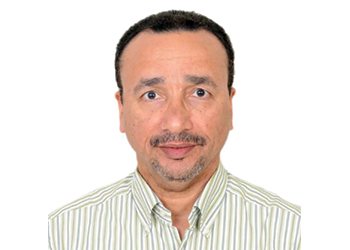 Al-Mughahwi
The institute is building its capabilities as an international accredited provider and has set a vision for the certification hub to cover all businesses and crafts in the upstream, midstream, and downstream, says the SPSP management
To support today's business operations and ensure their safety, reliability, and sustainability, it is a necessity to provide proof of knowledge, qualification, and skills to ensure the required standards in every job-specific operational task are met.
In line with the strategic direction and imperatives set forth by its founders and lead by Ministry of Energy, the Saudi Petroleum Services Polytechnic (SPSP) has established its certification services covering areas like job certifications, heavy equipment and crafts. As a pioneering strategic partnership institute of TVTC, this initiative comes as an execution of the planned strategies in line with the Kingdom's ambitious development plans.
Al-Habib
SPSP established its certification services to be an integral part of individuals' and facilities' requirements to meet business objectives.
The institute received Saudi Aramco's stamp of approval to conduct the certification programmes for its contractors' workforce, namely "Contractors Workforce Competency Assessment Program". SPSP is now an Aramco-approved third-party certifying body. This move will result in proved creditability, enhanced quality, and sustained operations for companies.
SPSP is building its capabilities as an international accredited provider and to ensure long-term success and growth for its valued clients by applying a transparent, structured human capital programme. Furthermore, SPSP has set a vision for the certification hub to cover all businesses and crafts in the upstream, midstream, and downstream, and the industry in general. The certification hub programme at SPSP aims at standardising the certification process and ensuring the workforce's professionalism. It also ensures strict adherence to the highest quality procedures and standards stipulated for delivering qualification, which support human resources and operational departments in building and maintaining the right human capital.
SPSP is determined to be a leading certification hub in Saudi Arabia and beyond by capitalising on its market experience, industry expertise, quality systems, and well-established and demonstrated competencies to successfully implement and administer the programme.
Moreover, the founders and SPSP Board of Trustees have invested in developing certification in Saudi Arabia on international standards to support local content programmes in line with Saudi Vision 2030 and IKTVA, a Saudi Aramco initiative.
Ali Al-Habib, SPSP Certifications Supervisor, says: "The certification program will ensure employees can safely and effectively perform their job responsibilities up to their companies' established standards; ensure safety of employees and plants; develop workforces to perform duties at the minimum role requirements, and then exceed; establish structured performance measures; ensure compliance with rules and regulations; and support progression and career planning."
Ibrahim Al-Mughahwi, Director of Industrial Certification, says: "In addition to the certification services provided and mentioned above by the SPSP certification program, the plan is to expand soon to cover more advanced certifications on welding, asset integrity, scaffolding, rigging, and safety. Certification is a powerful process to establish a culture of sustainability in operating and maintaining oil, gas, and construction facilities safely and effectively."
Al-Mughahwi also emphasises that conducting certifications through a periodic testing process using criterion-referenced tests and/or performance tests will ensure a cost-effective and efficient approach to certification and recertification of the skilled workforce. It will also ensure fairness among the company workforce and meet insurance requirements. The certification programme is established to support the Energy and Industrial companies in sustaining their operations and maintaining the highest quality following international standards.