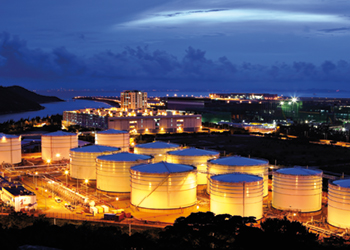 Advanced Hempel protection for oil and gas facilities
The company offers tailored anti-corrosion solutions that provide reliable, long-term protection for oil and gas businesses, whether they are upstream or downstream, offshore or onshore, new build, or maintenance, Eyad Wahiba, Business Director, Saudi Arabia, tells OGN
Although the oil and gas industry is steadily rebounding from the devastating impact of the Covid-19 pandemic, it still faces a range of familiar challenges. Protecting assets in some of the world's harshest environments is one of them.
With more than 100 years of experience in marine and protective coatings, Hempel understands these complex requirements. The company offers tailored anti-corrosion solutions that provide reliable, long-term protection for oil and gas businesses, whether they are upstream or downstream, offshore or onshore, new build, or maintenance.
According to Eyad Wahiba, Hempel's Business Director, Saudi Arabia: "Hempel's extensive product range offers advanced protection for all primary asset elements within the oil and gas industry. From structural steel in new build construction to internal operating and process equipment, and ongoing maintenance solutions – Hempel products protect assets for a lifetime.
The company's reputation is built on the pillars of proven performance, global service, professional support, and innovative solutions."
Backed by in-depth knowledge of the downstream sector and an innate understanding of the need for anti-corrosion coatings that are easy to apply, durable, and cost-effective, Hempel's solutions provide advanced protection and help to keep operations running smoothly.
Given the current economic climate, delivering projects on-time and within budget is more important than ever. Accordingly, Hempel continuously develops higher productivity systems that can be applied faster across a wider range of application conditions.
Versiline CUI 56990 ... long-term protection of pipes
With painting often occurring late in a project's cycle, the potential to cause disruption and impact on-schedule completion must be constantly monitored. Hempel's on-site support teams coordinate global and local services to ensure coating projects run smoothly from start to finish and beyond.
Some of Hempel's most popular downstream products include Hempaprime Multi 500, Versiline CUI 56990, and Hempaline Defend, which all have distinct uses and benefits. For example, Hempaprime Multi 500 is recommended as a high-build, intermediate coat in high-performance coating systems where fast handling and short overcoating times are required. Due to its fast-drying, the product is excellent for projects where fast throughput is key.
Versiline CUI 56990 is recommended for long-term protection of pipework, equipment, and other hot surfaces. The product is specially developed to prevent corrosion under insulation (CUI) and is applied directly onto the steel substrate or over a zinc silicate primer.
Meanwhile, Hempaline Defend epoxy and vinyl ester linings are specifically tailored to protect equipment used in hostile and challenging conditions.
Wahiba says: "Whatever your choice of original coating scheme, Hempel can provide comprehensive maintenance solutions and condition monitoring throughout a plant's operational phase, ensuring an optimum return on clients' coating investments."
Hempel also helps customers to maximise returns with Avantguard, an innovative, award-winning technology that is proven to give superior corrosion protection. This new generation of activated zinc primers significantly reduces the effects of corrosion, offering advanced protection and increased durability for all-around performance.
With best-in-class overcoating intervals, Avantguard is fast drying and easy to apply, even in high temperatures and humidity. The coating is highly tolerant, even with high DFTs, minimising the need for rework due to cracking. Moreover, it is proven to reliably protect assets against the world's rapidly changing weather, extreme temperatures, and harsh saltwater conditions for longer.
Hempel's coating systems are extensively tested to current standards including ISO 12944 and NORSOK M-501.
"The company also ensures that products are on-site and on-time with the support of 28 manufacturing plants and over 150 stock points worldwide. With 15 global research and development facilities, Hempel works with clients to provide the right solution for each project, ensuring environmental responsibilities are met," concludes Wahiba.