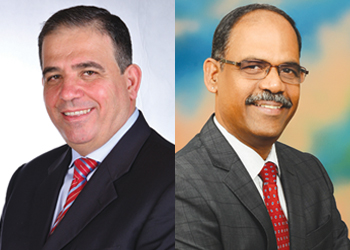 Dr Traboulssi and Sundaresan ... Sulzer solutions increase capacity and reduce loss of product
The company's superior processing solutions, recognised by customers and competitors alike, enable oil refiners and petrochemical operators generate higher value products, Dr Rafic Traboulssi and Ramann Sundaresan tell OGN
Sulzer, a global leader in fluid engineering, strengthened its leadership position in petrochemical processes after its acquisition of GTC, while greatly extending its petrochemical process capabilities.
In an exclusive interview, Dr Rafic Traboulssi, Director - Technology Licensing Regional Sales, Sulzer Middle East, and Ramann Sundaresan, Director – Sales (Separation Technology), Middle East, tell Abdulaziz Khattak of OGN how Sulzer GTC Technology is shaping up the industry with its state-of-the-art technologies that enable customers to increase plant capacity, achieve higher yields, and better overall profitability.

What kind of support can Sulzer GTC Technologies offer petrochemical facilities, which require continuous upgrading to keep up with the competition?
Dr Traboulssi: In May 2019, Sulzer acquired GTC Technologies and integrated the business as Sulzer GTC Technology. Sulzer GTC licenses and designs various state-of-the-art process technologies, which can enable oil refiners and petrochemical operators generate higher value petrochemicals.
For instance, Sulzer GTC GT-BTX technology is an extractive distillation-based process using a proprietary solvent named Techtiv. This technology enables the extraction of benzene, and/or toluene, and/or xylenes, high value petrochemicals, and separate these aromatics from the non-aromatics. In fact, GT-BTX technology outperforms its competing technologies.
Thanks to Techtiv, operators can achieve high recovery yields of aromatics at extremely low solvent-to-feed ratio. Also, the relative volatility of Techtiv versus benzene is 22 per cent higher when compared to the closest performing industrial solvents like Sulfolane, NMP, etc. Thus, the energy requirement to regenerate the solvent is much less. Furthermore, the solvent losses are very little; only occasional top-up may be required.
• GT-Styrene20: With this technology, operators can recover high purity styrene from raw PyGas. Usually, it is dumped in the gasoline pool. Instead, styrene is recovered, and profitability of the operator is increased since styrene is a very valuable chemical and has many industrial usages and applications.
• CrystPX: This technology enables the production of crystal high purity paraxylene, which is used in making PET plastic bottles, polyesters, etc.
• GT-DWC: This dividing wall column (DWC) technology reduces capex and opex for operators. For instance, for a three-component feed mixture, the separation is done over two distillation columns. However, GT-DWC enables the recovery of these components in a single column thus optimising energy consumption.
• Another example is the removal of sulphur. The amount of sulphur and mercaptans in cracker feedstocks is increasing and these are harmful for catalysts. Operators need to remove sulphur and mercaptans whether preparing feedstocks for producing petrochemicals or Euro IV and Euro V gasoline. This is possible through a hydrodesulphurisation process, which requires very expensive high selectivity catalysts. However, this process causes research octane number (RON) losses since olefins get saturated during the hydrogenation process.
Sulzer GTC also offers the GT-BTXPluS technology, used with and without DWC technology, to enable operators to produce high RON gasoline without losing RON and have the flexibility to generate higher value petrochemicals, for example, benzene. It also dramatically reduces hydrogen consumption, thus lowering Opex; and reduces both the required volume of catalyst and the requirement for high selectivity catalyst, which means a much smaller capex.
• Another interesting technology by Sulzer that saves customer capex is its MaxFlux technology/BioFlux technology. MaxFlux is used in the hydrotreating processes in hydrocarbons processing whereas BioFlux technology is specifically used in the production processes of renewable diesel. The hydrogenation reaction takes place in the liquid phase and hence leads to massive savings on process equipment, for example, the use of pumps instead of compressors.
• Last but not least is our Isomalk technology, which is used in the isomerisation and reverse isomerisation process of C4s and C5s. Isomalk saves customers massive capex since there is no chlorides injection to activate catalyst and, therefore, no caustic dosing equipment is required for neutralising excess chlorides and no issues of managing spent caustic.
Furthermore, with our Isomalk technology, isomerisation reaction takes place at a lower temperature, therefore, bringing massive savings in energy requirements (almost 60 per cent lower). These are real capex and opex savings.

What are Sulzer GTC's solutions for increasing plant capacity, reducing energy consumption, adjusting product mix to market demand, meeting new environmental standards, increasing workforce safety, and more?
Dr Traboulssi: Sulzer GTC offers smart solutions, a fact recognized by customers. Major licensors approach us to include certain Sulzer technologies within their scope so they can offer complete solutions to end-customers. A typical technology that serves the purpose here is the Sulzer GT-BTX, which is used for the extraction of aromatics benzene, toluene, and xylene (BTX).
And although competitors offer a similar process, however, we utilise a much better performance solvent, Techtiv. Thanks to the physical properties of Techtiv, we are able to offer a more economically interesting and energy efficient solution.
Alternatively, if we were to maintain the same energy consumption then we could enable customers to increase plant capacity, achieve higher yields, and better overall profitability. In this regard, we are proud that we have revamped competitors' technology for aromatics production with GT-BTX technology in some of the largest BTX production plants in the world.

What services does Sulzer offer to revamp or modify petrochemical plants in order to enhance availability, improve product quality and increase output?
Sundaresan: Sulzer enjoys decades of experience revamping columns in various applications in petrochemical plants. The mass transfer components that Sulzer has developed and refined over the years focus on improving the column performance, be it increase in capacity or improvement in efficiency and sometimes both.
Sulzer understands that in today's competitive scenario, customers have to operate their columns and plants in the most optimum way. Hence, Sulzer starts with performing process study after understanding the customer's requirement and problems faced in operation. The studies include process simulation, hydraulic study and mechanical calculations like FEA, CFD, etc. Sulzer also helps to check the fitment of modified internals in the existing columns using 3D modelling of the internals so as to ensure smooth installation process at site during a turnaround and revamp.

What new approaches is Sulzer taking with regard to debottlenecking, including the use of software? And what can Sulzer offer facilities to avoid the risk of a costly and disruptive unscheduled shutdown?
Sundaresan: Sulzer has the experience of revamping thousands of columns including actual installation services. The knowledge gained from managing multiple shutdown schedules over the years helps Sulzer to plan the activities required to the minutest detail, anticipate possible surprises and to be able to mitigate those during the shutdown.
Recently, one of the largest petrochemical plants in Saudi Arabia approached Sulzer with the objective of improving the capacity and yield of its main product from a large diameter and tall column. The challenge was that the column was already operating at near optimum levels and any revamp and change of internals had to be energy efficient.
Also, the change of internals was to be done during the short turnaround window of the plant. This not only put up a challenge of an improved design of internals but also to minimize (if not avoid) the changes in the welded attachments to the column.
In the end, Sulzer provided a solution, which increased the capacity by 10 per cent and reduced the 'loss of product' by over 70 per cent.
In another case, Sulzer's solution resulted in an increase of nearly 30 per cent in plant capacity with only a moderate increase in energy consumption, by performing a detailed process study and optimizing the internals design
Sulzer is the only separation technology company to be able to offer an end-to-end solution from process study to supply of internals to installation services. It has a proven track record to manage the complete column revamp including modifications to the internals and/or vessel attachments, nozzles, etc., with experienced manpower and special tools and tackles.

Which are the major projects that you are currently participating in? Please provide details of the scope of works and the challenges in implementing it?
Sundaresan: One of the key focus areas of Sulzer is the renewables and circular economy. Sulzer has many initiatives in this regard. Carbon capture and storage (CCS) has been catching the attention of major petrochemical and other process plants for some years now. One area of expertise of Sulzer is to help design columns for efficient capture of carbon dioxide gases. In the GCC region, Sulzer is already in discussion with a few major process plants to help implement projects in these lines.

What are the prospects for Sulzer over the coming year?
Sundaresan: After a relatively subdued year in 2020 in terms of business, Sulzer is able to see some positivity in the economic activities and project decisions in the region. Many Capex decisions, which were delayed due to the pandemic, are being pushed ahead, buoyed by the vaccine availability and stable Covid-19 caseload across the region. We hope the market will rebound by H2, at least, in the GCC region, to a level of 70-80 per cent pre-pandemic levels.