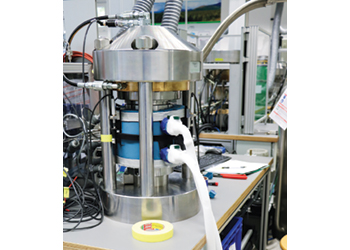 Cryogenic Test ... The DeltaV-Seal was tested for leakage at the university of Wroclaw, Poland
The DeltaV-Seal will gain momentum in Saudi Arabia following successful pilot tests at Saudi Aramco and the growing reputation of the seal's unique properties garnered from Pipeotech's global portfolio of high-profile clients, a spokesman tells OGN
Pipeotech has signed a key partnership deal with leading Saudi Arabian pipeline products and services supplier Safari Oil and Gas Company (SOG) to deliver the Norwegian innovator's guaranteed leak-proof DeltaV-Seal gaskets to industries across the Kingdom of Saudi Arabia.
The two companies have been working together for several years but have now formally sealed this partnership, giving SOG exclusive rights for the distribution, sale, servicing and training of Pipeotech's next generation DeltaV-Seal technology in the Kingdom.
The deal also provides Pipeotech an opportunity to expand its reach within Saudi Arabia through SOG's diversified services and supply network in the oil and gas, water and petrochemical industries.
Both companies have a potential plan for future local manufacturing and supply of the DeltaV-Seal technology, fulfilling SOG's commitment to Saudi Arabia's 2030 Vision diversity and local content programme.
SOG recently conducted successful trial test installations of Pipeotech's DeltaV-Seal at two Saudi Aramco oil and gas facilities.
SOG was formed in 2007 and is one company of the Safari Group, which was started in 1984. The group is one of Saudi Arabia's leading facility management, construction (of mega projects across the Kingdom), trading, hospital management, telecommunications and investment companies. SOG works closely and provides services to industry giants such as Saudi Aramco and multinational chemical manufacturing player Sabic, among many others.
Pipeotech's head of business development Andrew Patrick tells OGN sees a high value in partnering with SOG and sharing its experience and strong connections across the region.
He says: 'This exclusivity deal with Safari Oil and Gas cements our close relationship after years of positive and productive collaboration and demonstrates just how valued the DeltaV-Seal is across key industries, having proven its worth by providing reliable, trustworthy leak-proof tightness in the most sensitive of environments.'
Patrick adds: 'Safari Oil and Gas as a contractor is at the heart of Saudi Arabia's major industries and has long cumulative experience in corrosion and maintenance related solutions and industrial project requirements. It is ideally placed to deliver the DeltaV-Seal into a key strategic marketplace for Pipeotech across the Middle East, including working with some of the biggest hitters around such as Saudi Aramco and Sabic.'
The DeltaV-Seal ... tightest sealing properties and lowest leakage rates
According to SOG, the distribution of the DeltaV-Seal will gain momentum in Saudi Arabia following the successful pilot tests at Saudi Aramco and the growing reputation of the seal's unique properties garnered from Pipeotech's global portfolio of high-profile clients.
'Signing this exclusive agreement is part of our vision to partner with leading manufacturers who provide unique technologies that will add value to the Kingdom of Saudi Arabia,' says a spokesman for SOG.
DELTA V-SEAL
Pipeotech offers a unique position that urges endusers to swap out old-fashioned gaskets for full metal DeltaV-Seals, which ensure the joints in a piping system are as strong as the pipes themselves.
The patented, revolutionary technology is a one-piece, CNC manufactured gasket made from material compatible with the flange it mates with. Three sharp, unique sealing rings deform on installation, filling any irregularities on pipe flanges to form a complete seal. Once placed between the connecting flanges, a permanent, static and leak-proof seal is created.
With the incumbent technology widely in use today, the inevitable deterioration of filler materials, galvanic corrosion, and loss of tightness from temperature fluctuations all contribute to preventable leakages. Expensive maintenance schedules are required to constantly re-torque and replace failing gasket.
With the DeltaV-Seal, the flange compatible material used in manufacturing mitigates the risk of galvanic corrosion in the connection.
DELTA V-SEAL SELECTED BY THE FUGITIVE EMISSIONS JOURNAL
Fugitive Emissions Journal presented an article in its March 2021 publication, about the Delata V Seal unique zero leakage gasket and the promise of an end to flange-born fugitive emissions. An interview was made with Henrik Sollie, CEO of Popeotech on this unique gasket. Sollie says that Since its initial development in 2012, the DeltaV-Seal has undergone an extensive test programme. Rigorous laboratory and real-world tests are conducted with recognised and respected industry authorities such as Amtec and DNVGL. To date, the DeltaV-Seal is the only recipient of type approval from DNVGL, due to a combination of its outstanding leakage and longevity performance. Throughout other standardised testing procedures such as EN-13555 and Shell MESC SPE 35/300, the DeltaV-Seal also exhibited exceptional results.
A perfect example would be a recent test conducted by the University of Wrocław in Poland. It was established that for cryogenic applications (LNG shipping, terminals, regasification, etc) where operating temperatures are often approaching -196 deg C, the DeltaV-Seal maintains a tightness higher than 10-8 mg/s (3.6*10-11 kg/h) at all tested pressures.
When compared to other gaskets that have undergone similar testing at lower pressures (spiral-wound + graphite, Kammprofile + graphite & Kammprofile + PTFE) comparisons show that the DeltaV-Seal was more than 10,000 times tighter. While the other technology stopped testing at 8 bar – we continued to 100 bar and maintained a perfect gas-tight seal.
Based on these tests we calculated that for cryogenic applications, each flange containing a DeltaV-Seal would save, at least, 1.1*10-4 * 24 * 365 ≈ 1 kg/year of Methane + NMVOC emissions.
• 10-year gas-tight guarantee: With extensive tests verifying not only the exceptional sealing qualities of DeltaV-Seal, but also how it performed over time, the idea was born to back up these extreme results with a zero-leakage warranty.
'The simple yet unique properties of the gasket allowed for unique claims. Back in 2019 we decided to back up these claims with the industry's first and only 10-year gastight limited warranty,' says Sollie.
For us it was essential that the warranty became applicable for as broad a range of applications and processes as possible, ' says Sollie.
Sollie says: 'The gasket industry claims to meet today's stringent regulations. The first time a maximum permissible leakage rate was added to the ASME B16.20 standard 'Metallic Gaskets for Pipe Flanges' was in 2017.
He adds: 'We can guarantee there will be no need for retorque for at least 10 years in any application. As the gasket will not leak, and the frequency in which leak detection and repair (LDAR) programs are used would be greatly reduced, saving companies downtime, product, and revenue. We like to say, 'Why leak and repair when you can install and forget'.'
The SOG spokesman says: 'The benefits of installing DeltaV-Seal gaskets in any facility with pipes or flanges, regardless of the service or temperature, are immediate for both the facility owners and government institutions who are constantly fighting for sustainability in the environment. The DeltaV-Seal will stop all fugitive emissions, adding more revenue to the facility owner while providing safe operations by preventing leaks and fires and costly unplanned shutdowns.
'Pipeotech's DeltaV-Seal is further distinguished from any competition as it is easy to install and requires much less effort to achieve 100 per cent tight isolation when compared to traditional methods,' he adds.
• Environmental sustainability: The company understands that good business goes hand in hand with environmental stewardship. By manufacturing a gasket seal that completely eliminates fugitive emissions, with zero leaks, no product loss, and maximum efficiency, the manufacturer is helping other companies safeguard not only their reputation, people, and assets, but the environment in a largely impactful way.
Sollie says: 'The DeltaV-Seal technology has the tightest sealing properties and lowest leakage rates available for pipeline connections today,' said Sollie. ' We will continue to work with associations like the European Sealing Association (ESA), and Assosiation for Material Protection and Performance (AMPP) to develop standards for a sustainable future.