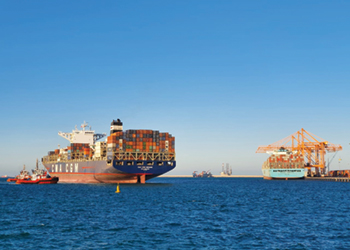 CMA Mekong berthing along with Maersk Gibraltar at JCT in March 2021
With the development of Jubail and Yanbu, importers/exporters will have more choice for gateway cargo, particularly since all exports are produced in these regions and currently trucked hundreds of miles to far away ports, Jason French of GSCCO/Gulftainer tells OGN
Work never stops at Saudi Arabia's Jubail Commercial Port (JCP), a hustling maritime global link that connects customers to the most happening business centres in the energy world.
The port's strategic location makes it a key maritime gateway for Jubail, home to the largest industrial city in the world; and one hour away from the newly developed Industrial Maritime Industries and the Kingdom's mining activities in the Ras Al Khair.
With direct inland connections to the capital Riyadh, JCP also provides an alternative gateway to the ever growing Saudi market, and serves both the upstream, including general cargo/bulk and import; and the downstream for refineries, exporting polymers based products.
Keeping the multipurpose port functional is Gulf Stevedoring Contracting Company (GSCCO), a company specialised in the development, management, and operation of Seaports (Container and general Cargo), Bonded Zones and Logistics Operations. As a member of the Gulftainer Group of Companies, it is part of one of the world's largest, privately owned, independent port operators based in the UAE.
GSCCO's presence in Saudi Arabia spans over 30 years, having managed 14 concessions, handling over 35 million TEU (Twenty Foot Containers) and 10 million tonnes of general cargo, making it the most experienced Terminal operator, by volume, in the Kingdom.
Its current operations include the Jubail Container Terminal (JCT) and the Jubail Industrial Port (King Fahad Industrial Port) and several ICD/ Empty parks located at the heart of the Berri Oilfield, in the centre of Saudi Aramco's offshore oilfields.
After a new international management team led by industry veteran Jason French, GSCCO/Gulftainer KSA Managing Director, placed by Gulftainer, the port has been re-organised and strengthened with more equipment, introduction of new systems and processes, allowing the company to expand into a fully-fledged maritime supply chain solution provider.
With a handling capacity of 1.5 million TEUs per annum, JCP presents an attractive value proposition to industrial and commercial entities in the region.
A newly developed inland container depot (ICD)/empty park has been integrated at the JCP into the JCT terminal system to optimise supply chain and new Investment in trucking, logistics parks and brokerage/clearance is taking place.
JCP also offers superior quay crane productivity, with 35 to 40 moves per hour supported by 8 tugs per crane. Three new quay cranes and five Rubber Tyred Gantries (RTG) worth an investment value of $49 million are on route and will be delivered shortly.
French says working with our logistics partners such as Gulftainer's specialised logistics company Momentum and Saudi Rail (SRO), who are due to complete the first rail connection to Jubail, GSCCO is able to offer a seamless supply chain from Plant to Port.
French states: 'JCT has plenty of yard space, low dwell times and truck turnaround time is an average of nine minutes, further adding that more companies operating through JCP will lead to lesser usage of the Dammam-Jubail Highway, and thus taking trucks off the road decreasing the Kingdom's carbon footprint.'
Furthermore, a new maintenance dredge has ensured the depth is at 14 m Chart Datum (CD) for some of the largest vessels to access the port.
French says GSCCO is working with the National Develop Logistics Program (NDLP) in line with the 2030 Vision, and working with Mawani (Sea Ports Authority) to develop the Sea Express Highway Initiative which will link ports such as Jubail and Yanbu to the wider regional network.
With the development of Jubail and Yanbu, importers and exporters will have more choice for gateway cargo, particular given the fact that all exports are produced in these regions and currently trucked hundreds of miles to far away ports.
'It is these initiatives such as the development of the Jubail supply chain for the exporters that will achieve the Third Pillar of the 2030 Vision making the Kingdom of Saudi Arabia into a regional powerhouse in ports and logistics,' concludes French.