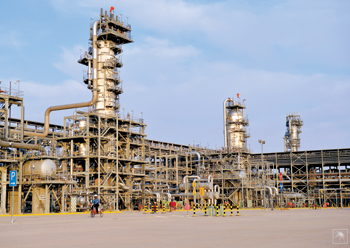 Name of Client : Saudi Aramco
Estimated Budget : $1,700,000,000
Facility Type : Storage Tanks
Sector : Gas
Status : Construction
Location : Hawiyah
FEED : Worley
Main Contractor : Samsung Engineering Company
Award Date : Q1-2020

Background
The purpose of the proposed Hawiyah Unayzah Gas Reservoir Storage Project is to provide the necessary facilities to store off-peak surplus sales gas via injection into the Hawiyah Unayzah reservoir during the low-demand season for reproduction back into the Master Gas System (MGS) during high demand, thereby maximising the gas plants' utilisation. The project will enable Aramco to inject 1.5 billion standard cubic feet per day (bscfd) of surplus natural gas from the MGS into the Hawiyah Unayzah Reservoir by 2022. In addition, the processing facilities will be able to reproduce up to 2 bscfd of gas stored for reintroduction into the MGS by 2024.

Project Status
As of May 2021, Mammoet has been awarded a transport and installation contract by Samsung Engineering on the project to transport more than 60 components to the project site for installation.

Project Scope
The first-of-its-kind gas storage project for Saudi Aramco includes a design compression facility with an injection capacity of 1,500 million standard cu ft per day (MMSCFD) and a design reproduction facility for reproducing 2,000 MMSCFD of gas during peak consumption to produce sales quality gas; booster compressors; injection compressors; reproduction compressors; API pumps and their drivers; 380-kV and 230-kV substations; 752.5-MVA power transformers and other equipment; 10 compression trains for the injection portion and 10 for the reproduction portion of the plant.

Project Finance
Saudi Aramco is the client of the project.

Project Schedules
Project Announced : 1Q-2019
FEED : 1Q-2019
EPC ITB : 3Q-2019
EP : 1Q-2020
Construction : 2Q-2020
Completion : 4Q-2023