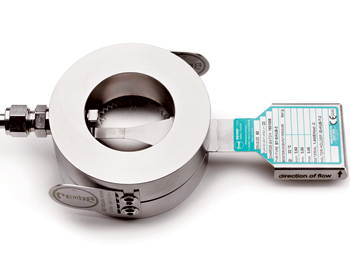 The non-invasive monitoring unit ... a reusable signalling system
Intelligent signalling solutions can keep operators informed about the status of their entire plant while not being affected by the harsh operating conditions, a REMBE spokesman tells OGN

Over the past few years significant advances have been made in the performance and capability of pressure relief technology – essential safety components found within chemical processing plants.
While products such as rupture discs are mandatory by law, they are product solutions, which may not be reviewed very frequently once installed. This means plants are not gaining the operational benefits associated with newer designs.
Furthermore, products such as rupture disc burst signalling solutions, which can significantly change the way a plant operates, are neither always used nor is it recognised that there are now reliable signalling solutions that are fully compatible with the harsh operating conditions known in the oil and gas sector.
Throughout the chemical sector, for example, processes operating at high temperatures and with highly corrosive process media are common. Traditional signalling devices were not always compatible with such conditions and, therefore, are often over-looked as an additional accessory to monitor the status of the rupture disc.
Developments in technology mean even companies in this sector can now use rupture disc signalling systems, helping not only improve productivity and safety but also supporting with environmental concerns.
A KUB rupture disc ... a robust solution that maximises the disc
lifespan and minimises long-term investment
For processes operating with potentially harmful media, the ability to shut down the process quickly and safely mean the risk of leakage is eradicated. Complying with explosive atmospheres and intrinsic safety industry standards, the signalling devices are designed to provide rapid notification of rupture disc activation, helping ensure safe management of the process while minimising downtime. Signalling devices can easily be integrated with customers control systems to provide visual or acoustic notification of disc burst or to shut down the plant where required.

HARSH OPERATING CONDITIONS
Traditional membrane type signalling devices present several problems for customers requiring compatibility with harsh operating systems. With these devices, false alarms are unfortunately commonplace as the operating conditions could cause the device to activate even if the disc itself had not opened.
These membrane detection systems are installed downstream of the rupture disc and typically manufactured from a thin plastic membrane with a sensitive conductive wire through the middle.
The fragility of the membrane means that they can be easily susceptible to damage during installation or caused by downstream back pressures or corrosion. The cable running through the membrane is easily broken by the downstream environment which then sends a false signal that the disc has opened. This results in an unnecessary shut down of the plant.
For customers for whom compatibility with harsh operating conditions is of paramount concern, the NIMU (non-invasive monitoring unit) is a reusable rupture disc signalling system designed for rapid notification of rupture disc activation.
The REMBE NIMU sensor is not in contact with the process meaning it is not affected by challenging process conditions or corrosive media. The unit is installed into a tapping within the outlet of the rupture disc holder and is completely isolated from the process, so it does not create any leak paths and is not damaged following disc activation. This is critical for chemical customers where leak paths cannot be tolerated.
With the traditional membrane type signalling devices, false alarms were unfortunately common place, as the harsh operating conditions could cause the device to activate even if the disc itself had not opened. This false signalling would cause unnecessary and costly process downtime. Unlike these traditional devices, the NIMU is not negatively affected by the process.
Additionally, membrane detection systems are single use, meaning additional replacement costs.
With the NIMU, this additional cost is eradicated; the NIMU enhances overall dependability of rupture disc installations while reducing long-term expenditure. Not only is the signalling device fully reusable following disc functioning, it is also reusable after routine maintenance checks.
Easy to inspect during such maintenance routines, its closed circuit design allows it to be refitted into the holder by the same operator inspecting the disc, simplifying and quickening the maintenance process, a must to meet the demanding productivity requirements within the chemical processing sector.
When used in combination with the REMBE iQ Safety Cockpit, the operator can be instructed in the event of a system disruption and can implement the relevant emergency management protocols. The affected employees can be individually informed of a process shutdown and co-ordinated response to identify the cause and get the plant back up and running as quickly as possible.

REDUCE ENVIRONMENTAL RISK
Rupture disc signalling can also play an important role in the chemical industry, for example. Environmental concerns such as the control of emissions have become increasingly important for chemical manufacturers and having the ability to detect even a sight leak in a process could provide significant benefits.
Rupture discs are often the preferential choice over safety valves due to their higher leak-tightness. If there is a concern over emissions, it is usually driven by the fact that the process is particularly toxic or harmful which in turn often means that it is highly corrosive.
Although rupture discs should be designed and specified in materials that are suitable for the specific process to be protected so as to ensure maximum corrosion resistance, it is not always possible to ensure that there will be no damage to the rupture disc over time. If not identified during routine annual inspection, a corroded rupture disc could begin to leak.
• Case study: Faced with a chemical customer, who wanted to know quickly when their disc had burst but was operating their process at very high temperatures, REMBE created a rupture disc with integrated signalling specifically.
Previous signalling devices could not be exposed to such heat without damage but the polyamide foil used in this case remains stable when subjected to extreme temperatures ensuring long-term reliability with no risk of premature failure of the device.
The device, therefore, allowed this operator to install signalling in points of the plant where it was previously impossible allowing them to respond quickly when a disc burst and shut down the process.
By combining leak detection in the same device, the solution allows close monitoring of the status of the rupture disc allowing detection of even the smallest leaks enabling preventative maintenance to be scheduled.

LOW PRESSURE SOLUTIONS
Another historically difficult application for signalling is low pressure processes. The vast majority of signalling solutions follow basic principles of breaking a closed circuit in some way which means a certain amount of force is required to snap a cable or tear a membrane. This, of course, becomes challenging for low pressure applications where the pressures involved may not be high enough to break the circuit.
• Case study: To solve this problem for a customer, who wanted to signal when the disc had ruptured on their storage tanks, REMBE's engineers harnessed the same technology used for high temperature signalling to create a rupture disc with integrated polyimide signalling in a single unit. Making the signalling unit an integral part of the construction of the rupture disc allows low pressure processes such as storage tanks to also benefit from having signalling devices installed.
With a suitable rupture disc signalling solution now available for the widest possible combination of challenging processing conditions, even industries, which previously could not benefit from burst signalling solutions can now do so. This allows operators to gather better information on the status of the plant and for improved control of maintenance and downtime.
REMBE is mostly associates with REMBE Safety + Control, the specialist for explosion safety and explosion venting worldwide. The company offers customers cross-industry safety concepts for plants and equipment. All products are manufactured in Germany and meet the requirements of national and international regulations. REMBE customers include market leaders in various industries, including the food, timber, chemical and pharmaceutical industries.
The company's engineering expertise is based on more than 45 years of application and project experience. As an independent, owner-managed family business, REMBE combines expertise with the highest quality standards and is involved in various specialist committees worldwide. Short coordination paths allow for quick reactions and customer-specific solutions for all applications, from standard products to high-tech special designs.
Headquartered in Brilon (Hochsauerland), Germany, REMBE Safety + Control has about 250 employees and numerous subsidiaries worldwide, including in Italy, Finland, Brazil, the US, China, Dubai, Singapore, South Africa, and Japan.
Addiotnllay, four other companies operate under the REMBE umbrella brand: REMBE Research & Technology Center; REMBE Advanced Services + Solutions; REMBE Kersting; and REMBE FibreForce.