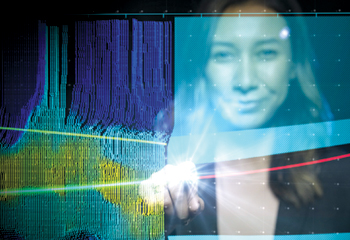 The PeriScope Edge reduces geological uncertainties
The PeriScope Edge reduces uncertainty and ensures optimal reservoir exposure while drilling, while the autonomous directional drilling includes solutions to steer autonomously through any section of the wellbore

Schlumberger has launched two new solutions that aim to optimse well services including reservoir exposure, well economics and well construction performance while reducing emissions.
Its PeriScope Edge multilayer mapping-while-drilling service expands the depth detection range and improves resolution compared to existing services, while utilising cloud and digital solutions to offer reservoir insights. This reduces uncertainty and ensures optimal reservoir exposure while drilling, thus enhancing well construction efficiency.
"Reducing geological uncertainty plays a critical role to improve drilling performance," said Jesus Lamas, President, Well Construction, Schlumberger.
"The PeriScope Edge service introduces new measurements and an industry leading inversion process, enabled by hardware and digital innovations, to deliver accurate geosteering in reservoirs where multiple thin layers could not previously be mapped. This, combined with cloud computing and secure connectivity, creates a unique geosteering workflow that links stakeholders for instant decision making, which results in optimal reservoir exposure improving net-to-gross ratios, and ultimately greater overall drilling performance that unlocks full reservoir potential."
New measurements expand the depth of detection and improve the resolution compared with previous bed-boundary detection services, enabling the PeriScope Edge service to deliver clearer boundary delineation – even for multiple layers of 3 ft or less.
The multilayer service uses new deep-resistivity technology and a transverse antenna for multidirectional measurements to reveal up to eight bed-boundary layers, providing definition and certainty beyond a 25 ft radius.
Leveraging these capabilities, PeriScope Edge service helps drillers sustain a more accurate trajectory while inside the reservoir, which contributes to greater reservoir exposure that leads to optimal production.
The PeriScope Edge service has a proven track record in various formations globally, including South America, the Middle East, and Asia. Offshore China, an operator drilling two wells used PeriScope Edge service to increase reservoir understanding in sandstone, enabling more effective steering within the horizontal section of the wells. The technology helped the operator to double detection range compared to existing services, providing greater reservoir visibility that enabled effective real-time geosteering decisions. As a result, the operator achieved 100 per cent net-to-gross ratio, enabling greater productivity.
Separately, Schlumberger has introduced autonomous directional drilling, which includes solutions to steer autonomously through any section of the wellbore.
Leveraging an intelligent and dynamic downhole automated control system that instantly interprets and acts on data, Schlumberger continues to advance its digital offering enhancing well construction performance.
"Autonomous directional drilling is a significant leap forward for the industry digital transformation, helping our customers achieve new levels of well construction efficiency, consistency and sustainability," said Lamas.
"Our autonomous vision continues to evolve, with the latest technological innovations enabling a self-steering bottomhole assembly (BHA) capable of drilling through any well section. As one of the four pillars of Autonomous Directional Drilling, downhole automation capabilities drive steering adjustments as conditions are encountered to significantly increase rates of penetration (ROP) and improve borehole quality, which leads to greater production potential and emissions reduction."
Schlumberger autonomous directional drilling solutions are built upon four distinct pillars: intelligent planning, intelligent execution, surface automation, and downhole automation.
To achieve downhole automation, Schlumberger has introduced a downhole automated control system – an advanced and intelligent closed-loop control unit – that acquires, interprets and acts upon data to drill better wells, faster.
The system performs corrections immediately. This ensures drilling trajectory accuracy and removes data-to-surface delays to improve decision latency – resulting in greater overall directional drilling efficiency. Current autonomous directional drilling applications include auto-vertical, auto-tangent, and auto-curve.
In the Middle East, an operator used Schlumberger's autonomous directional drilling to drill curves on four wells. The combined solution enabled the operator to reduce downlinks to the rotary steerable system by 49 per cent as compared to offset wells drilled in manual mode, while achieving a 37 per cent increase in rate of penetration (ROP).
In the Permian Basin, an operator used a similar solution to autonomously drill the curve and lateral sections for seven wells. The operator reduced downlinks by 42 per cent for all curve sections, while increasing ROP by 39 per cent.