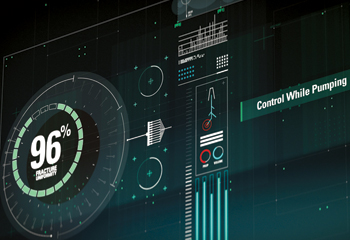 SmartFleet allows operators to see how they land their fracs
Based on successful runs across multiple basins, the system has led to 30 per cent improvement in cluster uniformity, optimisation of stage lengths, 25 per cent reduction in completion costs, and 20 per cent uplift in production


Late last year, Halliburton launched SmartFleet, the first intelligent automated fracturing system that gives operators real-time fracture control while pumping by integrating subsurface fracture measurements, live 3D visualisation, and real-time fracture commands.
And last month, the company announced a successful execution of SmartFleet with a major operator in the Permian Basin.
SmartFleet technology integrates intelligent automation and visualisation with subsurface measurements across multiple wells simultaneously to dynamically respond to reservoir behavior.
By using the SmartFleet system, operators can achieve real-time control of fracture placement and improve overall completion execution. They can control fracture outcomes in ways not previously possible, through real-time fracture decision making and commands. This includes automated actions while pumping to improve near-wellbore and far-field fracture placement, as well as directly manage frac hits.
'The SmartFleet system is the first of its kind, giving operators the ability to see and control how they land their fracs. It represents a step-change towards intelligent fracturing that gives operators the ability to optimise fracture outcomes while pumping, allowing them to drive capital efficiency and asset performance,' said Michael Segura, Vice President of Production Enhancement.
In addition to optimising fracture placement across every stage, the SmartFleet system provides real-time insights to manage frac hits and understand the impact they have on fracture performance.
The SmartFleet system connects to the reservoir through subsurface sensing to continuously measure cluster uniformity and fracture geometry. The system applies the measurements to make intelligent adjustments that improve fracture placement. It also provides users a direct line of sight to live, 3D fracture geometry, projected fracture growth, and cross-well interactions.
'We view the SmartFleet system as a tool that provides valuable insights into subsurface fracture placement. These insights lead to informed decisions that improve fracture performance,' said Aaron Hunter, Vice-President of the Midland Basin for ConocoPhillips.
Based on various successful runs to date across multiple basins, SmartFleet has helped operators improve cluster uniformity by up to 30 per cent; optimise stage lengths; reduce completion costs by up to 25 per cent; and realise an uplift in production by up to 20 per cent.
'Unlike standard task automation, the SmartFleet system applies intelligence and measurements that allow operators to make stage-level decisions that optimise completions in real time,' Segura said
'With this type of intelligent automation, operators can now instantly see and control fracture outcomes that ultimately lead to improved asset economics.'

OFFSHORE WELL CONSTRUCTION
Halliburton has become part of a first-of-its-kind integrated project in the US that combines rig services with all aspects of planning, operations and automation.
The oil field services major has been has awarded a major offshore gas development project contract by Sapura Drilling, a subsidiary of Sapura Energy.
It will execute an integrated rig drilling completion (i-RDC) contract for a six well offshore well construction programme.
The uniquely integrated nature of the contract opens the pathway for Halliburton, in collaboration with Sapura Drilling and Petronas Carigali (a Petronas subsidiary), to synergistically deploy its state-of-the-art Halliburton 4.0 digital platform to its fullest potential to achieve a step change improvement in operational efficiency.
Digital technologies will include the complete suite of Digital Well Program, Digital Well Operations and Digital Well Automation, all DecisionSpace 365 cloud applications.
Consistent with Halliburton 4.0, the scope of work also includes key digital technologies from Sperry Drilling, Cementing, Drill Bits, Baroid, and Completions product lines.