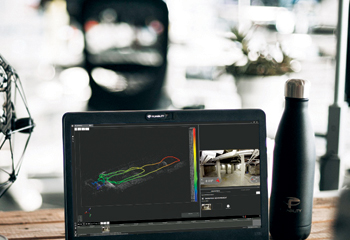 The Elios 2 RAD can detect radiation while in flight through Flyability's piloting app
Flyability, a Swiss company building solutions for the inspection and exploration of indoor, inaccessible, and confined spaces, has launched the Elios 2 RAD, an indoor drone equipped with a radiation sensor made just for inspections at nuclear stations.
"The Elios 2 RAD represents the first chapter in our efforts to create indoor drones targeted specifically for each of our key verticals, accelerating our mission to use robots instead of people for dangerous indoor inspection jobs," says Patrick Thévoz, CEO of Flyability.
"The Elios 2 RAD has the potential to significantly reduce the need for inspectors to be exposed to harmful radiation or to the hazards of confined space entry for the purposes of conducting routine inspections."
Nuclear stations typically have personnel devoted to maintaining low radiation exposure levels following the ALARA (As Low As Reasonably Achievable) requirements.
The Elios 2 RAD is designed to help them in their mission to reduce radiation exposure wherever possible. It does this both by taking the place of personnel where possible for visual and radiation data collection, and by providing high-quality data for planning interventions that do require exposure, so that it can be kept to a minimum.
Equipped with an energy Geiger-Muller detector, the Elios 2 RAD can detect radiation while in flight through Flyability's piloting app.
After the inspection flight, nuclear engineers can use Flyability's Inspector 3.0 software to map the radiation along the flight path of the drone, showing the exact location of dangerous dose levels within a nuclear facility. They can also play back the inspection flight within Inspector 3.0, using it to see dose rate measurements displayed synchronously on top of the video footage.
Flyability already has a strong presence at nuclear facilities around the world, where its Elios 2 has been tested successfully at up to 800 R/H.
Nuclear inspectors have reported using the Elios 2 to save six figures in a single inspection flight by reducing downtimes and avoiding the need for scaffolding and other costly temporary structures. Further, inspectors state that these results are not unique, but are in fact repeatable and a regular part of the new workflows the Elios 2 enables.
"Over 80 per cent of US nuclear operators already use Flyability's indoor drones for their visual inspections," says Alexandre Meldem, VP of Sales at Flyability.
"Now we can expand that support by allowing engineers to collect actionable, high quality dose data. Helping nuclear inspectors collect this data remotely means that less people will be exposed to the potential harm of radiation."