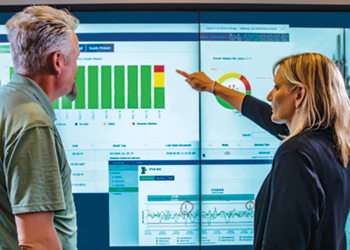 Predictive-based maintenance can eliminate unnecessary downtime
Turnaround scoping in a Mideast petrochemical complex was reduced by 30 per cent while significantly reducing overall maintenance spend using digital valve services, Saurabh Pathak of Emerson Automation Solutions, tells OGN

One of the largest chemical and petrochemicals complexes in the Middle East was looking to optimise its shutdowns, turnarounds, and outages (STO) activity scheduled in 2021.
'They needed a robust valve maintenance plan that could be efficiently executed to avoid any run-ins that interfere with their plant operations on top of the challenges due to Covid-19 and the overall availability of resources on-site,' says Saurabh Pathak, Leader - Instrumentation Technologies, Emerson Automation Solutions.
Pathak ... digital is way forward
Typical STOs at similar chemical and petrochemical plants require significant operating and maintenance budgets, which is why STOs should not be considered purely as an engineering or maintenance activity every few years.
Instead, STOs should be able to provide an opportunity to deliver returns on investments and, address major challenges on schedule, budget and ensure quality workmanship that guarantees continued valve performance and reliability upon plant restart.
The customer's initial STO plan used a preventative approach. It included the maintenance and overhaul of 200 valve tags. Out of the 200 valve tags, they confirmed through historical operational data and time-based maintenance that 80 valve tags needed to be removed for a complete overhaul, leaving them uncertain about the repairs of the remaining 120 valve tags.
Their preventative approach to overhauling all 200 valves instead of putting focus only bad actor valves has been proven to post common STO challenges such as meeting schedule budget and quality of work.
Condition monitoring highlights the critical role of operational data to enable timely decision-making
ARC Advisory Group, a leading technology research and advisory firm for industry and infrastructure, estimates that more than 80 per cent of equipment failures are random and that preventative maintenance-based servicing is often executed prematurely, leading to unnecessary costs.
On the contrary, if the customer decides on a reactive approach to valve maintenance, there is a high chance of extended production downtime due to degraded valve performance and increased repair costs.
And in extreme cases, the descoping of any valve from the STO plan may cause unwanted valve trips during regular plant operations before the next planned STO, which can significantly affect production and cost.
In any of these STO approaches, the maintenance scope list always grows larger than planned, and most times, the information to make sound decisions can be disorganised or inaccessible.
With the customer's large STO scope of 200 valves, they were looking at a highly challenging shutdown to their schedule, workforce, resources, and budget.
For Emerson, condition or predictive-based maintenance before performance degradation is the most efficient route for valve condition monitoring. It can eliminate unnecessary downtime and costs related to reactive and preventative maintenance, ensuring unhampered production and uncompromised valve performance.
This approach to condition monitoring is steadily becoming recognised across industries because it highlights the critical role of operational data to address pain points to provide early visibility and enable timely and relevant decision-making that can impact business profitability.
With the constant pressure to increase profitability while reducing operational and maintenance costs, the customer's challenge was to maximise their limited resources, avoid unplanned downtimes, and surprise repairs that can lead to budget depletion.
The customer's STO team considered and validated the benefits achieved through diagnostic services on valves and engaged with Emerson for valve condition monitoring and analytics to confirm if the remaining 120 valves needed an overhaul in their upcoming shutdown.
In 2020, Emerson guided the customer through the digital transformation of their STO strategy.
Emerson approached it using a 7-step process designed for total STO optimisation, including comprehensive pre-STO planning for the initial identification of bad actor valves.
This resulted in four objectives that complemented their workforce, improved facility safety, reliability, productivity, and sustainability.
• Improve productivity and reduce risk associate with valve failures through sensing technologies and data collection.
• Grow incremental revenue by lowering maintenance cost and careful spare parts planning.
• Maximise workforce to adopt advanced technologies that allow advanced analytics that drives relevant decision-making.
• Enable digital valve services for predictive maintenance.
Six months before their scheduled STO activity in 2021, Emerson began the valve conditioning monitoring analysis on the remaining 120 valve assemblies.
With the existing FIELDVUE digital valve controllers installed across the site, Emerson was able to take advantage of its performance diagnostics capabilities with the valve condition monitoring and analysis.
Together with Emerson's ValveLink software analytics tool, the capability allowed for in-service online and out-of-service offline diagnostic tests and early identification of most hidden valve failure modes, allowing for a predictive maintenance approach.
Some issues detected through the pre-STO analysis included improper stroking speed, excess or reduced friction leading to stiction or process leak, insufficient air supply, poor throttling performance, and seat integrity for tight shut-off applications, among others.
The analysis revealed that not all 120 valve assemblies required an overhaul, instead only an additional 27 valves needed maintenance and servicing.
Because of the pre-STO valve condition monitoring analysis, the customer was able to reduce their valve overhaul by almost 50 per cent, maximising their site execution services and refining the scope from 200 to 107 valve assemblies for STO.
Through close collaboration with Emerson's Lifecycle Services team and subject matter experts, the company was able to support its workforce expertise with IIoT-based condition monitoring and analysis services to strengthen the STO planning and valve reliability programme.
Adopting Digital STOs and condition-based monitoring and analysis has led the company to accelerate its IIoT adoption and data-driven decision making.
With practical tools and processes, IIoT-based condition monitoring and analysis allows competency development across their people and workplace culture.
It drives a business result-oriented mindset across all levels of the organization, ensuring equipment are running to specifications and recognises failures early, preventing significant impact on operations.
While many organisations find it challenging to understand the Industry Revolution 4.0 and its impact on business, others like this petrochemical complex customer are fully open and prepared for a future where IIoT-based technologies can drive business objectives.
Moving forward, the company continues to learn and collaborate with Emerson's experts in effectively implementing service analytics to acquire data for operational certainty.
With a proper cost-benefit analysis for STOs, companies can redirect savings towards efficiency and improvement plans across the facility.

SUMMARY
With the pre-STO planning activity utilising the digital valve services, the company ensured the valves that needed attention got the attention.
Overall maintenance cost was reduced by limiting maintenance to only the valves that required it and de-prioritised the valves that did not need it. It improved decision-making, ensuring that there were no unplanned maintenance assets.
The company has taken significant steps to eliminate unplanned downtime by taking all actions suggested by Emerson's analysts in the condition monitoring report.
The company has optimised its inventory by identifying bad actor valves and can now accurately identify turnaround work scope to enact a more effective parts procurement plan.
As a result, the company can further review extending the time between turnarounds by adjusting purely time-based maintenance to condition-based maintenance of valve assets.
Based on this and similar case studies performed by Emerson on valve condition monitoring, the turnaround scoping can reduce up to 30 per cent of unnecessary valve maintenance activity and significantly reduce the overall maintenance spend.