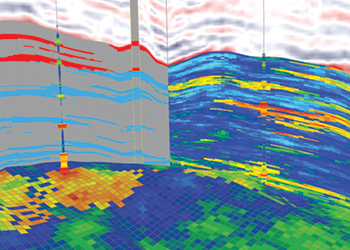 CGG sofware ... resolving reservoir modeling challenges in China
CGG GeoSoftware will provide a cloud-native, serverless, scalable solution to solve geostatistical reservoir characterisation challenges on the AWS cloud platform on a pay-as-you-go basis with no long-term commitments
China's exploration and production (E&P) industry is set to gain from cloud geoscience technologies offered by CGG GeoSoftware and Amazon Web Services (AWS). Both firms have are extending their collaboration to the industry to China.
Kamal al-Yahya, Senior Vice-President, GeoSoftware and Smart Data Solutions, has called the collaboration a good example of how combining industry-leading geoscience software technology with vast cloud-based computing resources can bring a better understanding of the subsurface to reduce exploration and development risks.
He said: "CGG GeoSoftware and AWS will continue with deep cooperation to provide advanced, high-quality technology and efficient professional technical services tailored to the needs of China's E&P industry."
CGG's recently launched portfolio of reservoir characterisation and petrophysical interpretation software solutions, GeoSoftware 11.0, is now available on AWS China (Ningxia) region.
To resolve common reservoir modeling challenges in China, owing to complex geology, thin layers, and strong heterogeneity within reservoirs, greater accuracy is needed in estimating uncertainty to reduce risk.
The Jason RockMod geostatistical seismic inversion within GeoSoftware 11.0 has been designed specifically to address these challenges by providing highly detailed reservoir characterization to produce more accurate reservoir models.
By combining Jason inversion technology with the ability to scale and access vast computing resources, it is possible to explore more modeling scenarios with greater complexity and simultaneously generate dozens to hundreds of realisations from geostatistical seismic inversion.
Meanwhile, the new cloud-supported Jason multi-realisation functionality benefits E&P companies by cost-effectively shortening project cycle time significantly and providing additional geostatistical seismic inversion results to improve reservoir characterisation and risk assessment.
AWS offers elastic and scalable cloud infrastructure to run these applications, enabling geoscientists, engineers and researchers to innovate beyond the limitations of on-premises infrastructure.
CGG GeoSoftware China provides a cloud-native, serverless, scalable solution to solve geostatistical reservoir characterisation challenges on the AWS cloud platform.
Multiple flexible cloud computing services serve as building blocks for even the most demanding compute-intensive reservoir characterisation applications. AWS services are readily available on a pay-as-you-go basis with no long-term commitments.