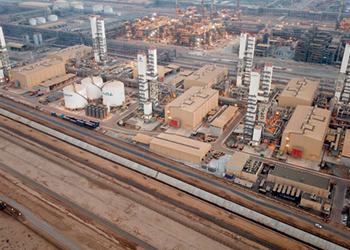 Jazan IGCC ... bringing gasification technology to Kingdom for the first time
Jointly owned by Aramco and its partners, the new unit will boost the value of Jazan refinery and help JEC attract foreign direct investment and private sector involvement
Aramco and its partners have signed and concluded agreements for the asset acquisition and financing of a $12-billion joint venture (JV) project in Jazan Economic City (JEC).
The project is said to be the world's largest integrated gasification combined cycle (IGCC) complex. It employs gasification technology for the first time in the Kingdom.
A total of $7.2 billion was secured through the Saudi Industrial Development Fund (SIDF) and 23 local and international lenders.
The Jazan IGCC complex purchases air separation units (ASU), gasification, syngas cleanup, utilities and power assets from Aramco, and serves Aramco's 400,000 barrels per day (bpd) Jazan Refinery.
Feedstock to the JV, owned and operated under a 25-year contract, will be supplied by Aramco to produce power, steam, hydrogen and other utilities for the latter.
According to the shareholding structure, Aramco holds 20 per cent share in the Jazan IGCC complex through its subsidiary Saudi Aramco Power Company (SAPCO), while Air Products has 46 per cent, ACWA Power 25 per cent, and Air Products Qudra 9 per cent.
Air Products has total ownership position with 50.6 per cent by owning an additional 4.6 per cent through Air Products Qudra.
The JV is expected to do a public investor call in October after asset transfer and funding is completed in the same month.
Mohammed Al Qahtani, Senior Vice-President of Downstream, Aramco said the JV was central to the self-sufficiency of Aramco's megaprojects at Jazan. 'We are optimistic that future investment offers the potential to be a game-changer in the years ahead.'
For ACWA Power, the agreement is the largest of its kind in its history. Mohammad Abunayyan, Chairman of ACWA Power, said Jazan IGCC draws on the pioneering expertise and capabilities of all JV partners.
'Bringing the most advanced technologies to the Kingdom, the Jazan project will push the boundaries. We are also exceptionally proud to add to ACWA Power's track record in training and upskilling Saudi talent to meet the requirements of the sector.'