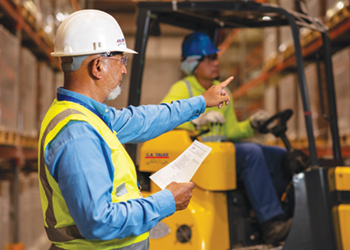 Safety is a core value at SA TALKE
The focus of SA TALKE is to provide first-class logistic services for the chemical and petrochemical industry in the Kingdom of Saudi Arabia, with safety as a top priority, says Makhlouf Benzahia, the company's Managing Director
SA TALKE, a specialist logistics solutions provider for the chemical and petrochemical industry, is currently carrying out 19 projects in the Kingdom of Saudi Arabia, including three recent projects won in 2021.
Its latest contract is for liquid product transportation in the western region of the Kingdom for Farabi Petrochemicals Company.
This is unique projects helps SA TALKE to increase its presence in the western region and further diversify its services to cater for the special requirements of its clients.
Benzahia ... focus on delivering high quality services
SA TALKE's history with Farabi Petrochemicals Company began on September 2020 providing to provide on-site logistics services to FARABI, including ISO tank handling, bulk tanker loading and unloading, drumming and additive handling, inventory control, maintenance of machinery and equipment, warehouse and dispatch coordination, and administration.
With the latest contract, SA TALKE will be providing transportation services to Farabi using new dedicated fleet to shuttle the material from the plant to the port.
'SA TALKE is now offering a full range of logistics solutions to Farabi Petrochemicals Company in the western region, and we are proud to be serving them. We are aiming to elevate our partnership to the next level,' says Makhlouf Benzahia, the company's Managing Director.

A DECADE OF PARTNERSHIP
In September 2021, SA TALKE celebrated 10 years of partnership with one of its key clients, Saudi Chevron Phillips Company.
The Saudi Chevron Phillips' project is a good example by SA TALKE of an EPCM (engineering, procurement, and construction management) project.
SA TALKE will transport liquid products for Farabi Petrochemicals in the
western region
SA TALKE provided EPCM in the initial stages and is now providing a full range of logistics solutions and managing the logistics facility product handling, container handling, dispatch, inventory control, and administration.
'SA TALKE is proud of this accomplishment and grateful to the entire Saudi Chevron Phillips team for their continuous support in making this journey possible,' says Benzahia.
'At SA TALKE, we aim to recognise and understand our customers' expectations aligned with their business objectives and focus on delivering high-quality services to maintain customer satisfaction.
Customer satisfaction is one of the critical factors to improve organisations and develop long-lasting business partnerships. 'Our customers are the focus of all our activities, and we take pride in providing our customers with the highest level of service and a positive experience.'

EXPERTISE & STRENGTHS
SA TALKE was established in 2003 as a joint venture between Alfred Talke Group from Germany, Saudi Arabia's Sisco Group (Jeddah), and Al-Jabr Group (Eastern Province).
The company provides end-to-end logistics solutions for companies in the chemical and petrochemical industry. It can operate complex onsite operations, maintain state-of-the-art machinery and equipment to ensure smooth production. It also provides seamless offsite logistics solutions to cater to different client needs.
In 2020, SA TALKE's volume throughput was more than 20 million tons of chemical and petrochemical products in Saudi Arabia. The TALKE Group also has a strong presence in Oman, UAE, Qatar, and Bahrain.
According to Benzahia: 'Our in-depth understanding of the specific needs and requirements of the petrochemical industry is a result of many years of successful partnership with our clients. Our logistic solutions team can put together efficient supply chain solutions, optimize processes, and maximize value for our clients.'
SA TALKE celebrates the Saudi National Day
SA TALKE's expertise also extends to the design, construction, and operation of logistic facilities, and has been involved in several turnkey projects for clients.
'Our involvement from the start means that our clients can benefit from our expertise in putting together the most efficient solution in the industry and dealing with a single contact from the start,' says Benzahia.
SA TALKE's clients can also benefit from a wide range of storage solutions suited for a large diversity of products. The company offers silos for bulk storage, ambient and temperature-controlled storage solutions for dangerous and non-dangerous goods, bonded warehouses, and chemical storage facilities.
All of SA TALKE's facilities are designed to achieve optimal utilisation, flawless material flow and are all equipped with state-of-the-art safety systems. It can maintain some of the most sophisticated packaging lines in the world.
Meanwhile, its skilled employees can handle a variety of specialised maintenance requirements like PLC programming and robotic palletizers
Benzahia explains: 'Planning activities are one of the key areas of focus to achieve an efficient supply chain. Our team executes inbound and outbound planning activities of all kinds of material and products on behalf of our clients. The control tower concept is applied efficiently and effectively to achieve the best customer service at a competitive cost.'
Furthermore, SA TALKE is assessed according to Gulf SQAS for transport and warehouses in Saudi Arabia.
The company is also a member of Responsible Care, the chemical industry's unique global initiative that drives unceasing improvement in environment, health, safety, and security (EHS&S) performance, together with open and transparent communication.
SA TALKE has also regularly engaged in corporate social responsibility (CSR) activities by partnering with GPCA and local communities. Various waste-free environment campaigns are conducted, demonstrating a commitment to the environment and preservation of the community.
SA TALKE created an organisational culture where safety is a core value and always came first. The central focus is its people, seeking to continuously improve awareness through a series of focused and interactive quarterly safety campaigns.
All employees are continually encouraged to drive their safety performance forward and rewarded for generating creative ideas.
The Act Safety Program (ASP), behaviour-based safety, and leadership safety are some of the programs implemented in SA TALKE.
• Saudi National Day celebrations: On September 22, SA TALKE hosted an event to celebrate the Saudi National Day in Jubail with its Managing Director Makhlouf Benzahia and the company's employees from across all project sites in the Kingdom.
In his speech, Makhlouf highlighted the achievements of the Saudi nation according to the vision of King Salman Bin Abdulaziz and His Highness Crown Prince Mohammed Bin Salman.
This event was also attended by the senior management of SA TALKE's key clients and their management teams.