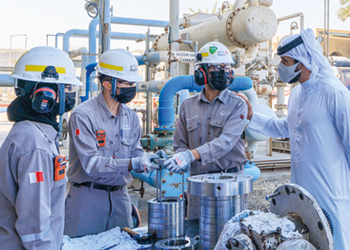 Shaikh Nasser at the BMP site
Bahrain to offer new investment opportunities
The Kingdom of Bahrain's revamped energy sector operator, nogaholding, is looking at a broader energy mix to ensure the security of future energy supply, according to the brief set by His Majesty King Hamad's Representative for Humanitarian Work and Youth Affairs and nogaholding Chairman Shaikh Nasser bin Hamad Al Khalifa.
As the country drives ahead with the economic plans of His Royal Highness Prince Salman bin Hamad Al Khalifa Crown Prince and Prime Minister, there will be an increasing need for energy to power that growth, Mark Thomas, the Group CEO of nogaholding, tells OGN in an exclusive interview.
Bahrain is faced with the dual challenge of maximising the wealth of its existing natural oil and gas resources, and decarbonising production, in line with HRH Prince Salman's net-zero emissions target by 2060.
It is critical that the country assesses where the greatest opportunities lies and where it makes sense for it to participate. It will continue to explore because it is a valuable product and a monetary instrument for the Kingdom.
Thomas doesn't see the demand and market for oil and gas decreasing in the foreseeable future. 'If not in the form of fuel, it may be in the form of petrochemicals and other derivatives. And so there is going to be a market for our products, and it will still be a valuable market,' he says.
For now the focus has shifted away from unconventional offshore to conventional onshore and offshore, both showing promising potential. Drilling of wells is underway for both oil and gas.
An important factor in the production process is the $7-billion Bapco Modernisation Programme (BMP) where work is in progress to build a highly efficient refinery. The refinery expects to enter full capacity somewhere in 2024.
Also under consideration is the diversification of energy sources with alternative means of energy and especially looking at solar as a viable option.
Bahrain could presumably jointly produce power on large solar farms in neighbouring countries and transmit it through submarine cables, Thomas says.
Solar and hydrogen could together prove a 24/7 energy source.
The country's energy sector has continued to attract investment. It just refinanced a $1.6-billion murabaha facility, which was well oversubscribed.
In addition to its existing energy assets, the Kingdom will be offering opportunities both for investment in conventional oil and gas, as well as in renewables.

By Abdulaziz Khattak & Ahmed Suleiman