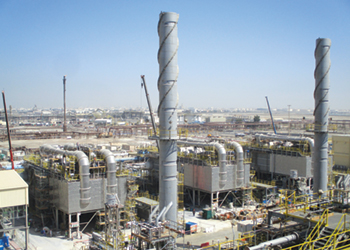 Bapco's new refinery is expected to enter full capacity in 2024
Over the next five years, nogaholding will be delivering energy security, maximising the value of Bahrain's natural resources, and finding ways to decarbonise production, Mark Thomas, the Group CEO, tells OGN
Even though energy transition of energy companies can provide solutions to many global issues around climate change, the journey is still fraught with many challenges and risks.
nogaholding has embarked on this journey driven by a commitment to preserve the Kingdom of Bahrain's natural resources and secure its future energy needs.
There are, however, many questions that need to be answered along the way. What will the transition be like? What are the decarbonisation plans? What alternative energy options are being considered? How will the transition be funded? And how will the Kingdom fulfill its energy needs?
To find answers to these questions and others, OGN's Abdulaziz Khattak and Ahmed Suleiman sat down with Mark Thomas, the Group CEO of nogaholding, Bahrain's energy sector operator.
Below are excerpts from the interview.

Why is the Oil and Gas Holding Company (nogaholding) transitioning into an integrated energy company that will look at energy resources outside of fossil fuels, and what are the strategies to deliver this?
Similar to most oil companies in the region, nogaholding is looking at ways to broaden its scope, both from a business perspective and from a responsible company perspective.
Thomas ... leading nogaholding's transition journey
The catalyst for the change was His Majesty King Hamad's Representative for Humanitarian Work and Youth Affairs and nogaholding Chairman Shaikh Nasser bin Hamad Al Khalifa, who has set the brief for us to look at a broader energy mix and for us to ensure we deliver energy security to the Kingdom of Bahrain.
And when we look at the economic plans that His Royal Highness Prince Salman bin Hamad Al Khalifa Crown Prince and Prime Minister has laid out for the Kingdom, the onus will be to ensure we can meet the energy requirements to power that growth.
This brief has to be met but alongside our commitment to be a responsible energy provider by looking at more sustainable low carbon sources of energy as part of our environmental responsibilities.
• Our Strategy: Bahrain will be a sandbox for the region. And the reason for that is, unlike most of our neighbours, who have an abundance of natural resources, particularly oil and gas, we don't.
And so it is critical that we assess where the greatest opportunities lie for us and where it makes sense for us to participate.
In this regard, we have hired a consultant to help us examine all the possibilities because the scope is immense.
We're also learning lessons from our neighbours and cooperating with them, including Saudi Arabia (Aramco) and the UAE (Adnoc) because they are undergoing a similar transition.
We are implementing a three-part strategy to reach our goals:
Part 1 is looking at the Kingdom's overall supply and ensuring the security of supply so that we support its economic growth.
Part 2 is to maximise the wealth of the Kingdom's existing natural resources (oil and gas). This means looking at how we find, develop, extract and produce oil and gas and, therefore, includes bringing world-class technology and latest best practices to the Kingdom to do that.
Part 3 is finding ways to decarbonise our oil and gas production and bring lower carbon, more sustainable source of energy.
3-STAGE STRATEGY
• Ensuring Kingdom's energy supply security.
• Maximising wealth of existing national resources.
• Prepare for a more sustainable lower energy future.
What is nogaholding's model for diversification of energy sources?
Using money earned from selling oil and gas products and then investing that in the energy transition is our model. By maximising value from the existing oil and gas resources, we will create funds, which can then be used to invest in alternative sources of energy such as solar energy. Of course, we do all this in partnership with the Ministry of Finance and National Economy.
Considering that the sun is out 355 days a year in the Kingdom, it would make logical sense for us to tap into solar as an alternative means of energy.
However, our challenge is that we do not have the land space for ultra large solar farms to meet our requirements. We, therefore, need to look at alternative methods to deliver solar energy into the Kingdom. One option that we are exploring in our discussions with our neighbours, if it is feasible, to collaborate on building ultra large solar facilities and connect them to our Kingdom's grid.

The global targets of transitioning to greener fuels have moved from 2080, 2060 to 2030-2040 after COP26. How is that affecting nogaholding's plans?
It doesn't change our plans. It is a fact there will still be the demand and market for oil and gas, even 50 years from now. If not in the form of fuel, it may be in the form of petrochemicals and other derivatives. And so there is going to be a market for our products, and it will still be a valuable market.
Shaikh Nasser visiting Banagas offices
We will produce fossil fuels as long as we economically can do so. We will continue to explore because it is a valuable product and a monetary instrument for the Kingdom. We wouldn't be doing our jobs if we didn't try to maximise that wealth for the Kingdom.
But we will do it responsibly as we recognise the carbon impact of continuing to produce and sell oil and gas.

You mentioned decarbonising oil and gas production. What are nogaholding's plans for decarbonisation and what do you consider the potential challenges are?
We've initiated a feasibility study by a well-known IOC to develop a carbon capture use and storage (CCUS) facility in the Kingdom.
The IOC is a leader in this area and has been involved with a number of CCUS schemes globally and is itself operating some of those schemes. Their capability in this field will be invaluable for our assessment of the various technologies and applicability to utilising in CCUS scheme for us here.
Our plan is in line with His Royal Highness Prince Salman's net-zero emissions target by 2060.
More importantly, he has set a target for a 30 per cent reduction in the Kingdom's greenhouse gas (GHG) emissions by 2035. That translates to emissions reduction by 10 to 12 million tons a year. The only viable technology available today to achieve that kind of reduction is CCUS.
Bahrain's small size is actually to our advantage for CCUS. The sources and primary emitters of the greenhouse gases in the Kingdom are all fairly close together. Between Sitra and Awali, you will capture 90 per cent of our emissions or thereabouts.
And so if we can collectively tie together some very closely located CO2 sources, concentrate that stream and send it to Tatweer, where we have depleted oil reservoirs, we can inject that CO2 to either enhance oil recovery or just sequester and store it.
The only thing that we need today is to devise ways to generate the revenue to support the investment for the CCUS.
That can be done in two ways. One is to certify the amount of CO2 we're sequestering and turn that into tradable, fundable, carbon trading credits. And then trade those credits on international exchanges to generate revenue.
Number two is to look at producers whose products go to multiple markets.
Some of those markets, such as the EU, impose a carbon levy on imported products that don't meet certain carbon emission criteria.
With a CCUS scheme in the Kingdom, exports going to the EU will not face that levy. So all of a sudden, they're not facing an inherent tax, and the Kingdom's products carry a blue or green label, which increases potential of exports.

What is the timeline for your feasibility study?
This year (2022) will be the feasibility assessment. If it goes ahead, we will conduct pre-FEED and FEED (Front End Engineering Design) in 2023. This will be followed by detailed engineering probably towards the end of 2023 and into 2024. And the project could be up and running by 2027-28 at the latest.

What role do you see for the private sector in Bahrain's energy transition goals?
This is not our project. We're conceptualising it and we're facilitating it. We might even be an investor in it, but we see many opportunities for the involvement of the private sector.
The emitters themselves could participate as equity owners, and we could have green funds coming in because this is a certifiable green investment, which many private funds are looking for.
Our model today is the Net Zero Teesside in the UK. We're probably about two years behind that project, but we're learning how they're structuring it commercially, how they're approaching it, how they're getting different participants, and the technology that they plan on using and of course we are learning from the pitfalls that they have faced so we can learn from their experiences.

The Khalij Al Bahrain is commercially a 'challenging' development. What are the lessons learnt there?
The unconventional Khalij Al Bahrain field offshore was an announcement that was made based on very limited well stock and penetrations data from the field.
The technology, knowhow and approach available to develop this field have been used in the Permian Basin in the US, except that our rock is carbonate based. Also, our field is also sitting underneath 6 m of seawater. And that makes it super challenging.
In the region, the source rock at Khalij Al Bahrain is the same as the Al Jafura gas field in Saudi Arabia.
Aramco has drilled a large number wells there and our team has learned from them about the reservoir through exchange of technical information.
Technically, on paper, Khalij Al Bahrain is a resource that's capable of being developed. But when you do the numbers, it's more than challenging. It would be uneconomic to develop the field under today's technology and approach. And so we don't have plans for 2022 or 2023 to do any further work offshore at least not in the KAB field.
But we will continue to do geological and geophysical (G&G) analysis.

What is the progress on the Bahrain Field Oil and Gas Development and Expansion Programme?
We see real potential with Pre Unayzah deep gas. The kingdom's power is almost 100 per cent generated through natural gas. So the deep gas field is very important for us from a security supply standpoint.
The benefit from the Khuff gas field has been terrific, but that will not last forever. And so we've made a strategic pivot with Tatweer in the last few months, away from speculative, exploration offshore and the unconventional, and refocusing the exploration team back onshore, primarily on gas.
We'll be drilling two pre-unayzah wells this year. And the results from these will take us into the next stage of gas development, which might be 10-15 wells in participation with international companies, who have expressed an interest.

What about conventional offshore?
The conventional offshore portfolio of nogaholding includes four blocks. In 2019, ENI was awarded Block 1, where it drilled a well last year. Results from that are under evaluation and will determine if ENI will go ahead with further development, or if we revert to the other blocks and negotiate there.
The prospects in the conventional offshore are good. Several of the leading IOC companies have done technical assessments for us and have come up with actual alternative prospects, which we've now got on our books.

How is the Bapco Modernisation Programme (BMP) progressing, especially after delays because of the Covid-19 pandemic? What is the revised completion timeframe?
The almost $7 billion BMP is essentially a rebuild of the current refinery that's 93 years old. Once complete, it will be the most complex and highly efficient refinery in the region.
It will almost increase capacity by 50 per cent to 380,000 barrels a day, which may be stretched to 400,000 barrels a day.
The Covid-19 period affected the BMP as it has many projects around the world.
At the site today you'll see virtually all the major equipment hanging in the proper places in the structure.
But during Covid, we couldn't ramp up the skilled labour required, particularly fitters and welders to be able to connect all our pipes. And that pushed the schedule up.
Currently, there are 15,000 people on site today, and the productivity is good.
In terms of startup, we're working towards introducing crude into the first units in the latter part of 2023.
Since there are four primary units, crude will be introduced on a phased basis – one unit at a time. So there's probably about a six-month startup phase.
We expect to enter full capacity somewhere in 2024.

What are the prospects of developing the various alternative sources of energy, such as wind, solar and hydrogen?
We don't believe that wind is an overly viable source for us. We could have some wind farms offshore, but that would be challenging and we may not see the returns in generating the amount of energy that will justify the investment. So that's not our priority.
Our first priority is to look at solar. As I mentioned earlier we are exploring cooperation with our neighbours. If plans go ahead, we could have 1 or 2 GW of solar power coming through submarine cables into the kingdom.
The challenge with that, of course, is that it's only available during the day. So you need to have a storage option. And batteries are not a viable storage option for us, but hydrogen could be.
So while the green side would be to bring solar power, we could have some conversion or storage through hydrogen. That green source of hydrogen can be used as fuel to power homes or used in industries.
So, for instance, the Electricity and Water Authority (EWA) can burn green hydrogen at night and use solar power during the day to generate power.
It can be used as a petrochemical feedstock at GPIC to make 'green' ammonia, 'green' methanol, and 'green' urea. And it can also be used as fuel at Alba to manufacture 'green' aluminium.
But in addition to hydrogen being a storage mechanism and converting solar power into a 24/7 energy source, it is also a low-carbon way to power the industry in the Kingdom. But that is in for the long-term.
The short-term effort will go into decarbonising the existing source of energy, that is, natural gas.

Why don't you see green hydrogen as the fuel of the future?
Hydrogen as a fuel is great if you have a source of renewable energy and a market that's willing to pay (at today's price) much more for that hydrogen than it would for the equivalent amount of natural gas.
Investing in hydrogen at the current prices would be equivalent to us going offshore and buying LNG eight times the current price of gas in the Kingdom.
There is also the practicality aspect: to produce a kg of hydrogen today takes 50 kWh hours of energy. To compete with natural gas, it needs to be 10 kWh. That's a factor of five.
But with technology ever evolving, that will change. Similar to the cost of solar coming down by over 85 per cent, that will hold true for hydrogen as well.
Is nuclear energy an option that could be looked into?
Other countries in the GCC seem to be doing very well by establishing a nuclear base power. And with the way nuclear technology is going, the small, compact reactors would look like an opportunity for the Kingdom.
It could be a long-term viable option for the Kingdom, but nuclear is not in our remit.

Bahrain's energy sector has continued to attract investment. Please comment?
Bahrain is considered a secure, viable and attractive place to invest, and that is firmly reflected in response that we've received from funds around the world.
We just refinanced our $1.6 billion murabaha facility, which was well oversubscribed.
In addition to our existing facilities, we have opportunities coming up both for investment in conventional oil and gas, as well as investment in renewables.

You haven't ruled out selling stakes in the oil and gas assets, or a public listing. What could be the first offerings?
Nogaholding is 100 per cent shareholder in a number of very large assets. And as part of our overall portfolio review, we have some infrastructure assets that we are considering.
An independent financial adviser review will help us make a decision on what assets we might want to monetise, and what form would we take: Will it be a private placement or public listing, or do we bring in a strategic partner.
The review will take six months to complete.

What are nogaholding's plans and targets for the next few years?
The headline for nogaholding for the next five years will be, 'how do we begin to prepare the Kingdom for a transition to more sustainable lower carbon sources of energy'.
So over the next five years, you'll see how we deal with the big issues facing us:
 
• How do we provide the security of energy supply to the kingdom?
• How do we maximise the wealth of the kingdom's natural resources (oil and gas)?
• How do we prepare the kingdom for a more sustainable lower energy future?

What is the distinctive role between nogaholding and the ministry of oil?
One of the first decisions that His Highness Sheikh Nasser took was to basically merge back NOGA, which was a semi-commercial arm of the Ministry of Oil. The Ministry of Oil will continue to focus on regulation of the industry. Nogaholding will run autonomously.
So now nogaholding is the commercial operator and the Ministry is the regulator. We are responsible for the commercial aspects and all investments by the Government of the Kingdom of Bahrain in oil and gas.
For nogaholding this means a restructuring around the nogaholding group and how we operate.
Our remit is to create an efficient organisational structure and move more towards centralisation. Nogaholding will take on more central functions and service level agreements, and provide those services to the operating companies. And the operating companies will become very specific in what they do best, for example, Bapco in refining and Tatweer in upstream exploration and development. We could also add a renewable energy company to the portfolio.

What for you makes Bahrain's energy sector unique?
The capability of people! The quality of graduates from Bahrain's universities is second to none. We have people working in nogaholding that are at the top of their game.
A lot of people would look at Bahrain's size as a disadvantage, but it's actually an advantage. We're smaller, but we're more nimble and agile, and the decision making is rapid.
We also have the full support of the Government, a dynamic Chairman and a deeply experienced board. An awesome combination!
By Abdulaziz Khattak & Ahmed suleiman