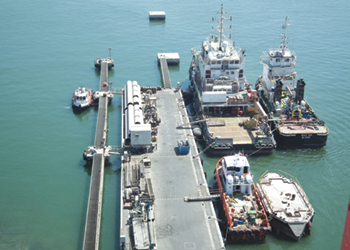 Basrec never stopped its services even during the peak of the Covid-19 pandemic
Despite another Covid wave, the company continued to provide full marine engineering and ship repair services to local and international companies, says N E Saadi, Basrec Director and CEO
Leading Ship Repair Yard and Engineering Company, Bahrain Ship Repairing and Engineering Company (Basrec) owes a profitable 2021 to its flexibility in response to the challenges posed by the Covid-19 pandemic and continuous excellence in performance.
The company achieved a profit of over BD1.4 million ($3.8 million), more than the expected forecast of BD710,000, in the financial year that ended December 2021.
Commenting on the performance, N E Saadi, Basrec Director and CEO, says: "It has been another challenging year for us as well as for companies in the ship repair and engineering business around the world. We witnessed another wave of the Covid, but despite these difficult circumstances, the company continued to provide its services in all aspects of marine engineering and ship repair to many local and international companies."
To limit the effects of the pandemic, Basrec rearranged its priorities, which included implementing procedures issued by the country's health authorities and other precautionary measures.
All this while the company's management constantly monitored the market situation in addition to improving its competitive position in the field of ship repair.
In March, an audit was conducted to verify compliance with the applicable rules and regulations.
As a result, the company was awarded ISO 14000:2015 Environmental Management System, Health and Safety (OHSAS 18001:2007, and ISO 45001:2018: Occupational Health and Safety Management System) certification from Lloyd's Quality Assurance Registry (LQRA). Already ISO 9001:2015 certified.
Basrec continues to invest in its workforce especially Bahrainis.
Saadi says: "The company is proud of its employees and continues to hire skilled Bahraini nationals to occupy various positions in the company."
Also in In March, Basrec said it was looking to acquire a slipway in the GCC and will grab any opportunity that comes its way.
Basrec Chairman Fawzi Kanoo said any acquisition plans would, however, be carefully studied.
The company is also studying the installation of a brand new floating dock to enhance its Bahrain facilities. Once approved, the project will take 18 months to be completed.
"It would double the dry docking capacity of the yard and allow for servicing larger sized and new generation vessels," said Kanoo.
Saadi says Basrec's outlook for 2022 is positive, and the company's focus will be on maintaining its strong financial position and preparing for any new challenges, in order to ensure its growth.
During the span of 59 years, Basrec has provided continued support for repair services for all types of marine crafts, and is recognised as one of the best ship repair yards within its capacity in the GCC.
Basrec also establised a specialised modern fully equipped independent workshop for repair and overhaul of all types of marine diesel engines, and negotiations are underway with well-known diesel engine builders in the international market in this regards.