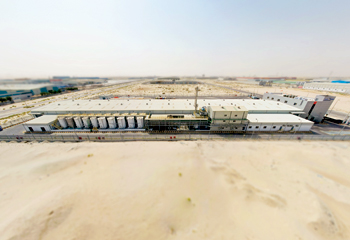 The Rawabi Gumpro Drilling Fluids plant ... fully operational since March 2022
Rawabi Holding believes the sustainability of its business, society and future generations is heavily dependent on how strong our local infrastructure is, Abdulaziz AlTurki, Chairman Rawabi Holding Group, tells OGN

With the aim of enriching the local content in alignment with Saudi Vision 2030, Rawabi Oil and Gas Company, a wholly owned subsidiary of Rawabi Energy Group of Saudi Arabia, inaugurated its latest state-of-the-art manufacturing plant.
The Rawabi Gumpro Drilling Fluids facility, located in Dammam Industrial City (Modon III), is a joint venture with its partner Gumpro Drilling Fluids of India, an innovative manufacturer that specialises in oilfield drilling chemicals in India and the UAE since 1983.
The new venture aims to bring high-temperature based chemical reaction technology to the Kingdom of Saudi Arabia to manufacture specialty oilfield chemicals.
The inauguration took place on March 28, 2022, at Rawabi Gumpro's plant, and is the result of the commitment made with Saudi Aramco during the Future Investment Initiative (FII) 2018.
Salem AlHuraish, General Manager, Procurement, and Dr Ashraf Tahini, General Manager of the Expec Center for Advanced Research, were the guests of honour from Aramco as well as a team of procurement and IKTVA officials along with the company's clients and suppliers.
A high-end laboratory at Rawabi Gumpro Drilling Fluids facility ensures
consistent product quality and new product development
The guests were received by Abdulaziz AlTurki, Chairman Rawabi Holding Group, Anand Gupta, Chairman Gumpro Drilling Fluids, Osman Ibrahim, President and CEO Rawabi Holding Group, Ahmed AlQadeeb, Vice-President, Oilfield Services Division, Noaf AlTurki, Vice-President, Corporate Affairs, Vivek Gupta, Gumpro Group Director, and Nikhil Sarnaik, Executive Committee Member, along with a number of general managers and members from both groups.
In his opening statement, AlTurki reflected on Rawabi Holding's commitment to enhancing local content and contributing to the Kingdom's economic development.
'Since its inception over 40 years ago, Rawabi Holding has been committed to enhancing local content and developing the national calibre as we believe that the sustainability of our business, society and future generations is heavily dependent on how strong our local infrastructure is. And I'm pleased to say that we are now bearing the fruits of the seeds we planted with the commitment we made years ago.'
He also highlighted the importance of research and development (R&D), and said: 'Our aim to enhance local content goes as far as empowering research and development within the Kingdom in our fields of operations. We have established departments dedicated to training the national calibre and providing them with the required tools and resources to conduct research and development activities.'
He added: 'In many cases college interns were a valuable addition to these departments and have become members of the Rawabi Group as a result.'
About the alignment with the group's corporate social responsibility (CSR), AlTurki mentioned: 'We believe that with this partnership our CSR programmes and activities will be mutual with Gumpro's as we both share the solid belief in the importance of our role in society and that our actions and operations in all areas of the business must have a positive impact, presently and in the future.'
He added: 'We (at Rawabi Holding) are currently in the final stages of publishing our environmental, social and governance (ESG) policy and report, which compiles all our existing policies and best practices that are currently in action and in alignment with the current international standards.'
Gupta explained Gumpro's aim and promise of this partnership. He said: 'We are here in Saudi Arabia to create bonds between our countries, cultures and people and, of course, chemical bonds using local raw materials and local talent to make new technologies in our custom-designed SCADA controlled high-temperature chemical reactors. This is our wholehearted endeavour to be the first to bring reaction technology for upstream oilfield chemicals into the Kingdom and my 30-year-old dream turning into reality.'
Gupta expressed Gumpro's strength in creating technologies and stated: 'Our spirit of innovation constantly drives us to create new technologies. While all great ideas originate in the mind, they are created in the lab, which is why we have set up a world-class chemical laboratory.
'We are motived to make superior products while protecting our natural resources. Our team has skilfully used effluent from one product line as a feedstock for another product line, making us very proudly a zero liquid discharge company.'
Commenting on IKTVA participation in Rawabi Gumpro, AlHuraish said: 'Rawabi Gumpro Drilling Fluids facility will produce drilling fluid additives and chemicals locally as part of IKTVA's localisation efforts. These efforts will bring us one step closer to a world-class localised supply chain, and creating a generation of highly skilled local talent utilising sophisticated technologies. This will greatly boost the export of products with the 'Made in Saudi' stamp.'
The new Rawabi Gumpro Drilling Fluids production unit will serve clients' drilling and workover operations as well as the petrochemical and water treatment industries in the Kingdom, with the broader objective to export.
Aiming to serve numerous customers within the region and beyond, the company has already obtained its first overseas purchase order for material delivery to Kuwait.
Rawabi Energy and Gumpro are committed to exceeding the IKTVA vision and welfare of the community.
The entire project was designed and executed during the pandemic while taking utmost care and safety without any lost time injury and man-hours.
The plant is fully automated with the SCADA system and has been fully operational since March 2022. Its current capacity stands at 36,000 MT per year with the scope for expansion in the near future.
The production process is designed to handle reaction chemistry using in-house innovation and utilising local technical expertise. This aspect distinguishes Rawabi Gumpro and makes it a pioneer in the chemical industry.
The plant generates zero chemical waste and thus contributes to sustaining a green and clean environment for generations to come.
The plant is fully equipped with state-of-the-art automated, high-temperature chemical reactors, capable of converting various local raw materials into novel products as opposed to conventional methods of diluting and blending.
A high-end laboratory ensures consistent product quality with a dedicated R&D team lead by scientists, who work round the clock for continuous improvement and new product development. This also provides an opportunity for the Saudi youth to design and develop new products for the future.
Rawabi Gumpro Drilling Fluids offers a wide product range to serve the market in and beyond the region, including oil and water base drilling fluids, shale inhibitors, fluid loss control, detergents, dispersants, lubricants, spotting fluids, loss circulation, well bore strengthening, well bore cleanup and brines, and weighting agents and specialties.