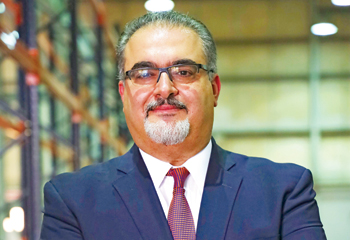 Elkadiki ... leading AMPO Arabia
The new local facility is fully equipped with machining, assembly, painting, blasting and testing, including high pressure hydro and gas testing systems to enable full cycle manufacturing and assembly of a wide product range

AMPO POYAM Valves recently-completed manufacturing and servicing plant in Saudi Arabia's Dammam 2nd Industrial City will start operations this month (June 2022).
The facility is expected to positively impact local delivery lead times and after-sale services to meet demands for valves of current and future projects.
The Dammam facility is the culmination of a partnership agreement signed in January 2021 between AMPO POYAM Valves of Spain and Saudi Arabia's Dar Massader Group to establish a joint local subsidiary known as AMPO Arabia.
AMPO Arabia will be an extension of the main valve manufacturing plant in Spain and will follow a similar structure, technical, quality control, and operational capabilities.
Built over 5,000 sq m of land area, the facility will in Phase 1 manufacture Gate, Globe, Check and Ball valves of up to 24 inches according to ASME pressure class of 600. This will later be increased in Phase 2 to increase capability for larger sizes and pressure ranges as well as adding more valve types.
A fully-trained team is ready to run the operations at AMPO Arabia
The new local facility is fully equipped with machining, assembly, painting, blasting and testing, including high pressure hydro and gas testing systems to enable full cycle manufacturing and assembly of the initial product range. It also houses repair and servicing areas to support the company's valve service offerings.
A fully-trained team is ready to run the operations.
Speaking exclusively to the OGN energy magazine, Salah Elkadiki, CEO, AMPO Arabia, says: 'Our main distinguishing factor is that we are a full-range valve manufacturer with our own foundry in Spain. We focus mainly on the oil and gas, petrochemicals and water sectors with new areas of clean fuels and hydrogen service adding to a growing portfolio of new technologies and solutions.'
AMPO Arabia is approved with the main industrial sectors in KSA and meets their technical requirements, and has successful references with all.
Additionally, its strong valve service focus allows it to address customer challenges with customised solutions.
AMPO Poyam Valves has been in the GCC region since the 1990s, and during all those years it has supplied to numerous key projects in the energy sector.
In Saudi Arabia, it has supplied more than 25,000 valves for strategic projects such as the Khursaniyah Gas Plant, Jubail export refinery, Yanbu distribution hub, Marjan, Berri and Safaniya Fields, Hawiyah Unayzah Gas, Master Gas Transmission, SWCC Water Transmission pipelines, Maaden Aluminium, and more recently Marjan Field Development.
In the UAE, more than 15,000 valves have been installed at strategic projects such as Al Taweelah Refinery, UZ750, AGD II, IGD-E2, etc.
AMPO Arabia in Dammam 2nd Industrial City will emulate its
Spanish mother company
In Kuwait, more than 5,000 valves have been supplied for projects such as Mina Abdulla Refinery, Al Zour Refinery, KNPC's Clean Fuels Project, petrochemical projects for Equate, etc.
And in Qatar, more than 50,000 valves have been supplied for strategic projects such as Rasgas and Qatargas's liquefaction trains 1 to 7, Barzan, Jetty Boil-Off Gas recovery, Pearl GTL, and others.

DIGITALISATION
Similar to other industries, digital transformation has affected the valve industry as well. IoT technology is now utilised for condition monitoring of valves and enabling predictive maintenance capabilities.
AMPO is investing to explore these digital technologies to enable its customers to increase their valve integrity, prevent any future failures and improve operational efficiency ultimately.

VALVE SERVICE
Elkadiki says: 'Our service team has worked with customers in KSA's oil and gas, water, and metals and mining sectors to develop solutions to deal with severe service conditions impacting the life of valves and operations and the replacement of old technologies.'
AMPO's service team frequently meets customers and solves problems through innovative solutions and custom-designed products in some cases.
'We are seeking to be known as 'valve doctors',' Elkadiki says.

SUSTAINABILITY GOALS
AMPO Poyam Valves's commitment to the environment has moved it to integrate new technological solutions into its valves.
'Decreasing our impact on the environment constitutes a primary goal for us here at AMPO and, therefore, we work hard to improve valve performance to achieve 'no emission' valves,' says Elkadiki.
Key factors towards fulfilling its technological commitment include best practices on external and internal sealing as well as best improvements to achieve less torque, lighter weight and no emission solutions in valve performance to give the best solution to the customer during the lifetime of the valve.
The company applies eco design to develop equipment and aims to make 'green valves' an integral part of its natural workflow.

LOCALISATION
AMPO Arabia has aligned its mission, initially created in conjunction with Aramco's IKTVA initiative to localise its major OEM suppliers, with the Kingdom's Vision 2030.
'IKTVA compliance itself is in line with the Kingdom's Vision 2030 whereby we focus on creating skilled job opportunities for Saudis as well as support local industrial clusters. We also aim to export to the region as a whole from AMPO Arabia,' says Elkadiki.
In January, AMPO signed a Corporate Procurement Agreement (CPA) with Aramco for the development and supply of highly engineered valves as well as ad-hoc and highly added value services.
AMPO Arabia's main objectives of localisation include:
• Domestic value creation, maximising long-term economic growth and diversification, and building a world-class supply chain.
• Technical support in start-up stages and commissioning.
• Engineered solutions, equipment selection, preventive, and predictive maintenance, troubleshooting and training.
• Joint-development of new solutions relevant to end user's operational needs.
Elkadiki summarises AMPO Arabia's commitment to the Kingdom and the region as: customised valves under high specifications; optimum performance, high flexibility and adaptability; minimum maintenance costs; maximum care of our customers, suppliers and environment in-house manufacturing process; trouble free and on-time delivery of quality products; monitoring services; expertise and experience; new technologies development; and teamwork.

FUTURE OUTLOOK
Following Phase 1, AMPO Arabia aims to expand (within three to four years) into a larger manufacturing facility likely to be located at the King Salman Energy Park (Spark).
This will allow it to double its facility size and increase manufacturing capabilities for larger and a broader range of products including jointly-developed new products and systems that could be locally designed.
Elkadiki sees the industrial cluster evolving with more international peers coming to the Kingdom and thus enabling the country to increase its local content.
'However, localisation of some major components for the manufacturing and assembly of valves, such as foundries and other smaller materials, is still a challenge. This forces the industry to import a large part of its needed components,' he says.
But Elkadiki predicts improvement in this areas in the near future especially with the growing local demand from strategic projects in AMPO sectors of interest.
For Elkadiki, his mission as a CEO is to implement the mutual vision of the shareholders and the Kingdom, and to ensure best service to AMPO's local and regional customers.
'This can only be achieved by building a strong synergized team and enabling them to give their best,' he concludes.