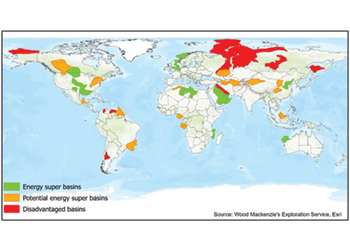 Co-location of low-cost renewables with low-cost oil and gas is key
The world's need for sustainable energy is set to change the landscape of the oil and gas industry, increasingly intertwining it with renewables.
Therefore, the upstream industry of the 2030s and beyond, must focus on where its synergies with new energies are strongest, says a report by Wood Mackenzie that spotlights future energy super basins.
The report says only about half of the traditional super basins are future-fit for the purpose and Saudi Arabia's Rub Al Khali is one of them.
Energy super basins of the future must fulfill three key criteria - abundant resources, access to low-cost renewables and hub-scale carbon capture and storage (CCS) opportunities.
With some basins set to be left behind, the industry will become even more concentrated in its top basins. At the same time, upstream strategies will increasingly merge with low-carbon businesses.
The key here is the co-location of low-cost renewables with low-cost oil and gas so that surplus renewables can also be fed into the grid as part of the overall energy system.
For example, The US Gulf Coast and Permian basins are both energy super basins. Both offer plentiful clean electricity from excellent solar power potential and additional renewables from wind.
The report mentioned decarbonising the upstream as the industry's most pressing sustainability task.
Scope 3 emissions, which include those from the upstream, can be reduced directly by cutting production or indirectly via sequestration or offsets, and CCS is the most promising sequestration technology.
The report expects global CCS capacity to grow to between 2 billion tonnes per annum (Btpa) and 6 Btpa by 2050.
This growth will come mainly from countries that will have hub-scale emissions sources available close to subsurface storage options.