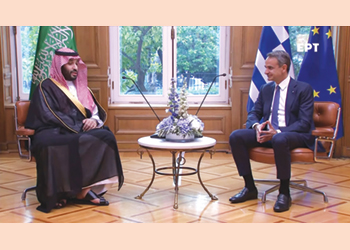 His Royal Highness Prince Mohammed bin Salman and Greek Prime Minister Kyriakos Mitsotakis
Saudi Arabia and Greece have signed a memorandum of understanding for cooperation in several areas related to the energy sector during the official visit of His Royal Highness Prince Mohammed bin Salman bin Abdulaziz, Crown Prince and Deputy Prime Minister of Saudi Arabia, to Greece.
The MoU was signed by Prince Abdulaziz bin Salman bin Abdulaziz, Saudi Arabia's Minister of Energy, and the Minister of Foreign Affairs of Greece Nikos Dendias, said a Saudi Press Agency report.
Prince Abdulaziz and Dendias exchange the MoU
The memorandum sets a framework for cooperation between the two countries that includes the fields of renewable energy, electrical interconnection, exporting electricity to Greece and Europe, clean hydrogen and its transfer to Europe, energy efficiency, the oil, gas and petrochemical industry, and adopting the circular economy approach to carbon and technologies to reduce the effects of climate change, such as capturing Carbon, reuse, transport and storage, capture carbon directly from the air.
The memorandum also includes cooperation in the field of promoting digital transformation and innovation in the fields of energy, including cyber security, and working to develop qualitative partnerships between the two parties to localize materials, products and services related to all energy sectors and their associated supply chains and technologies.
Within the framework of this memorandum, joint research in the fields of energy with universities, research centres and others will be conducted, and working sessions, panel discussions, seminars, and multilateral conferences will be organised, in addition to building human capacities through training, and exchanging experiences and information related to various energy fields.