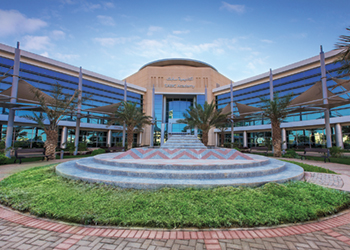 The SABIC Academy offered virtual instructor-led programmes during the Covid-19 pandemic
The company's focus on human capital development is what drives it to offer relevant learning offerings and thus build its employees, Abdulaziz Al-Oudan, Executive Vice-President, Corporate Human Resources, tells OGN
Sabic's employees make up a global family of more than 31,000 members networked across 50 countries.
This rich reservoir of diversity, experience, and knowledge makes the company progressive, innovative, and efficient.
These familial roots from its inception in 1976 also explain the company's consistent approach to developing its employee's experiences, exposure and education.
"Sabic's historic success—indeed, its future success—revolves around human capital development. That is why we aim to stay relevant in our learning offerings. We combine formal education, work experiences and engagement with stakeholders to build our employees and, through them, the business," says Abdulaziz Al-Oudan, Executive Vice-President, Corporate Human Resources.
But 2020 tested the best of career intentions. Employees' ability to learn on-the-job, face-to-face and in the same physical space was impacted then because of the pandemic. And that is when SABIC launched a 'New Norm' initiative to focus on building increased talent resilience.
Al-Oudan ... building careers at Sabic
The company's global HR teams agilely converted capability-building programmes to virtual, interactive and hybrid learning.
Through Sabic's 'HR One' IT platform, employees could continue to progress their career goals and development needs by registering for over 500 professional certificates, courses, and workshops in all disciplines.
In fact, Sabic competency development (learning) programmes were not impacted despite Covid-19 restrictions on traveling and gathering.
All in all, almost 1,200 programmes were delivered in 2021 to aid employee learning and development.
Al-Muhaisen ... creating
With the New Norm capabilities as a priority, the staff development calendar also focused on leadership through several innovative virtual programmes.
Consequently, some 600 employees attended strategic leadership programmes.
Safety, being of paramount importance, was likewise not compromised. In 2021 eight virtual training sessions were conducted for 100 participants by the National Examination Board in Occupational Safety and the International General Certificate (NEBOSH-IGC).
This no doubt contributed to a 19 per cent year-on-year improvement in Sabic's main indicator of environmental, health, safety and security performance.
The company also implemented various new programmes supporting employees' learning and personal growth through its various digitalisation initiatives.
And the SABIC Academy played a key role in this regard during the most challenging days of the Covid-19 pandemic.
The Academy offered virtual instructor-led programmes as well as classes and training sessions.
This enabled nearly 100 leadership courses to be delivered to more than 1,900 front-line and middle managers.
And the Sabic Academy's Digital Learning Experience (DLE) continues today to provide more opportunities for employees to deepen their knowledge, build skills, and develop as professionals—wherever they are located.
Sabic delivered 1,200 employee learning and development programmes in 2021
In total, more than 11,000 Sabic employees have benefitted from the DLE in some 400 virtual classrooms.
Sabic has always placed a strong emphasis on developing its own talent. And the HR One platform now enables connections to be made that lead to increased mentoring and coaching within the company.
This digitisation initiative grew from a small pilot in 2020 to more than 600 mentor matches in 2021.
Other learning alternatives to formal classroom training also accelerated the development of Sabic employees in recent years.
Today, these include self-assessments, 360-degree feedback, talent review processes that encourage greater accountability, and cross-functional talent communities, which are forums to share best practices on human resource management.
According to Khaled Suleman Al-Muhaisen, Vice-President, People and Organisation: "Sabic learning continues to evolve with the company's strategy, which recently has called for greater agility in the short term with steadfast adherence to long-term commitments.
"So we engage with the business units and employees to explore what capabilities will matter for the future of our industry, which depends so much on technical know-how—including digital skills for the application of artificial intelligence, for example. That's the way we create tangible value in the developing careers of the next generation of Sabic's leaders,"
Through thick and thin, Sabic continues to build on the New Norm and digitalisation corporate programmes with the support of its human resources function.
The goal is to build an employee experience that creates a vibrant work environment worldwide, through continuous learning, excellent career opportunities and competitive rewards for performance.