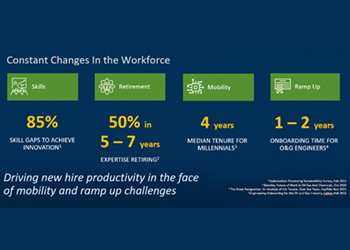 A key to quickly adapting and fitting technology to solve sustainability problems in the energy industry is a skilled workforce that is competent in using today's technological solutions, David Reumuth of Aspen Technology, tells OGN
A recent survey showed that 50 per cent of oil and gas experts plan to retire over the coming 5-7 years. Another survey showed that new engineers take 1-2 years to ramp up to their roles.
These generational workforce challenges, combined with the imperative for the oil and gas industry to achieve operational excellence while meeting aggressive sustainability goals, more than ever places a critical importance on education and training.
David Reumuth, Senior Director, Customer Support and Training, Aspen Technology, tells OGN that meeting today's demands without compromising the expectations of tomorrow requires a balance between operational excellence and sustainability.
'A key to quickly adapting and fitting technological to solve sustainability problems in the energy industry is a skilled workforce that is competent in using today's technology solutions,' he says.
Examples include reducing carbon intensity across the value chain, production of blue hydrogen, reducing energy, water use and feedstocks and sustainable energy generation.
To help customers address these areas, Reumuth says AspenTech has created a sustainability training programme, consisting of 18 classes focused on how to use AspenTech's flagship tools to solve real-world sustainability challenges in the process industries – from deciding which crude to buy in order to minimise environmental impact; to modelling blue hydrogen and carbon capture, from emissions monitoring to accelerating the transition to renewable energy sources.
Drawing on decades of experience working with blue-chip companies, AspenTech has a sophisticated yet flexible approach that helps companies drive organisational excellence in ways that are interesting and fit learners' schedules.
Learners start with a self-paced eLearning programme. From there, a combination of expert-led training tailored to each company's needs and small group coaching sessions drive competencies of complex industrial concepts.
Finally, AspenTech's User Certification Program is used to measure the competencies achieved.
Reumuth ... creating industry-ready graduates
AspenTech partners with its customers to help them track organisational competency across operating facilities and their enterprise.
Reumuth says a key imperative for the Middle East is developing the next generation of professionals ready to embrace how the digital transformation can address sustainability concerns.
'In support of this, AspenTech is partnering with King Fahd University of Petroleum and Minerals of Saudi Arabia to embed our comprehensive training programme into the university curriculum. This will enable KFUPM to create a rich curriculum that creates industry-ready graduates who are experts in the technology that will be key for the industry leaders of tomorrow,' he says.
Dr Hassan Baaqeel, Chairman, Chemical Engineering (CHE) department, KFUPM, says: 'We are delighted to be collaborating with AspenTech. We are looking forward to working with them to ensure students and staff get the opportunity to use innovative process optimisation technologies and receive high-quality training to support that use.'