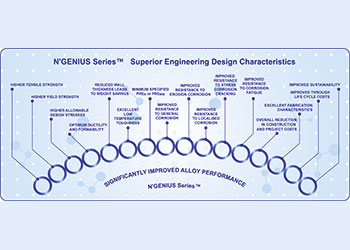 N'GENIUS' superior design characteristics
An innovative range of high strength austenitic stainless steel is set to revolutionise the design and construction of onshore and offshore facilities in the oil, gas and liquefied natural gas (LNG) sector.
The N'GENIUS Series is a complete family of high strength austenitic stainless steels possessing major improvements compared to 300 Series stainless steels, and a highly economical alternative to various nickel-alloys.
As with conventional austenitic stainless steels, the N'GENIUS Series has excellent ductility and toughness at sub-zero and cryogenic temperatures. But exceptionally higher strength and vastly superior corrosion resistance makes this new family an entirely different proposition.
Its unique combination of design characteristics provides key engineering advantages for the onshore and offshore industry.
LNG piping systems, engineered products, fabricated products and equipment can be developed and manufactured with reduced wall thicknesses, offering the potential to make products and equipment lighter and smaller, significantly reducing topside weight and helping facilities overcome space and height restrictions.
Any space savings would also improve accessibility regarding servicing and maintenance, repairs, upgrading or replacement work on products and equipment in the future.
In particular, large facilities with extremely heavy topsides including floating production storage offloading (FPSO) vessels, FLNGs and upstream fixed platforms, would greatly benefit from the design and construction advantages that the N'GENIUS Series can provide.
This includes the potential to reduce the overall construction time and costs, as well as benefitting from easier handling and lower associated transportation costs.
The N'GENIUS Series will also help accelerate the wider implementation of carbon capture and storage (CCS) technology.
Inevitably, the addition of onboard CCS for upstream fixed platforms, FLNGs and FPSOs means additional topside weight, volume and space. So a reduction in the weight and size of onboard CCS systems, as could be achieved with the N'GENIUS Series, would make this green technology become more feasible and play a fundamental role in driving down carbon emissions.
The global demand for LNG is projected to reach 700 million tonnes per annum (mtpa) by 2040 fuelling the need for greater LNG infrastructure including import receiving and export terminals, FLNG vessels and LNG carriers.
Since these facilities are being designed with larger capacities and operating under increasingly more challenging conditions, advanced materials technology is required to maximise performance, reduce carbon emissions and optimise through-life costs.
The N'GENIUS Series is patent protected in 30 countries around the world.