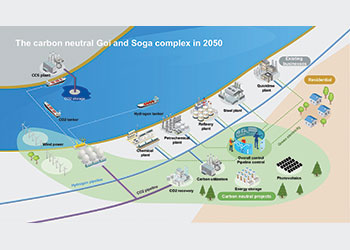 The carbon neutral Goi and Soga complex in 2050
Yokogawa Electric and nine other companies have joined hands to study the feasibility of setting up a carbon neutral industrial complex in the Goi district of Ichihara City and the Soga District of Chiba City in Japan's Chiba Prefecture.
The districts form part of the Keiyo Rinkai industrial complex in Chiba, a prefecture adjacent to Tokyo that hosts Japan's largest concentration of materials and energy companies.
The achievement of carbon neutrality at this industrial complex will enhance the overall competitiveness of the companies that maintain operations there and lead the way forward to a sustainable society.
According to a MoU, the stakeholders will study the feasibility of the commercialisation of activities by 2030 required to make the Goi and Soga industrial complex carbon neutral by 2050.
The nine companies, which include Cosmo Oil, Denka Company, Iwatani Corporation, JFE Steel Corporation, JNC Corporation, KH Neochem, Maruzen Petrochemical, UBE Elastomer, and Ube Material Industries have operations there. They are active in the energy, petrochemical, chemical, steel, materials and other industries.
A study has established that inter-industry collaboration is more effective than companies working on their own in reducing CO2 emissions, and that the recovered CO2 can be effectively utilised by the companies located within this industrial complex.