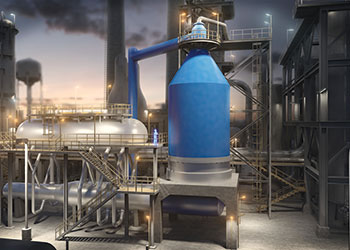 Haldor Topsoe's proprietary autothermal reforming technology ... the ideal choice for ammonia plants
Looking at the future for ultra-low carbon fuels, Topsoe believes in the great prospects of blue ammonia, Maninder Jit Singh, Product Line Director, Clean Fuels & Chemicals of Topsoe, tells OGN

Blue ammonia offers a viable solution to decarbonisation in a world that's excited about energy transition.
For producers, the energy carrier makes business sense with an increasing market demand and the lowest possible levelised cost.
OGN energy magazine had a talk with Maninder Jit Singh, Product Line Director, Clean Fuels & Chemicals of Topsoe to discuss perspectives and challenges of blue ammonia as a fuel.

• Why do you believe now is the time to take a closer look at the blue ammonia?
The energy transition is in full swing. Businesses, industries and nations attempt to implement the solutions today that will carry us to a sustainable future. The technology is here – it's time to get on the ground floor of decarbonising fuels.
With the world's growing need for clean energy options, blue ammonia is set to transform even the most carbon-intensive industries. And this fuel of the future is ready for mega-scale use today. You can decarbonise effectively and efficiently with Topsoe's technology and unmatched experience. Keeping you competitive when meeting the demands of tomorrow. We believe, immediate action is required.
Singh ... eyes on the fuels of the future
The climate challenge is as real as ever. Fifty-one billion tons of greenhouse gases are what the world adds to the atmosphere every year. At the same time, the global energy demand and consumption are forever rising.
That is the challenge we are facing. Carbon emissions must be reduced in a joint effort between countries, companies, and citizens. And efforts need to be accelerated if we are to achieve climate goals and limit global warming.

• How can blue ammonia impact the global carbon emission reduction?
Heavy industry and long-haul transportation are responsible for a large part of GHG emissions. Decarbonising the hard-to-abate sectors is essential if we are to meet the global climate goals. Transition in these sectors, such as heavy industry and long-haul transportation, is complex as they require an energy-dense fuel source.
Direct electrification is not a viable option in these sectors as technologies are not ready. As a result, low-carbon energy-dense fuel sources will be key in unlocking a decarbonised future.
Blue ammonia will be central to decarbonising sectors like the maritime industry. Maritime shipping emits almost 940 million tons of CO2 globally, nearly 3 per cent of the total energy-related CO2 emissions annually. These emissions make the need for a sustainable fuel source clear.
The maritime industry is currently developing ammonia engines, with a clear roadmap to implement them by 2026. Ammonia is the most attractive marine fuel choice in both the transition phase towards a more sustainable shipping industry and as a long-term solution at scale.
As ammonia is already distributed worldwide by trucks, trains, ships, and pipelines, distribution becomes a non-issue.
Also, ammonia can rely on a considerable number of facilities in the world: 120 ports are already equipped with ammonia terminals, and some can count on their own storage facilities.
These infrastructures represent an excellent starting point for securing the availability of ammonia fuel to those ships adopting it.

• What additional value can blue ammonia bring to the industry?
Expected ammonia demand up to 2050 for the 1.5 deg C scenario
Blue ammonia is an environment-friendly way of producing ammonia fuel with integrated carbon capture to minimise greenhouse gas emissions. For many reasons, blue ammonia is widely regarded as a low-carbon game changer, fueling industries like maritime and power generation.
In addition to using ammonia as a direct fuel, ammonia is an exceptional energy carrier. With its high energy density coupled with the storage and distribution infrastructure in place, it is not surprising that both legislators and industries are keen to support and invest.
Blue ammonia will open the door to decarbonisation. It can improve profitability for ammonia producers, who will now be able to meet increasing market demand and produce low-carbon intensity blue ammonia at the largest scale, with the lowest possible levelised cost. Using Topsoe's SynCOR™ blue ammonia technology producers can achieve a CI lower than 0.01 kgCO2/kgNH3 solely by capturing the CO2 in the process.
The advantages of ammonia as an efficient energy carrier are numerous:
 
• Highest hydrogen content per unit volume.
• Easy to liquefy.
• Can be stored at atmospheric pressure.
• Production and transportation infrastructure in place.
Blue ammonia is checking all the boxes as the most operable transition fuel for industries shifting to meet low emission standards by 2050. In addition, blue hydrogen is the most cost-effective decarbonised fuel on the market.

• Do you believe ammonia industry is ready to implement new technologies?
Constant innovation and 80 years of experience in ammonia technologies have resulted in the best solutions within the ammonia industry. A highly competitive industry where even the slightest change in performance can have a massive impact on the bottom line.
Whether you are looking to extend your current production or enter the ammonia market for the first time, Tospoe is ready to help you with the broadest range of technical options. And we also offer turnkey solutions through our partners.

Founded in 1940 by Dr Haldor Topsoe, the company today is a global leader in developing solutions for a decarbonised world, supplying technology, catalysts, and services for worldwide energy transition.