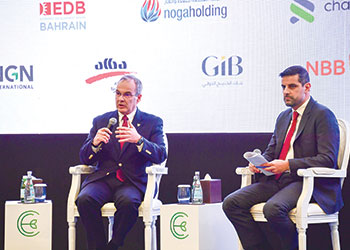 Thomas speaks at the the Sustainability Forum Middle East
A national energy strategy will oversee the Kingdom's energy options over the next decades in addition to determining how the country can reduce its carbon footprint and select the appropriate green energy resources
Bahrain's oil and gas industry faces a dual challenge: on one hand is the urgency to find new energy sources at home, and on the other is the nagging global call to cut down on carbon emissions.
To take the challenges head on, the Oil and Gas Holding Company (nogaholding), the Kingdom's energy investment and development arm, is working on a national energy strategy that will pave the way and prepare the oil and gas sector for the journey towards delivering a more sustainable, long-term approach aligned with the Bahrain Economic Vision 2030 and the Kingdom's net-zero goals as outlined by His Royal Highness Prince Salman bin Hamad Al Khalifa, the Crown Prince and Prime Minister.
In October 2022, Boston Consulting Group (BCG) was assigned the task to help develop the national energy strategy and a supporting operating strategy for nogaholding and its portfolio companies.
"The strategy will help us to not only determine how we ensure the Kingdom will have enough energy to sustain its ambitious economic plans over the next few decades and beyond, but it will also help us determine how we can reduce our carbon footprint and which renewable or green energy resources are most suitable for offering," Mark Thomas, Group Chief Executive, nogaholding, told the Sustainability Forum Middle East held in January in Bahrain.
Meanwhile, financial advisory firm Lazard Frères SAS will assist nogaholding in the development of a short-to-medium term financial strategy.
Bahrain's energy industry is witnessing transformational change as it transitions from a traditional oil and gas only focus into a more progressive and responsible energy producer.
Nogaholding, under the leadership of its Chairman and His Majesty The King's Representative for Humanitarian Works and Youth Affairs His Highness Shaikh Nasser bin Hamad Al Khalifa, has constantly reiterated its commitment to delivering energy security, maximise the value of Bahrain's natural resources, while also decarbonise and move to alternative energy sources over the next decade.

NEW FINDS & FUTURE OUTLOOK
The oil and gas sector is still Bahrain's largest GDP contributor, generating over 73 per cent of the total government revenues.
But unlike most of its oil and gas rich neighbours, Bahrain doesn't have abundant natural resources, and so it is critical that it assesses where its greatest opportunities exist and where it makes sense to participate.
Therefore, fossil fuel exploration will continue because it is a valuable product and a monetary instrument for the Kingdom.
And since the Kingdom's power is almost 100 per cent generated through natural gas, it is very important also from a security supply standpoint.
In November 2022, Bahrain announced two natural gas discoveries in the Al Joubah and Al Jawf layers located under the Khuf and Unayzah reservoirs.
"There is real potential with the Pre Unayzah deep gas," Thomas said, adding that more wells will be drilled.
Offshore, Bahrain has four conventional blocks, the first of which was awarded to Italian company ENI in 2019. News is still to be heard of any good prospect.
As for the much proclaimed unconventional Khalij Al Bahrain offshore field with an estimated 80 billion barrels oil, Thomas said "it would be uneconomic to develop the field under today's technology and approach," adding, however, that geological and geophysical (G&G) analysis of the field will continue.

DECARBONISATION
Nogaholding plans to invest money earned from oil and gas on a number of energy transition projects. This includes carbon capture and storage (CCS), solar energy, and methane emissions reduction, and efficient refining processes.
A feasibility study has been initiated to develop a world-scale CCS facility, which could potentially decarbonise up to 20 per cent of Bahrain's energy system.
This plan is in line with Prince Salman's targeted 30 per cent reduction in the Kingdom's greenhouse gas (GHG) emissions by 2035. This translates to emissions reduction by 10 to 12 million tons a year.
"The only viable technology available today to achieve that kind of reduction is CCUS," says Thomas.
Thomas had earlier said that feasibility assessment of the project was planned for 2022, and pre-FEED and FEED (Front End Engineering Design) in 2023. This will be followed by detailed engineering probably towards the end of 2023 and into 2024. And the project could be up and running by 2027-28 at the latest.
Another important feasibility study underway is the development of a cross-border solar project that could potentially provide affordable and renewable energy for another 20 per cent of the Kingdom's needs.
To help eliminate non-routine flaring and identify methane emission sources, Thomas said nogaholding had subscribed to the latest satellite imaging services that provided daily snapshots of all flare and methane emissions in the Kingdom.
Another key link in the decarbonisation journey is the $7-billion Bapco Modernisation Programme (BMP), an upgrade of the existing 90-year-old refinery with a significantly reduced energy intensity.
When completed in 2024, it will increase Bapco's refining capacity from the existing 267,000 barrels per day (bpd) to nearly 400,000.
Thomas states: "Frankly, sustainable technologies today are expensive. In addition, we need breakthroughs, innovation, transparency and knowhow shared across all sectors and governance, much like we do around safety."

CONCLUSION
The global energy landscape is changing rapidly with far-reaching implications for oil companies and oil-exporting countries. These changes could introduce uncertainty in multiple dimensions, the most important of which is the speed of transition.
For Bahrain, the transition journey has just begun, and is fraught with many challenges and risks. However, nogaholding is determined to preserve the Kingdom of Bahrain's natural resources and secure its future energy needs.
By Abdulaziz Khattak