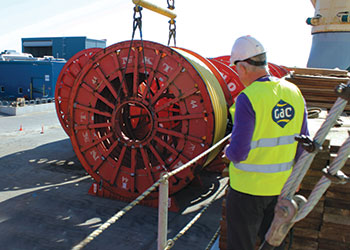 GAC has track record of supporting all kinds of oil and gas projects
As Bahrain's energy scales tilt towards renewables, flexibility is becoming vital when supporting oil and gas operations in the region, senior executives of GAC Group tell OGN
In November last year, Mark Thomas, CEO of Bahrain's state oil holding company and energy investment firm nogaholding, said 2023 would be a milestone year for the Kingdom's long-term energy development.
With the release of a new energy strategy later this year, Bahrain is set to aggressively ramp up investment in renewables as it tilts towards greener options as part of its Economic Vision 2030 and aims to achieve net-zero emissions by 2060.
Bahrain's geographical position on the west coast of the Gulf makes it ideally positioned to reap the benefits of solar, wind and wave energy, and futureproof the country's energy industry.
But despite the expected accelerated growth of activity in renewable development in the coming decade, oil and gas continues to play a crucial role in Bahrain's energy industry, still making up the lion's share of the Kingdom's GDP.
Although minor in comparison to its Gulf neighbours, Bahrain looks set to remain a significant producer of petroleum and natural gas.
According to the Ministry of Finance and National Economy, crude petroleum and natural gas made up 17.1 per cent of the country's GDP in the second quarter of 2022, making it the largest contributor to Bahrain's economy.
Ebbersten and Srinivasan (right) ... flexibility to risks in O&G is key
In 2018, the Khaleej Al-Bahrain offshore field was discovered, believed to contain 80 billion barrels of shale oil and 20 trillion cu ft of natural gas, which the country hopes to commercialise soon year.
The onshore Pre-Unayzah gas field, located under the Bahrain Field and also containing up to 20 trillion cu ft of gas, was also discovered the same year.
The Bapco Modernisation Programme (BMP), a major expansion and upgrade of the Kingdom's Bapco Refinery, is linked to Bahrain's oil and gas expansion projects and its wider Vision 2030. The project looks to increase the refinery's crude capacity from 267,000 bpd to 380,000 bpd.
Once it becomes fully operational this year, it will improve the country's overall energy efficiency, enabling Bahrain to wean itself off traditional hydrocarbons and build a more sustainable energy infrastructure.
Bahrain is now weighing its options when it comes to investing in its short- and long-term energy prospects. While there is no doubting the importance of diversification and investment in renewable energy, driven by environmental factors just as much as financial ones, oil and gas production remains a cornerstone to the Kingdom's short-term economy.

FLEXIBILITY
Increasingly, the sector is being called upon to exercise flexibility to remain competitive, capitalise on burgeoning oil prospects following a recovery of global crude prices and take advantage of new oil and gas discoveries.
"Oil and gas production projects can often take several years to materialise," says Erland Ebbersten, GAC's Group Vice-President for Marine & Energy, referring to the Khaleej Al-Bahrain offshore field project, which is yet to take off.
"This has been further complicated by the global supply chain challenges that have affected almost every industry in recent years. For oil and gas projects, this has led to project equipment and labour shortages, which has impacted the number and scope of offshore and onshore energy projects.
"Developers need to carefully plan ahead and seek the right support. Our role as a provider of integrated services has become even more important to support these types of oil and gas projects when it comes to critical elements of planning and execution," he adds.

TACKLING COMPLEXITY
Oilfield development projects are inherently complex. From technical experts to interconnected stakeholders and operating within regional environmental and legislative regulations, project managers are awash with risks that can impact drilling, production and transportation schedules or costs.
With decades of experience in the world's key oil and gas producing regions and deep-rooted knowledge in global shipping and logistics, GAC has the experience, know-how and resources to overcome these challenges and support all manner of oil and gas projects.
In December 2022, it cleared an out-of-gauge shipment of a cantilever drilling structure for a drilling ship from Amsterdam to Bahrain. Most importantly, GAC offers the flexibility that is vital to the success of such developments.
"For project managers, remaining flexible to the risks involved in oil and gas projects has become paramount," says Gopalakrishnan Srinivasan, GAC's Group General Manager, Special Projects, Energy.
"GAC supports drilling, seismic and engineering, procurement and construction activities in some of the world's leading hydrocarbon hubs. We have drawn on our strong knowledge of local protocols and understanding of the importance of domestic free zones to help oil and gas development projects adapt to regional challenges. Our staff have supported oil and gas projects, both onshore and offshore, around the world and have brought back valuable knowledge that is then used to support our current and future projects and ensure they stay on track."
Unavoidable supply chain issues have plagued almost all industries over the past few years. Oil and gas drilling projects have added layers of complex production even before the final product makes it to market - and something as small as a missing spare part can hold up an entire project.
"To support key oil and gas drilling campaigns, we have set up regional consolidation hubs globally for Purchase Order Management logistics, including the Middle East and Indian sub-continent. This enables us to hold and stock critical capital spare parts that either have large transportation costs or a short shelf life, and it gives rig managers flexible access to spare parts across an entire region," Gopalakrishnan adds.
"Not only does this keep costs down, but also removes the logistics risk of having excess parts in one location and none at another. At the end of the day, we want to keep these types of projects moving as they are vital to local economies such as Bahrain."

SHORT TERM GOAL
The oil and gas discoveries made in Bahrain in recent years present ideal opportunities to maintain a strong economy while investing in the future. Oil and gas will continue to bolster the Kingdom's short-term economic output as it looks to take advantage of its expanding hydrocarbon output.
However, the growing complexities of the industry, combined with global and out-of-hand challenges, means the Kingdom and oil and gas project managers must adapt to the ever-changing needs of the sector and look for the correct type of support to meet these goals.