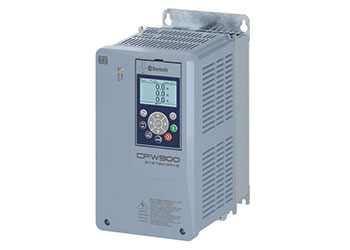 The CFW900 VSD offers improved efficiency
WEG, a specialist manufacturer of motor and drive technology for many industries including oil and gas, says its variable speed drives (VSDs) can enhance energy efficiency across a wide range of applications requiring low motor power.
'The VSDs give users the flexibility to increase or decrease the speed of the motor according to the requirements and thus help optimise energy usage,' Ahmed El Shayal, Regional Business Manager - Oil and Gas for Middle East and Egypt at WEG Global Oil, told Abdulaziz Khattak from OGN energy magazine.
The company can supply VSDs as stand-alone devices or alternatively can custom built them within electrical panels.
At last year's Adipec event in Abu Dhabi, WEG launched its VSD for the oil and gas sector, the CFW900, and the Motion Fleet Management (MFM) digital tool for asset management, now available to the Middle East market.
The new VSD range boasts increased power density, speed control in industrial applications and can be used to greatly improve efficiency in oil, gas and petrochemical applications.
The CFW900 can be integrated with the MFM, a control and monitoring tool for the operation of industrial assets including compressors, pumps and fans, using cloud computing and the Internet of Things (IoT) technology. This allows real-time insights that can help engineers make informed decisions about the efficiency and effectiveness of assets leading to improvements in production processes.
VSDs are one of many products WEG manufactures to help customers in the oil and gas industry reduce the carbon footprint and saves customers energy. Its R&D department continues to build solutions that drive up efficiency.
The company manufactures motors and drives up to 50 megawatt (MW) power although theoretically it is possible to scale them up to 110 MW, says El Shayal.
The number of motors depends on the size of the project and the power it requires. This number can go up to more than 3,000 motors and drives as well.
WEG equipment has found application in major projects across the region, including the Ras Markaz Crude Oil Park in Oman, where WEG delivered flameproof tube-cooled motors and medium voltage drives for the project; Duqm refinery for the supply a range of energy efficient hazardous area motors and drives; and Adnoc's North Depot aviation facility, where WEG and Flowserve UAE collaborated tvo upgrading the fuel circulation pumps.
With its project based increasing, this means expansion for WEG, which is planning to open branches in Saudi Arabia and Egypt soon.