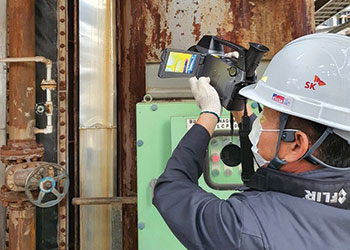 The FLIR GF346 accurately detected gas leaks in the carbon monoxide boiler
K Energy, Korea's leading oil refining corporation, uses FLIR optical gas imaging (OGI) and thermal imaging cameras for maintaining critical safety inspections at the Ulsan CLX plant, one of its key refineries.
Given the plant's massive scale, its inspection team uses an array of inspection equipment, including the FLIR Exx-Series and T-Series, and FLIR GF320 and GF346 OGI cameras.
In particular, the FLIR GF320 has become an integral part of the inspection process, with the plant adding more than 10 cameras to its inventory. Introduced first at the Ulsan CLX in 2012, this camera can scan for hydrocarbon or VOC leaks in valve connections after major maintenance projects.
Previously, the Ulsan CLX used products such as 'sniffers' (toxic vapour analysers) to detect harmful gases. However, these are not capable of identifying the specific location where the gas was leaked.
Sniffers also require the user to physically approach the inspection site, greatly increasing safety concerns.
On the other hand, the GF320 can visualise harmful gas leaks and identify the leaked location from a distance and avoid any gas clouds when moving in for a closer look.
Additionally, SK Energy uses the FLIR GF346 OGI camera as well as the FLIR T640 and E60 thermal cameras and FLIR GF309 furnace camera to ensure the safety of its facilities.
The FLIR GF309 is filtered to a special wavelength so that it can penetrate flames for inspections inside boilers and heaters. Using a GF309, SK Energy recently discovered deterioration caused by coking while inspecting a heater tube at one of its affiliates.
The FLIR GF346 OGI camera meanwhile pinpoints to the source of leaks and repair them before the carbon monoxide can cause any safety issues.
As for the FLIR T640 and E60, these thermal imaging cameras are portable and convenient enough to be widely used for daily safety inspections. In particular, the T640 and E60 can easily detect heat loss on horizontal and vertical piping that have gaps in the insulation.