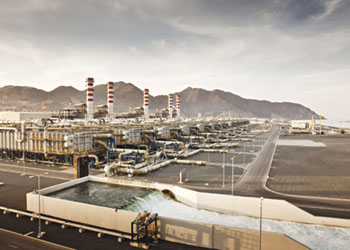 A TAQA plant
Abu Dhabi National Energy Company (TAQA) has made its first green bond issuance of an aggregate $1.5 billion in 5-year and 10-year dual-tranche senior unsecured notes.
Net proceeds of the issuance will be used to finance, refinance and invest in relevant eligible green projects, as outlined in the company's Green Finance Framework.
The 10-year notes sized at $1 billion are maturing on April 24, 2033, while the 5-year notes, sized at $500 million will mature on January 24, 2029. Both are conventional bonds.
With a final order book approaching $15 billion, the transaction was almost 10 times oversubscribed with a very strong demand from domestic, regional and international investors.
The issuance was arranged and offered through a syndicate of joint lead managers and bookrunners comprising of BNP Paribas, Emirates NBD Capital, First Abu Dhabi Bank, HSBC, ICBC, IMI-Intesa Sanpaolo, Scotiabank, SMBC Nikko and Standard Chartered.
Commenting on the issuance, Jasim Husain Thabet, TAQA's Group CEO and MD, said: "In the Year of Sustainability, TAQA is demonstrating how utility companies can have ambitious growth targets and prioritise solid returns, whilst working towards a net-zero future."
He added: "TAQA's clear ESG strategy and decarbonisation agenda has enabled us to complete our first ever green bond, following the launch of our new Green Finance Framework and allows us to cater to the growing demand for investors seeking credible green investment opportunities."