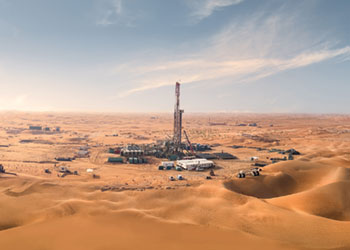 Rigs acquisition in GCC set to rise with increase in production plans
The GCC has seen strong demand for land rigs in Q1 2023, with an average rig utilisation of over 70 per cent, compared to a global average of 50 per cent.
Despite the announcement of a further production output reduction from Opec+, Westwood forecasts GCC utilisation to grow 11 per cent, reaching nearly 80 per cent utilisation, between 2023 and 2027.
Growing demand in the GCC is ultimately driving demand for high specification drilling rigs.
Notably, Aramco and Adnoc have committed to significant rig fleet expansion projects through subsidiaries Saudi Aramco Nabors Drilling (Sanad) and Adnoc Drilling, respectively.
The Middle East, in particular the GCC, has shown consistent investment into key projects over the past year as a number of the member countries strive for production capacity targets, with the UAE and Saudi Arabia being the key drivers of big contract awards.
In February, Adnoc Drilling announced a $2.5-billion spending spree on drilling rigs. It expects to increase its combined rig fleet to 142 units by 2024-end, up from a current fleet of 115 units, of which 74 are onshore drilling rigs.
Late in March, Adnoc Drilling signed a $252-million contract with China Petroleum Technology and Development Corporation for the provision of 10 new-build 1,500 HP fast desert moving hybrid power land rigs, with the first to be delivered in Q4 2023.
Additionally, the company will lease 4 land rigs for onshore drilling projects, adding a total of 14 rigs to its onshore fleet.
In March 2023, the Omani Ministry of Energy and Minerals (MEM) launched its 2023 Bid Round offering three onshore oil and gas concessions—Block 15, 36 and 54—to local and international investors. This would eventually mean more rigts.
Meanwhile, regional M&A activity in the segment includes KCA Deutag completing the acquisition of Saipem Onshore Drilling's Kuwaiti fleet consisting of the 3,000 HP, 5913 and 5946 rigs, adding to the 33 Middle East and North Africa based rigs transferred back in October 2022.