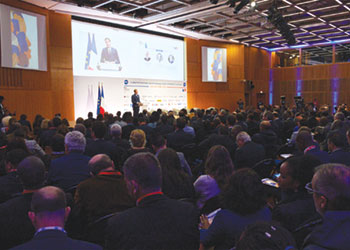 Vision Golfe is the first French business event dedicated to the GCC
Following the success of 'Ambition India' and 'Ambition Africa', Business France—the national agency supporting the international development of the French economy—is launching the first edition dedicated to the GCC.
Called 'Vision Golfe', the key business event taking place in Paris, France, on June 13-14, 2023 at the French Ministry of the Economy, Finance and Industrial and Digital Sovereignty, will look into promoting business cooperation with the GCC in various sectors including energy.
It is being held under the patronage of Emmanuel Macron, President of the French Republic.
Vision Golfe aims to strengthen relations between France and the GCC region.
It will bring together key decision makers from the private and public sectors, including policy makers, ministries from the GCC and France, business leaders, high-potential midcaps, SMEs and startups to explore new opportunities for collaboration and investment, while showcasing success stories of great partnerships that contribute to localisation strategies and the Gulf Visions.
More than 1,000 business meetings are set to happen, along with themed panel discussions and workshops, including one on 'Investing in the future of energy security while accelerating the energy transition' on the first day.
Several speakers have been confirmed from the region including Jasem Albudaiwi, Secretary General, Gulf Cooperation Council (GCC), Adallah Obeikan, CEO, Obeikan Group, Geoffroy Bunetel, Chief of Staff, Chalhoub Group, and Majid Abdul Mohsen, CEO, Al Hokair, among others.
In addition, speakers from Aramco Digital, Invest Qatar, Riyadh Bank and other organisations will also be present.
"Despite persistent global challenges, the future looks bright for the Gulf countries, due to forward-looking policies and bold investments in energy transition and sustainable development," said a statement by Business France.
It added the GCC can greatly benefit from France's industrial excellence, historical know-how, and expertise in key sectors and its strong decarbonisation policy.
Vision Golfe will cover a wide range of topics, including:
• Best practices for building sustainable partnerships between France and the GCC region, including panel discussions focusing on economic diversification and creating business models for sustainable development.
• Cooperation and investment opportunities in various sectors such as aerospace, blue energy, digital transformation, green industry, renewable energy, biotechnology, culture, consumer goods, cosmetics and fashion, food, transportation and logistics, and healthcare.
• Use cases and success stories on the latest trends and innovations shaping ongoing projects between French companies and GCC partners.
The event will also be an opportunity to identify potential investment projects and learn more about why France has become the most attractive destination in Europe for foreign direct investment.
By Abdulaziz Khattak