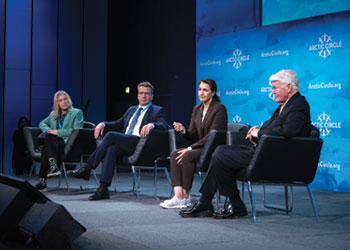 Almheiri speaking at the Artic Circle Assembly in Iceland
The best way to protect the poles is to transition to a global clean energy economy, which will require massive investment in renewable energy and energy efficiency, says Mariam Almheiri
Mariam Almheiri, UAE Climate Change and Environment Minister, has called for urgent action to address the climate crisis and protect the earth's poles through international cooperation and a shared commitment to sustainable development, a model that the UAE advocates.
She said this in a keynote speech to a global gathering of climate-concerned officials at the tenth anniversary meeting of The Artic Circle Assembly in Iceland.
The Arctic Circle is the first region in the world to test and study the impact of climate change, making it a vital region for the Minister, ahead of COP28, to talk about the UAE-hosted climate talks and its role in steering climate action conversations.
This year's Arctic Circle Assembly comprised over 2,000 participants from over 60 countries, including governments, experts, civil society, scientists, students, academics, and indigenous communities.
The growing international community of the Arctic highlights the importance of global warming and its potential devastating impacts on our planet.
The Arctic region is of critical importance to the global climate. It plays a vital role in regulating global temperatures and sea levels.
"Science shows us that the Arctic is warming twice as fast as anywhere else on earth. Sea ice is declining by more than 10 per cent every 10 years. Already, 95 per cent of the oldest and thickest ice in the Arctic has melted, raising sea levels, thawing permafrost and releasing greenhouse gases into the atmosphere," Almheiri said.
"We believe the best way to protect the poles is to transition to a global clean energy economy. This will require a massive investment in renewable energy and energy efficiency, keeping a just energy transition in mind, while ensuring energy security for all," she added.
The minister and her delegation also toured Carbfix and Climeworks, two companies taking a lead in carbon capture, utilisation and storage (CCUS).
At Carbfix, they discovered more about an emerging technology, mineralisation, which provides a natural, permanent storage solution to emissions, through turning CO2 into stone in less than two years.
The delegation also visited a ground-breaking emissions mitigation site, Orca, a joint venture between Iceland's Carbfix and Swiss group Climeworks, a Swiss clean-tech company specialising in direct air capture (DAC) which can capture some 4,000 tonnes of CO2 per year. The Orca project is the world's first and largest direct air capture storage facility.
"Witnessing the huge potential and possibility for carbon dioxide removal from the atmosphere is an inspiring act of climate emissions mitigation. Seeing this plant inspires us that we can be pro-climate and pro-growth – there are some fantastic opportunities for us, through COP28, to work together in solving the world's most pressing climate issues with technology and innovation," Almheiri concluded.