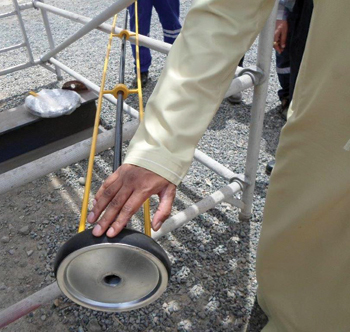 Installation of seal plug by Adma
UNIQUE Wellube, a division of Unique Maritime Group (UMG), one of the world's leading integrated turnkey subsea and offshore solutions providers, was recently contracted by Abu Dhabi Marine Operating Company (Adma-Opco) for the supply and engineering of mechanical seal plugs for a significant pipeline isolation project.
Unique Wellube is a provider of specialist engineering services and associated products to a diverse range of industries. The range of services are focused on ensuring plant and pipeline operability and avoiding costly unplanned shutdowns by allowing intervention and plant critical maintenance work to be carried out in a safe and cost effective manner without interrupting the process, thus avoiding loss of production due to downtime during on-going plant operations or during shutdown, when you need a quick turn-around.
In today's ever-changing market, Unique Wellube appreciates that continuous production is vital in maintaining economic viability. Additionally, the services are utilised to safeguard plant integrity, reducing unplanned emissions, imperative to minimising environmental pollution, and above all, eliminating hazardous risks to personnel.
Adma-Opco is a major producer of oil and gas from the offshore areas of the Emirate of Abu Dhabi. The company prides itself in being a pioneering petroleum organisation in the Middle East, having completed over 52 years of oil and gas production. Adma-Opco's 8-inch subsea riser was found to have some damages which would require a weld repair at the splash zone on the complex side. The plan was to cut approximately 1.5 metres of the riser till below the damaged area and weld a new spool in place. Since welding was involved, either the pipeline had to be free of hydrocarbon fumes or a positive isolation had to be created in order to prevent the fumes from reaching the welding area. However, there was no break flange available in the repair location to isolate the pipeline to conduct the repair works.
Inspection of seal plug
Adma's initial plan was to pig the riser to make the riser free from hydrocarbon fumes. However, the estimated cost to execute pigging was comparatively high and the time required to ensure that the riser was free of hydrocarbon fumes would be very long, making the riser non-functional for the duration.
Based on Adma-Opco's experience from past projects in providing innovative solutions, Adma approached Unique Wellube to once again look for a cost effective and quick turnaround solution to the present 8-inch riser weld problem.
Using Wellube's extensive experience in line stops and plugging, Wellube's engineering team headed by Abdul Wahab along with Adma's technical team which also included the project initiator Sinnapparaj Sivakumar, decided to look at feasibility of using an extended retractable mechanical seal plug.
The plug would have to be installed at a distance of 2 metres from the top of the riser. A joint risk assessment was conducted and it was decided to go ahead with a workshop trial to study the performance of the extended plug.
Based on the outputs of the meeting and the risk assessments, Unique Wellube designed and manufactured an 8-inch extended plug.
The plug was inserted into a mock-up pipe piece, at a depth of 2 metre distance from the top of the pipe and tightened manually from the top. To ensure the integrity of the plug, fire foam was injected into the mock-up pipe for half a metre from the top of the seal plug creating a head pressure and kept under observation for three hours. Subsequently, inspection was carried out on the other side of the plug and it was found to be 100 per cent leak proof.
The plug was first tested successfully in-house at Unique Wellube's Hamriyah Free Zone facility and thereafter, another demo was carried out in Abu Dhabi, which was witnessed by Adma-Opco's team, including the health, security and environment (HSE), technical support, integrity, inspection and engineering departments.
Following the successful trials, the tool was approved for use by Adma-Opco and a new set of the extended plug was manufactured and deployed to the offshore facility to be used under live condition.
In mid-August 2014, Adma-Opco completed the work at Umm Shaif Super Complex using the extended retractable mechanical seal plug and the project was considered a total success.
Sahil Gandhi, managing director, Unique Wellube says: "We are extremely pleased with the successful outcome of the project due to the use of our extended retractable seal plugs. Our mechanical seal plugs have set up a benchmark for offshore weld repair jobs. The entire team of Unique Wellube is proud to be a part of this innovative development."
Adding further to this, Qais H Al Hashimi, major maintenance team leader (US), Adma-Opco says: "We are extremely delighted to have worked with the team of Unique Wellube for this significant pipeline isolation project. Unique Wellube not only has an extensive experience in line stopping, plugging and leak repair operations, but were also able to envisage a cost-effective solution of using mechanical seal plugs at such a short notice with the purpose of creating a positive isolation barrier to prevent the trapped residual fumes in the pipeline from coming in contact with the welding work. We appreciate the efforts of its technical team and look forward to working with them on our future weld repair projects."
Unique Wellube is also widely recognised for some of its other range of specialist on-site engineering services and associated products including:
• Hot tapping and line stopping;
• On-site machining;
• Under pressure leak sealing;
• "Uni-test" on-line valve testing;
• "UniSeal" pipeline repair clamps;
• On-line valve maintenance;
• Pipe freezing;
• Composite wrapping;
• Portable on-site machine sales and rentals;
• Custom pipeline fittings;
• Pipeline pressure testers and
• Platform decommissioning services.
"Unique Wellube's specialist on-site engineering solutions are supported by state-of-the-art dedicated portable (pneumatic/hydraulic) operated equipment, which can be mobilised to customer's on-shore, off-shore and remote sites at very short notice along with highly trained/skilled service engineers to carry out the services in a safe and cost efficient manner offering the highest level of safety and experienced mechanics and engineers," Gandhi asserts.