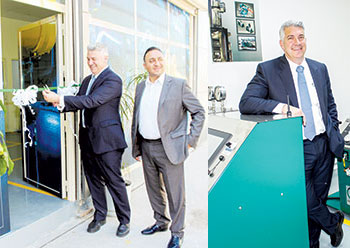 Cunningham opens the new new facility and Cunningham with CALDER's state-of-the-art equipment
From product sales and rentals, consulting, applications engineering and tech support, custom design, training, start-up and commissioning, spare parts, and equipment repair and maintenance, the firm offers unmatched value in the industry
CLIMAX Portable Machining and Welding Systems is the world's premier supplier of portable machining and welding equipment. Under its CALDER product line, the corporation provides the world's most advanced line of valve testing and repair systems. CLIMAX|CALDER opened a new facility in Dammam, Saudi Arabia on November 19, which includes an interactive product demonstration room, certified CALDER Valve Institute training centre and a full-time customer support centre.
Speaking to OGN after the grand opening, Tom Cunningham, President and CEO of CLIMAX, said the company is growing rapidly and intends to expand further in the Middle East.
"We are on a path of continuous expansion and in the last three years we have more than doubled the size of our global representatives' network besides doubling the number of our global rental depots. We have launched over 60 new products in the last four years and we plan to unveil at least one new product every quarter," Cunningham says.
US-headquartered (HQ) CLIMAX, which has presence all over the world, has its Middle East & Africa HQ in Dubai, Asia-Pacific HQ in Singapore, UK HQ in Manchester, European HQ in Germany, several satellite offices throughout the world and now this new site in Dammam. The company has more than 85 sales and rental outlets all over the globe.
Visitors have a look at the displayed machines
CLIMAX|CALDER has tied up with Zamil Group in Saudi Arabia, giving the combined team the ability to respond efficiently and confidently to any valve testing and repair requirement anywhere in the kingdom. The company is offering the best equipment, technology, and customer support in the industry.
On choosing Saudi Arabia to open the centre, Cunningham says: "Saudi Arabia is one of the biggest markets. It is vibrant and dynamic and it is a joy to do business there."
Talking about the company's relationship with Zamil, he says: "We bring in the technology; they bring in the business relationships and market knowledge and help us deliver the best in class local support to our customers."
"We are happy with the high-quality tie-up with Zamil, which started about a year ago. CLIMAX, which focuses on winning and retaining customers, wants to get close to the customers everywhere and wants them to have an outrageously good experience with us every time," Cunningham says.
"We want them to feel that we are an extension of their business. Ultimately if they are successful, we are too," he notes.
The company has served a big client base in Saudi Arabia for many years including Saudi Aramco and Sabic, and is constantly bidding for their big-ticket projects. CALDER has been on Aramco's approved vendors list for many years, Cunningham points out.
"We are the technological leaders and pioneers in our space. We compete with our products; we win with our people," says Cunningham elaborating how much his company values the power of its team of professionals across all departments.
CLIMAX, which started operations more than 50 years ago, acquired CALDER six years back. The acquisition allowed CLIMAX to expand its capabilities to include valve testing. This fits in to its goal of providing End-to-End Solutions to customers.
At the opening of the new Dammam office, CLIMAX presented some of the experts behind its technology and provided live demonstrations of the CALDER valve testing machines to its customers.
Customers are raving about the CALDER HydroPro family of control consoles and clamping fixtures, the CALDER SmarTest automated data acquisition and control systems, and the innovative new CALDER Turn-Around-Tester (TAT). The TAT fits in the bed of a standard pickup truck so one can take the tester to the valves, out in the field, instead of hauling valves back and forth to the shop – saving customers a lot of time, money and hassle.
"CLIMAX|CALDER is a pure-play equipment manufacturer. We don't perform on-site service work or valve testing services, and we aren't owned by a company that does. We just focus on designing and manufacturing the best equipment, making us the only global OEM in our industry that never competes with its customers for service business. We are pleased to be in Saudi Arabia delivering great value to our customers locally," adds Cunningham.