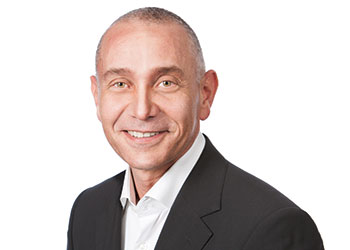 Khattab ... localisation focus
The company is not only strongly committed to the UAE's ICV programme, it is also working on driving localisation in several other markets in the region including establishing manufacturing facilities and training of locals, Ayman Khattab of Baker Hughes tells OGN
Baker Hughes has been a long-standing partner to the UAE. For more than 40 years, it has worked closely with customers and partners to provide the latest technologies and solutions to help meet the country's ambitious energy needs.
"Today, Baker Hughes is transforming to become a leading energy technology company focused on taking energy forward," Ayman Khattab, VP, Gulf, North Africa & India and VP, Surface Pressure Control Project, Oilfield Equipment, Baker Hughes, tells Abdulaziz Khattak of OGN.
"This has been made possible through our technology, our people, our scope and global scale, and is allowing us to support our customers and partners in the UAE, and beyond, in their transformation journeys towards a more localised, digital and sustainable energy future."
Localisation sits at the core of Baker Hughes' strategy in the region, which focuses on supporting customers' in-country value (ICV) programmes, driving growth, creating jobs, supporting knowledge transfer, and building strong energy ecosystems in the countries where it operates.
"As the leader for the Gulf, North Africa and India region, we are seeing more emphasis on localisation initiatives in countries such as the UAE, Qatar, and Oman," says Khattab.
"In the UAE for example, we established a strategic partnership with Adnoc Drilling two years ago which focuses on developing the company to become a fully integrated drilling and well construction provider. Together, we worked on delivering more competitive well completion times, greater drilling efficiencies and better well economics. The partnership continues to support Adnoc Drilling capitalise on new business opportunities through its new expanded offerings," he adds.
Last November, Baker Hughes announced the opening of a new wellheads' facility in Abu Dhabi to support the assembly, repair, and field services for customers in the UAE and across the Middle East. This facility comes in as an addition to six other facilities in the country including an oilfield services manufacturing site, a digital solution monitoring facility, and a training centre, which serves customers and employees across the Eastern Hemisphere.
In addition, to further drive its localisation efforts in the UAE, the company is currently working on relocating the global headquarters of one of the oilfield equipment business units, Surface Pressure Control Projects, to Abu Dhabi. "This reinforces our commitment to the UAE and to being closer to our customers in the region to help serve them better," says Khattab.
Baker Hughes is also working on driving localisation in several other markets. In the beginning of 2019, it signed a memorandum of understanding (MoU) with Qatar Petroleum for Tawteen, Qatar Petroleum's in-country value programme, over the next five years. The agreement reflects a true partnership between the two companies to drive localisation and growth.
In September this year, Baker Hughes announced a major award with Qatar Petroleum to supply multiple main refrigerant compressors (MRCs) for the latter's North Field East (NFE) project, executed by Qatargas. This project will increase Qatar's total liquefied natural gas (LNG) production capacity from 77 MTPA to 110 MTPA and help to propel the country to global LNG production leadership by 2025. This is in line with Qatar's National Vision 2030, which aims for more sustainable development by 2030.
In other parts of the region, Baker Hughes' localisation initiatives include the establishment of the first artificial lift systems facility in Oman in 2018. In Algeria, it established two joint ventures with Sonatrach and Sonalgas, ALGESCO and APEC respectively, to locally manufacture oilfield equipment and service turbo machinery equipment. In Egypt, the company partnered with the Ministry of Petroleum and Mineral Resources to train some of the ministry's middle management to become future industry leaders and support the country's growth.

DIGITAL JOURNEY
Furthermore, Khattab says: "Another core part of our strategy in the UAE and the region is our relentless focus on driving the digital transformation of the energy sector. We believe the future lies in going digital, and although everyone is talking about it, the true potential of digitalisation is still underestimated."
He continues: "We are in ongoing discussions with our customers and partners in the UAE, Oman, Qatar, Egypt, Algeria and India to explore how digitalisation can help shape their operations and the nature of the industry as we go forward. The unprecedented Covid-19 crisis has been an eye-opener to everyone and is helping expedite the adoption of digitalisation in our industry as the concepts of AI and remote operations have been more acceptable now for our customers."
Baker Hughes is one of the pioneers in artificial intelligence (AI), says Khattab. "Our BHC3.ai portfolio delivers AI software for better outcomes. As an industry, we have terabits of data, and AI can deliver new efficiencies that help customers predict failures in their operations before they occur. Today, the entire industry is under a lot of pressure to save cost, and if AI is leveraged in the right way, we can find new ways to improve efficiency and reliability, reduce costs and increase profits."
"Additionally," Khattab adds, "we are seeing increased opportunities to apply remote operations capabilities outside of drilling and towards broader well construction and completion activities. They realise that with the help of technology, they can take important operational decisions remotely, while having fewer people on site. This helps them ensure the continuity of their operations in a safer way. At the same time, remote operations help us and our customers reduce costs and improve productivity."
Khattab says that with increased emphasis placed on digitalisation, along with the pandemic, industry leaders are starting to think differently about human capital. "Today, we're looking at talent that has the skills and willingness to adapt to new ways of working. With the acceleration of technology innovation and adoption, shifts to remote operations and a focus on the energy transition, we're looking at an equally evolving skillset and mindset within our workforce. As we adapt to a new norm, we are finding new ways to drive collaboration beyond the physical environment and innovative ways to build competencies."
He believes digital transformation is a key driver to achieve Baker Hughes' vision towards cleaner, safer, and more efficient energy. "In early 2019, we were among the first in the industry to make a commitment to achieve net-zero carbon emissions from our own operations by 2050. We also committed to investing in and deploying technologies to advance not only the decarbonisation of oil and gas, but also the adoption of alternative and renewable energy sources. This commitment drives our strategic decision-making and R&D approach."
He adds Baker Hughes is uniquely positioned to provide technologies and solutions that help customers lower their carbon footprint. "This is a shared goal that we have with our customers and is the third pillar to our strategy in supporting the region's transformation journey. We are working on developing technologies the can reduce and decarbonise oil and gas emissions. These include technologies focused on hydrogen blends, reducing flaring and methane leakages, venting and fugitive emissions, replacing coal and diesel with less emissive fuels, offering more efficient power generation and compression, driving operational efficiency, and enabling electrification."
Khattab concludes: "With our focus on localisation, digitisation, and decarbonisation we are confident that we can help take energy forward, along with our customers and partners in the UAE and the region."