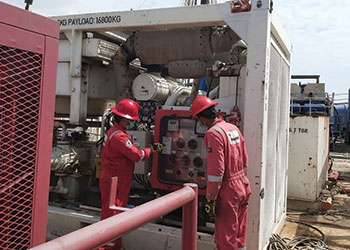 Local MPD operations personnel use risk mitigation measures
MPD technologies and solutions can mitigate drilling risks and drive operational and cost efficiencies thus meeting the challenges of our changing times, Ayoub Hadj-Moussa and Qasim Ashraf tell OGN
The year 2020 has certainly lived up to its name so far. The events of this year have given the world an idea of what the future looks like and have forced everyone to adapt to rapidly changing global and local environments.
For the oil and gas industry, a pandemic, an economic downturn, and an energy transition have compelled companies to evolve and develop approaches to help ensure their survival and sustainability.
Social and economic stresses caused by the proliferation of the Covid-19 virus and the extreme price volatility of the energy markets as it adjusts to unknowns are forcing operators and rig contractors to analyse and scrutinise in greater detail their capital expenditures and risk profiles.
From a drilling standpoint, cost-efficient and operationally effective technologies and solutions to mitigate the risks and challenges of well construction are the order of the day. Given these requirements and the prevailing business climate, now is an ideal time for a wider and faster adoption of an advanced drilling technology.
Managed pressure drilling (MPD) solutions enable more accurate monitoring, and if required, quick and efficient adjustment of bottomhole pressure to restore ideal downhole conditions through surface controls.
With geo-pressure uncertainties causing most drilling problems and associated non-productive time, MPD techniques directly address the need for mitigating drilling risks and can also increase the value and production capacity of wells when used proactively.
MPD technology has evolved tremendously since its inception, from a simple closed-loop drilling system to a highly intelligent wellbore pressure control mechanism. It is now considered the go-to method for mitigating drilling hazards and improving safety, performance and operational cost efficiency.
In a world where resources for constructing both exploration and development wells are becoming more limited, MPD can provide the needed remedy for the industry to do more with less. Examples of how MPD has accomplished this in onshore and offshore operations in the Middle East are provided below.
Some of the most formidable challenges in deep well drilling arise from higher pressures and higher temperatures (HPHT). MPD solves these issues by dynamically controlling the well's equivalent circulating density and enabling the use of a lower mud weight in a high-pressure zone while compensating for the rest with surface back-pressure (SBP).
Using lower mud weight by reducing solids in the mud, MPD enables the operator to reduce formation damage. This also improves the rate of penetration and reduces the risk of differential sticking, hence improving the overall efficiency and safety.

MPD CASE STUDIES
Benefits are illustrated in a case study from the south of Pakistan. An operator was drilling a deep HPHT well in an onshore field in search of an unconventional tight gas reservoir. While drilling, it encountered a sudden gas kick that was addressed by increasing the mud weight.
Higher mud weight triggered a kick-loss scenario that resulted in a stuck pipe situation followed by a sidetrack. Nearly 38 days of NPT were spent on this section.
Upon analysis, almost 70 per cent of that NPT was caused by mismanagement of downhole pressures and it was decided that MPD could be used to drill the well in a secure and efficient way. MPD methods enabled the operator to complete the hole section in just 45 days in comparison to 83 days of conventional drilling.
This case study highlights the drilling challenges brought about by kick-loss scenarios, which is usually the result of a very narrow pressure window.
A conventional mud weight on the low side typically results in a kick when the well is static, and mud losses to formation fracturing if the mud weight is kept on the high side during circulation. MPD eliminates this problem by precisely controlling the bottomhole pressure through the adjustment of SBP.
MPD technology automatically changes the SBP during the static and dynamic periods of the well and keeps bottomhole pressure constant when required.
This MPD approach is also highlighted in a case study from Egypt, where an offshore operator drilling in the Mediterranean Sea encountered a high-pressure salt formation that caused about two months of non-productive time due to kick-loss and stuck-pipe situations.
MPD was then deployed on the well, and it helped the operator to complete the drilling operation in just 36 days. MPD enabled the operator to drill the longest 8 1/2-in hole section in the Mediterranean and save one complete casing string. MPD was also incorporated during the cementing operation, which resulted in trouble-free and excellent cement jobs.
The case studies showcased above emphasise the value that MPD technologies bring to operations in varying drilling environments and rig types, from onshore to offshore deepwater.
It is, however, more important to note that MPD solutions are best suited for the current 2020 business and operational environment and the latest oil and gas industry downturn.
The inherent and consistently proven safety, efficiency and hazard-mitigation benefits that MPD solutions provide allow for a low-risk method of ensuring a high return on investment and on-budget project expenditures for operating companies and drilling rig contractors.
As an added benefit, MPD supports carbon-neutral or net-zero carbon footprint initiatives. Recent advances in MPD technology and greater industry adoption have further increased its utility and impact.
The latest iteration of the technology, Weatherford's Victus Intelligent MPD, provides a system that is capable of highly sophisticated, precise measurement, along with monitoring and control of critical drilling parameters such as drilling flow rates, pressures and densities.
It provides automation options and greater flexibility during MPD operations through proprietary algorithms and software that were developed using the experience and data gained from the thousands of wells that Weatherford has drilled using MPD methods.
The automation, artificial intelligence, cloud computing, Internet of things (IoT), digitalisation, and data science aspects of MPD, along with remote viewing and support capabilities, help augment the safety of drilling operations. These capabilities let us move data instead of people in critical situations such as those we face today; especially in consideration of quarantine restrictions imposed by the pandemic.
Local operations in the Middle East and other locations globally have already started leveraging these features of MPD technologies to ensure business and operational continuity and reduce the operational exposure and requirements for personnel in MPD operations.
Local MPD personnel have also adapted to current conditions by using precautionary risk-mitigation measures that are also the hallmark of the MPD techniques they deploy on the field. Initiatives involving MPD personnel cross-training on other technologies and the increased usage of remote decision-support centers will help make these efficiency gains permanent.
All in all, MPD technologies and solutions stand ready, willing and able to help mitigate drilling risks and drive operational and cost efficiencies as it has historically and consistently done in meeting the challenges of our changing times.

* Ayoub Hadj-Moussa is the Managed Pressure Drilling Geozone Business Manager for the Middle East and North Africa at Weatherford; and Qasim Ashraf is Technical Sales Manager for the Drilling and Evaluation group of Weatherford in Pakistan.