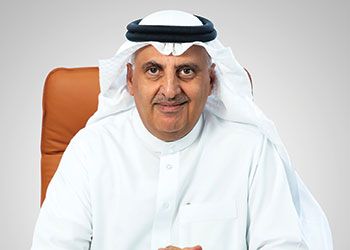 Dr Sadoun
Market disruptions like the Covid-19 pandemic present a significant challenge for all industries, including chemicals. When companies face it, they turn to a survival mode instead of looking for innovation and actively shaping their future, Dr Abdulwahab Al-Sadoun, Secretary General, GPCA, tells OGN
We live in an era of disruption in which powerful global forces are changing how companies operate and people live. Starting from global megatrends, economic crises and the recent Covid-19 pandemic, ongoing, complex disruptions are challenging the current status quo of business, economy, and society. At the same time, they are offering new opportunities to companies, industries, and individuals and if embraced successfully can help them to advance their positions with long term impact.
According to Global Financial Data, over the past hundred years, we had 18 economic recessions each lasting on average about five to six years. Over the last 20 years alone the world was hit by three recessions happening every 10 years. During the latest crisis during 2008-2009, nearly 40% of market value was wiped out in a single year. The final outcomes from the current recession are yet to be seen.
As reported by Accenture "disruption" mentions during earning calls, investor conferences and company announcements have increased over the past decades.

CONFRONTING THE DISRUPTION
With rising market disruptions, increasing complexity, and deteriorating competitive advantages, too many companies pause and wait in the face of upcoming challenges instead of taking action. They overestimate their resilience and underestimate the need for innovation. In today's world, the most important strategic choice companies make is how they respond to disruptions. At the same time, they must remember the common trends seen in response to disruption.
Firstly, it is the accelerating pace of disruption, and its far-reaching impacts. Recent examples of such disruption are technology advancements and digitalization, which already transformed many sectors in ways hard to imagine. Another example is the Covid-19 pandemic, which revealed that crisis can come from unexpected sources and leaders need to be ready for this kind of game-changing threats. Secondly, it is the scale of disruption, which most companies underestimate. In many cases of disruptive changes on the market, in technology or the economy, companies underestimate just how quickly this change takes place and how big the potential markets are.
Thirdly, an important area to remember is how ready a company is to respond to disruptions? Too often companies are not able to deliver a response. Anecdotally, companies that dominate their industries and lead in their markets are the ones who become the main victims of emerging disruptions. They are too focused on executing their current strategies, forgetting to remember that their current strategy may not be the one they need for tomorrow's realities.
In one of the industrial surveys conducted by McKinsey&Co. a few years ago, a staggering 85% of industrial executives see a significant change in the trajectory, speed, and scale of change in their businesses during this period of disruption compared to the gradual evolution of the past few decades. As the survey found, the speed of disruptions is the biggest and most critical issue confronting companies. About 74% of industrial executives admitted that they notice an increasing speed of disruptions. The scale of disruptions and their potential impacts is the second biggest concern. About 46% of respondents admitted an increasing magnitude of disruptions.

HOW TO EXPLOIT THE DISRUPTION?
When it comes to responding to disruptions, getting started is the hardest part, but also the most important. In today's fast changing world, it is the speed of response that can make or break a company's future. Too many companies fail not because of a lack of capability but because of a lack of courage to change and innovate. However, even after making first steps towards innovative changes, many get discouraged when they cannot reach their goals at a lightning speed. Many still confuse innovation with an event or a product. It is a mind-set and set of skills which can be developed, cultivated, and mastered. The innovative breakthroughs typically arrive not in a magical inspirational moment but rather in a series of experiments, trials and errors, ruthless determination, and persistence.
One of the ways innovation works is by making full use of disruption to create superior advantage. It is about using the energy spent on frustration, and coping with disruption towards to fuel innovation. This is what exploiting disruption means. But it requires an intentional shift in mind-set and a working knowledge. Embracing disruption is a discipline that goes against prevailing attitudes and day-to-day procrastination.
Let us first look at what are the main forces of disruption companies face. Understanding each of them can help your company to use them for their advantage. Misunderstand them and you will miss out on potential opportunities.
Market disruptions mean your clients are facing challenges and this impacts your business. Many companies do not pay attention to this, instead they focus on their own survival, and miss on opportunities with their clients. Your customers may experience difficult financial issues, cashflow problems and will be revaluating their cost more thoroughly. Further, due to the stress created by turmoil, they might be making poor decisions. All of these can be a source of innovation for your organization.
Technology is overturning industries one after another. These technology advancements affect businesses and the industries around them. As more advances roll out, there will be massive disruptions as individual industries will need to cope with. These technological advancements will ignite a new wave of innovations and companies will need be ready to leverage new opportunities.
Increasingly, the strongest companies in their industries are facing a new generation of market players which intensifies competition. As pointed out by Deloitte, the rate at which big companies lose their leadership positions has doubled, suggesting that increasingly barriers to entry to various industries is eroding. When competition invades your industry, a company must be ready to learn, innovate and move faster than ever before.
New ways to generate revenue and new business models are emerging rapidly. With new products, services and technologies, companies are creating breakthrough revenue generators. This creates a space for new value proposition and ideas.

HOW TO INNOVATE IN THE TIME OF DISRUPTION?
Breaking through disruption takes more than protecting your position. Responding by taking the proven, familiar path no longer works. The nature of disruption should not be a constraint for innovation, but rather the roadmap on when and how companies can focus on their innovation efforts.
In each case when you face your customer challenges together with them you form tighter relationships with your clients. Companies can study the challenges of their customers and use them to innovate. Often the force that disrupts the business is pointing towards innovation. Examples on how companies can innovate in response to customer challenges may include the following. When customers demand more due to market conditions, innovate to improve your relationships with them, find ways to serve them better, and customize your relationship. When you see your customers make bad decision during the market disruption, your innovative efforts will focus on helping them to make the right choices; get proactive in improving the quality of their decisions. When you see your customers dramatically cutting costs, step up to find the services to provide to them which will reduce their costs, help them to find value-based options that is of best benefit to them.
In addition to challenges facing companies and their customers, there are also forces that sweep across various industries which are bigger than anyone could imagine. If leaders understand their direction and dynamics, they can align with them and use to propel to new heights. Technological transformations are one of such forces. Examples on how companies can innovate driven by technological disruptions might include: when technological breakthrough emerge, change your relationship with technology, find ways to integrate new tools to your company's processes, align your business model to new technology that has potential, and become an expert in emerging technology and its application in your specific industry.
When technological breakthrough challenges you because of the investments required, create new partnerships to access emerging tools and services. While industries continue to be disrupted by technological breakthroughs, a relatively low number of companies are investing in newer technologies. As reported by Accenture, only truly ambitious companies go beyond today's proven technologies and try to discover potentially disruptive ideas.
When competition is intensifying, there are companies strategizing to take you down. While facing competition companies will have to respond creatively. This is how competition can ignite innovation. Examples on how companies can innovate driven by intensifying competition may include: When major companies fall under intense competition, there are opportunities to innovate to offer better services, product and improved support or sales methods, understand opened market space and if it's a promising option for your organization to enter. When competitors take over markets quicker, there are innovation opportunities for complementary offerings, new chances for partnerships and alliances. When faster, more effective response is required, your innovation can be focused on providing tools that accelerate your ability to respond to your most important partners. An opportunity exists for those companies that can see beyond the short-term pressures and set their sights on creating scalable businesses that will matter tomorrow.
The forces of disruption can be very threatening, especially when new business models reshare existing markets and make traditional offerings obsolete. Examples on how companies can innovate driven by this may include: when new ways of generating value emerge, your innovation should be focused on making bold moves, finding new value proposition your competitors have not introduced yet, and finding complimentary offerings to your competitor's offering.
A good example from the chemical industry is the innovation strategy of BASF, which is currently a leader in battery technology, agrichemicals and circular economy. While organic innovation is at the core of a company's strategy, they also look outside for new ideas, and business models which are possible to adopt by BASF. To do so, BASF has a venture capital arm which invests in start-ups, other labs to advance their innovation efforts, boost themselves in potentially disrupting new ideas such as digital farming, biotech, and crop protection.

CONCLUSION
Turning turmoil to your advantage is a basic way to innovate. It meets disrutption with desire to uncover opportunities embedded in adverse conditions. The market disruptions vary in their scale; some bring unnoticeable inconvenience, others become game changers that require speed and timely response. No longer can companies assume that disruption is just a passing storm. It takes effort to put innovation to work – whether you create your next revolutionary frontiers, find partnerships, innovate within or in collaboration. Companies which are skilful at managing challenging forces of disruptions are one step ahead of their competitors and can emerge stronger once the storm is clear.
Established in 2006, the Gulf Petrochemicals and Chemicals Association (GPCA) represents the downstream hydrocarbon industry in the GCC. It has more than 250 member companies from the chemical and allied industries, accounting for over 95 per cent of chemical output in the Gulf region. The industry makes up the second largest manufacturing sector in the region, producing over $108 billion worth of products a year. The GPCA manages six working committees: Plastics, Supply Chain, Fertilisers, International Trade, Research and Innovation, and Responsible Care. It also organises six world-class events each year.