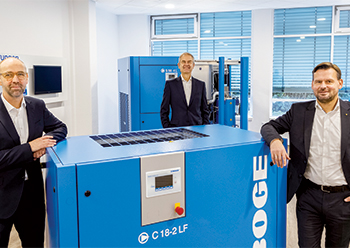 The Boge management team
After a turbulent year for the world's economy, German compressed air specialist Boge Kompressoren looks back with satisfaction and forward with optimism.
According to Michael Rommelmann, Technology Managing Director at Boge: '2021 is full of exciting projects: we're currently developing new, highly efficient and market-oriented products which we'll be launching over the coming months.'
Despite the constant threat of lockdowns, sharply falling global supply chains and reduced orders, production at Boge continued uninterrupted throughout the whole of 2020 and the company remained operational. The decrease in sales during this first year of Covid only reached the mid-single digit percentage range, especially in those countries most affected by lockdowns.
'Growth such as in China was positive, and Germany remained surprisingly stable. Thanks to new ranges in our screw compressors, we even increased our share of the market for some products,' says Managing Director Olaf Hoppe.
In the spring, Boge increased its production of medical compressed air systems and machines which were required to keep patients mechanically ventilated in ICU.
In its core Ostwestfalen-Lippe region in Germany, Boge reinforced its team in autumn 2020 to concentrate on internal sales representatives and service.
Double-figure growth in the region went to show that customers appreciated the products, good repurchase prices and direct access to the manufacturer.
As one of Germany's oldest manufacturers of compressors and compressed air systems, Boge Kompressoren operates around the globe and employs around 700 co-workers with numerous sales offices and subsidiaries. The company supplies its products and systems to over 120 countries worldwide.