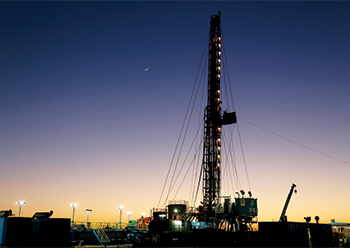 Egypt leads region in oil and gas
The North African country has made giant strides in developing its oil and gas industry, making new discoveries, awarding exploration blocks and modernising its network by adopting the latest in digital transformation

The year 2021 has proven auspicious for Egypt's oil and gas industry, which has already announced new discoveries and signed deals with major exploration and production (E&P) companies to unearth more of its hidden natural resources.
Oil and gas partnerships continue to take centrestage as part of Egypt's broader strategy to promote the nation's attractive investment opportunities and stable economic conditions.
Egypt recently announced the implementation of a number of new oil refineries and projects with investments of $7 billion. The development of the country's refineries and the use of the latest refining technologies will accelerate self-sufficiency.
An aggressive reforms policy led by the current Minister of Petroleum and Mineral Resources, Tarek El Molla, has led the country from once an importer of fuel to self-sufficiency in gas in 2018, and now aims at self-sufficiency in petroleum products by 2023.
The minister at last year's Adipec said his country had signed 14 E&P deals between March and October 2020, and its oil and gas sector had attracted $75 billion in investments between 2014 and 2020.
Foreign direct investment in Egypt's public oil sector were set to reach $2.2 billion during 2020 and production volumes of crude oil, condensates and butane were estimated to reach 34.65 million tonnes, an increase of 11 per cent from last year.
Egypt has seven refinery upgrading projects ongoing with a total investment of $8.6 billion, and has invested $22 billion in the downstream, refining and petrochemicals domains.
In the past four years, 28 new blocks for oil and gas exploration were awarded to international companies through six bid, covering a massive exploration area of 10,000 sq km, and bringing worth $326 million. In 2019, Egypt announced 55 discoveries, of which 40 were crude oil discoveries and 15 were natural gas discoveries.
In 2021, Egypt signed nine oil and gas exploration agreements worth $1 billion with local and international companies, which also included Exxon Mobil, Chevron and Total. The deals are part of 12-new-agreements that have been targeted since March 2020 with a minimum investment estimated at $1.4 billion for drilling 23 wells, nine of them offshore the Mediterranean and three in the Red Sea.
Exploration at the North Ras Kanayis Offshore block located in the Herodotus Basin, 5-150 km offshore Egypt in the Mediterranean Sea is being done by an international consortium led by Total and the Egyptian Natural Gas Holding company (Egas) The block covers an area of 4,550 sq km, with water depths ranging from 50 to 3,200 m.
This increase in production and investments coincides with the government's ambitious plans to develop oil and gas fields such as the Baltim South West offshore project, the Kattameya field project and the Alhamd plant project in the country's Eastern Desert.
As part of that ongoing expedition, the country in January announced new oil in Southeast Meleiha Concession (SEM), located in the Western Desert of Egypt.
The SEMZ-11X well, drilled by Apex International Energy, is located 10 km west of Zarif field and produces 2,100 barrels of oil per day. This is Apex's second exploration well in an ongoing three-well programme following the acquisition and processing of 1,342 sq km of 3D seismic data in 2019-2020. A third well will soon be drilled 5 km east of Zarif field, which also produces from the Bahariya.
• Gas: Egypt's astonishing gas renaissance estimates 61 trillion cu ft of gas reserves in existing fields with another 45 trillion cu ft waiting to be found.
In January, UK-based SDX Energy said it achieved its first gas at South Disouq SD-12X well in Egypt six weeks ahead of schedule. The company estimates SD-12X has approximately 24 bcf of recoverable resources and can produce at a rate of up to 10-12 MMscf/d.
In September 2020, Egypt formed the East Mediterranean Gas Forum (EMGF), cementing its leadership position.
The regional intergovernmental organisation headquartered in Cairo, Egypt, will serve as a platform for its member states to collaborate with international partners such as the European Union and World Bank, to establish a sustainable regional gas market through regional cooperation and permanent dialogue and to support their efforts to monetise their reserves.
Furthermore, the country is keen to modernizing its energy sector by adopting innovative technologies.
Last month, the Egyptian Ministry of Petroleum and Schlumberger launched the Egypt Upstream Gateway, an innovative national project for the digitalisation of subsurface information.
This digital platform will enable global access to the country's subsurface data, which is kept evergreen by enhancing legacy datasets through reprocessing and new studies. This unique digital initiative will be used to unlock the potential of Egypt's petroleum sector and promote the country's exploration and production potential worldwide.
The Egypt Upstream Gateway provides digital access to over 100 years' worth of accumulated national onshore and offshore seismic, non-seismic, well-log, production, and additional subsurface data under a single platform.