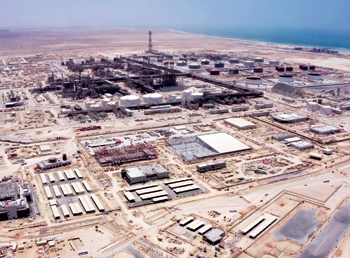 The Sultanate has made significant progress in oil and gas exploration and production, with successful award of contracts even during the pandemic while at the same extending its gains from renewables, writes Abdulaziz Khattak

Oman has seen a substantial jump in both its overall hydrocarbons output and its consumption thereof. The Sultanate's oil production stood at 347.94 million barrels until the end of December 2020, compared with 354.39 million barrels a year earlier.
Condensate production rose by 45.2 per cent to touch 69.10 million barrels. However, crude oil production was down by 9.1 per cent at 278.84 million barrels, according to the National Centre for Statistics & Information (NCSI).
Last year, Oman's production averaged 950,700 barrels per day (bpd) of crude oil until December-end, compared to 970,900 barrels in 2019. Meanwhile, its exports during the period stood at 287.04 million barrels of crude compared to 310.33 million barrels in 2019, representing a 7.5 per cent fall.
Block 61 gas field has reached full production capacity
The Sultanate is the Middle East's largest non-Opec oil and natural gas producer, and is economically greatly dependent on hydrocarbons just like its neighbours. As such, the country recorded a budget deficit of OR751 million ($2 billion) in Q1 2021 ($2 billion), due to a 30 per cent decline in revenues caused by the dual shock of the Covid-19 pandemic and oil price slump.
Oil activities in the quarter contracted by 20.6 per cent, reaching OR1.9 billion, while natural gas activities decreased by 10.4 per cent to reach OR320.8 million.
In 2021, oil exports accounted for the bulk (57 per cent) of total export revenues. Exports most wen to Asia, with China being the largest importer, followed by Japan, India and South Korea.
And although the Sultanate has a long-term goal of creating a more diversified economy as set out in its Vision 2040), oil and gas's share of revenues is forecast to grow 14 per cent during the period of 2020 to 2027.
In recent years, Oman has attracted several international majors, including Shell, BP, Thailand's PTTEP and Malaysia's Petronas to invest in upstream projects, mostly natural gas. Others like Occidental, Total and Partex are also undertaking oil and gas activities in Oman.
Most of Oman's oil and gas activity is onshore with some offshore as well.
Enhanced oil recovery (EOR) techniques, using natural gas, have been fundamental in driving the recent increases in crude production.
The country's fuel consumption has grown at an annual 10 per cent over the last five years, driven by higher demand from the industrial sector and power producers. Although the country currently enjoys surplus gas, it's still beefing up supplies through award of new exploration contracts.
Oman also hopes to see a new pipeline project with Iran go ahead if talks between the US and Iran to ease sanction succeed. The proposed pipeline will run from the giant South Pars gas field in Iran to Sohar in the north of Oman.
Although the country has held steady in the face of the pandemic, it has had some setbacks. Both the pandemic and falling prices have forced the delay of several ongoing downstream projects, including, the Liwa petrochemical plant project, its ammonia plant expansion and an LPG extraction project at Salalah, each of which was originally due for production start-up in 2021, state-owned integrated hydrocarbon firm OQ said

OIL
Oman has made steady headway in several crude oil projects, both in exploration and refining.
A significant progress was reported on Oman's 230,000 bpd Duqm refinery project, where construction work crossed 83.4pc by the end of May 2021.
The refinery, which will produce primarily diesel, jet fuel, naphtha and LPG, is said to be on track for commissioning in late 2021 or early 2022. However, a slowdown cannot be ruled out in the event of a future drop in oil prices.
With regard to production, a key milestone in production was reached in May in the delivery of the Yibal Khuff project, which is being developed by Petroleum Development Oman (PDO), the country's main oil and gas producer.
When complete, it will produce around 21,900 bpd, the contractor, Petrofac said, more than double the previously estimated 10,000 bpd, in addition to 6.1 million cu m per day of gas.
Petrofac said hydrocarbons had begun flowing into the $1-billion mega project's central processing facilities, an Oman Observer report said.
Meanwhile, Oman's Ministry of Energy and Minerals signed a new exploration and production with Majan Energy to develop Block 71, which covers 282 sq km. The company will conduct geological and geophysical studies, drill appraisal and pilot wells and use EOR to evaluate and produce the ultra-heavy crude in Habhab field.
And at Mafraq Block 70 oil field, contractor Maha Energy announced the recovery of up to 25 million barrels of oil. The onshore block covers 639 sq km and includes the shallow undeveloped Mafraq heavy oil field.
Separately, international energy firm Tethys Oil announced investments worth $47 million this year in expanding its upstream oil and gas assets in the Sultanate. The company has licenses to several blocks including 3, 4, 49, 56 and 58, making Tethys Oil one of the largest concession holders in the Sultanate in terms of acreage (55,000 sq km).
Furthermore, Italian company Eni is preparing to drill a second well in the offshore Block 52 after the first returned dry. The company also has interests in Blocks 47 and 77.

GAS
Oman has recorded a substantial increase in gas production from Block 61. Operator bp said production reached 1.5 billion cu ft per day from the 1 billion cu ft per day. The company also plans to increase gas condensate output from Block 61's two main reservoirs, Khazzan and Ghazeer.
With an estimated 10.5 trillion cu ft of recoverable gas resources, Block 61 is one of the Middle East's largest tight gas developments and has the potential to deliver 35 per cent of Oman's total gas demand.
Additionally, bp said a 500 million cu ft gas project at Ghazeer field is near completion, adding installations are 99 per cent ready for the start of production.
Oman currently consumes over 470 million boepd of natural gas. The use of gas in industrial projects, such as the Oman LNG and Qalhat LNG projects, rose by 3.6 per cent over 2018 to reach 28,751 million standard cu m (MSCM) at the end of December 2019.
The country's LNG exports have been at full capacity from 2018-2020, averaging about 12 bcm per year. After de-bottlenecking, this is expected to increase to 14 bcm per year.
Oman exports LNG through liquefaction facilities based near Sur, a coastal town about 200 km south east of Muscat, with the majority of exports going to Japan and South Korea.
South Korea's Korea Gas Corporation (KOGAS) has a 25-year contract with Oman LNG for 4 million tonnes per year. The contract is due to expire in 2025.
In June, OQ announced the commissioning of one of the country's vital energy extraction projects, the OQ Liquefied Petroleum Gas (OQ LPG) facility, at Salalah Free Zone in the Dhofar Governorate.
Built with a total investment of $826 million, OQ LPG is the first of its kind gas treatment project in Oman to extract LPG and condensate from OQ's Gas network.
The plant will process approximately 8 MSCM per day of lean gas to produce 304 kilotons per annum (KTA) of LPG products composed of 155 KTA of Propane (C3), 111 KTA of Butane (C4), and 38KTA of Condensate (C5+).
In other developments, OQ subsidiary OQ Gas Networks signed an assets transfer agreement with the Public Establishment for Industrial Estates (Madayn). Accordingly, Madayn will transfer the ownership and operations of its gas distribution networks to OQ Gas Networks.
The agreement is in line with Oman's Vision 2040 aimed at unifying national efforts and in-country assets to boost the efficiency of the service sector.
OQ Gas is the largest firm of its kind in the Sultanate, with supply pipelines stretching over an area of more than 4,000 sq km, including to five key industrial estates in Sur, Sohar, Rusayl, Nizwa and Raysut.

RENEWABLES
In its Vision 2040 roadmap, Oman has stressed that the 'national economy and society must no longer rely on non-renewable resources', while the National Energy Strategy aims to derive 30 per cent of electricity from renewable sources by 2030.
In line with these goal, Oman has embarked on several projects to generate electricity from renewables. These include a wind farm in Dhofar; two solar IPPs in Manah; 11 solar-diesel hybrid facilities; and the Sahim initiative to install small-scale solar panels on residential and commercial buildings, among others.
Last month, the 100-MW Amin Solar Photovoltaic Power Plant, Oman's first utility-scale PV power plant with one of the lowest tariffs in the world, kicked off commercial operations three months ahead of schedule.
The $94-million plant is located 210 km northeast of Thumrait and will operate under a 23-year power purchase agreement (PPA) with PDO. It is expected to generate electricity enough to supply 15,000 homes per year and offset over 225,000 tonnes of carbon dioxide (CO2) emissions.
PDO is also planning a new 100-MW renewables-based independent power project (IPP) in the northern Block 6 concession.
The proposed solar plant will feature a country-first large-scale battery storage component (30 MW) designed to ensure consistent and sustained power supply overcoming intermittency challenges typically associated with solar or wind based generation.
Once operational, the plant will save up to 300,000 tonnes of CO2 emissions annually.
Separately, OQ and EnerTech, a Kuwait government-backed clean energy investor and developer, has announced the development of an integrated green fuels mega project in the country.
The project will consist of 25 GW of renewable solar and wind energy at full capacity to produce millions of tons annually of zero-carbon green hydrogen, which can be used locally, exported directly, or converted into green ammonia for international export.